Tetiana Dzhafarova
Event planning and logistics manager of MIHR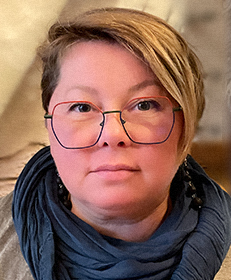 She earned degrees in economics and psychology, worked for more than 20 years with Italian companies in the field of interior design. In 2014, she founded International Charitable Foundation "Mystetsky Tyl", which is engaged in developing and implementing projects to support Ukraine in the field of art and creativity.
In 2015, she organized the art auction Art Gives Warmth. During 2014-2018, she was curating the photo exhibition Portrait of a Soldier by journalist Vika Yasynska.
She loves traveling and has visited more than 40 countries. She's engaged in various handicrafts, including embroidery.