A lifeless body returned instead of a living prisoner. What happened to Oleksandr Shevchenko in Russian captivity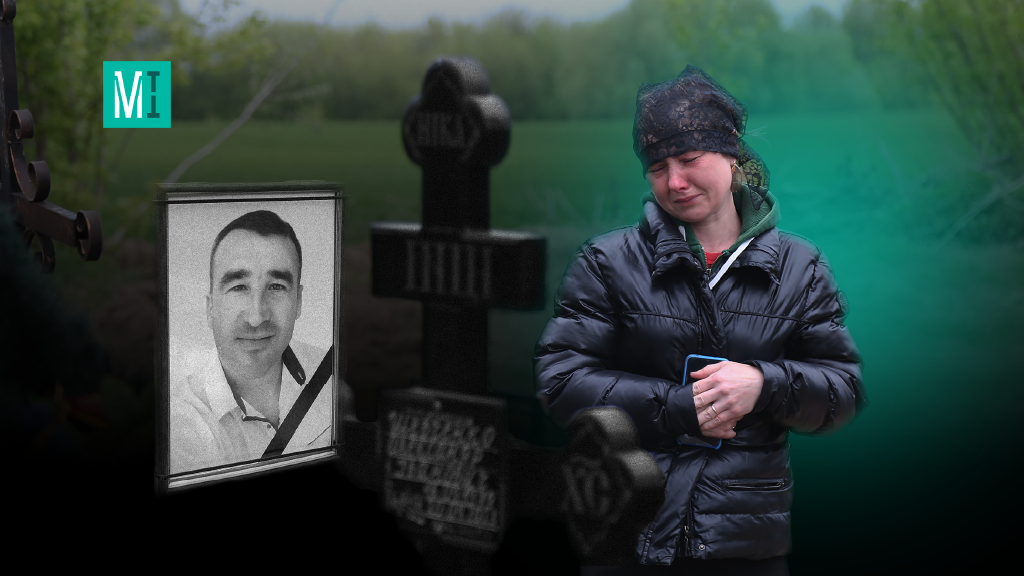 "It's a 99.9% DNA match," a cold voice told Oksana Shevchenko, Chernihiv Oblast, over the phone. This was in April 2023. But the woman could not believe it, as she had been waiting for her husband Oleksandr from Russian captivity for more than a year. She had every reason to believe he was still alive—a witness allegedly confirmed he was kept in Russia, so his exchange and return home were a matter of time.
But after that call, time stopped. A heart-breaking body identification was ahead. Unable to approach the large refrigerator with the bodies of Ukrainian defenders, Oksana asked her 20-year-old son Anton to go. It turned out that the Russians handed over Oleksandr Shevchenko to Ukraine in June 2022 during a body exchange, and he was only identified ten months later.
"Physically, there were only bones," says Anton. "A jacket was next to them. I recognized it. It was my jacket, which my father had put on back then."

Episode One: resistance under the occupation  
The Ukrainian flag flies high at the gate of the Shevchenkos' yard in Hryhorivka, Chernihiv Oblast. A black-scarfed woman with a caustic imprint of sadness on her face is standing at the gate. 
Mrs. Oksana begins with an apology, "I was taking care of the farm and just came into the yard." She asks for a moment to change her clothes. Then she invites us into her house and begs her pardon again, "We're so distressed that we don't even think about cleaning up…" However, her house is neat all over, with carefully arranged trinkets creating a feeling of a warm family atmosphere.
Preparing to share her story, Oksana Shevchenko says several times, "I hope it's not in vain, it will help someone, and my story will save people." 
A moment later, as if switching to another wave, she begins to talk about her husband with tenderness in her voice: "I couldn't say that he had a hot temper, but it was probably his patriotism that clicked." She is holding a phone with warm memories of him— pictures where he is cheerful and happy. 
42-year-old Oleksandr used to work as an electrician, but quit his job to become a taxi driver. "He was in a hurry to live," his wife explains. She recalls January 2022, exactly one month before the full-scale invasion. The Shevchenkos then celebrated the 20th anniversary of their marriage. The day before, Oleksandr gave Oksana a gift saying, "We are going to the Carpathians for five days." 
"I hesitated, wondered who we could leave our farm to, it's so far away… And he says: 'I've made up my mind and will arrange everything.' He was like this in everything—he was a leader, he knew how to lead," Oksana says proudly. 
And then, as if plunging into a different, gloomy world, she talks about her first days of the full-scale Russian invasion. Back then, Russian troops were moving in a large convoy, occupying populated areas of Chernihiv Oblast. Their equipment also passed through Hryhorivka. However, the Russians did not stay behind in this village. But neighboring Haivoron, Rubinka, Holinka got under occupation.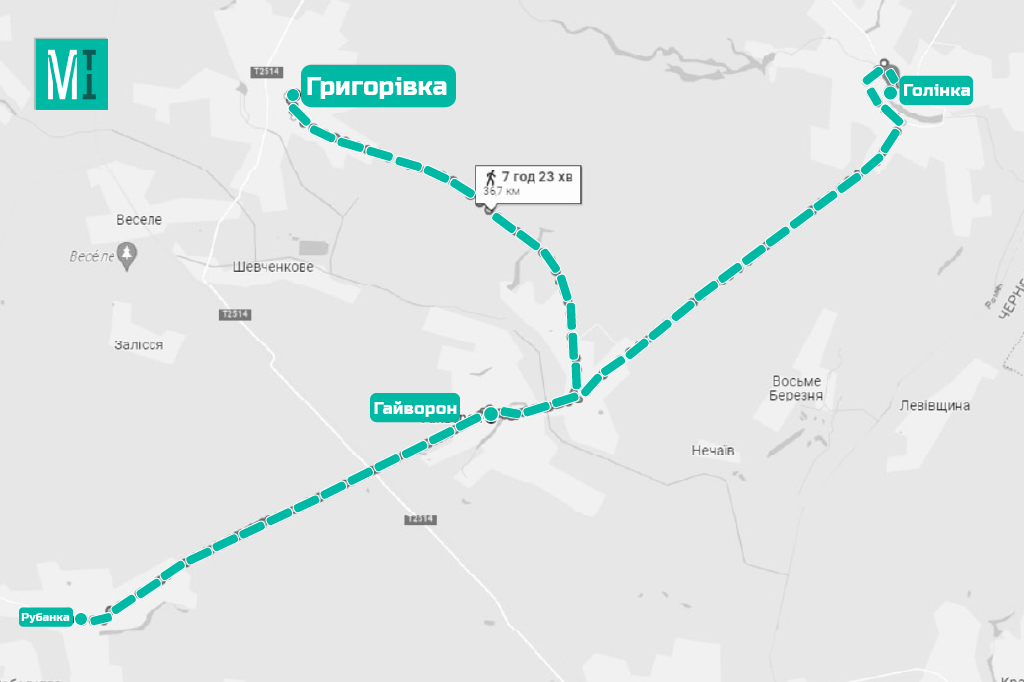 Peaceful Ukrainian villages began to overgrow with ugly Russian road blocks that Russian soldiers rushed to set up. "It was young people, 19–20 years old. They did nothing to locals at first, but kept guard at the posts all the time. Well, we also witnessed how columns moved. Constantly," says Mrs. Oksana. 
Her husband left their house occasionally, saying he was going "for a ride." He would go to his friend Mykola Babin. Together, they went around the neighboring populated areas. 
Oksana guessed why: "It was clear that they would go somewhere, watch the convoys move, and pass on information to someone."
Russian occupation absorbed more and more populated areas day by day, and enemy troops came close to Chernihiv. Two weeks after the invasion, aerial bombs fell on this regional center. Bridges that could be used to depart were destroyed. The city was surrounded.
"Together with other taxi drivers, my husband started taking women and children out of Chernihiv," says Oksana. Their humanitarian convoy brought food and fuel and took those who wanted to evacuate.  
Due to intense fighting, some destinations could not be reached. "When the Chernihiv bridge was bombed to ruin, my husband would tell me on the phone about people standing on the other side of the bridge and waiting to cross. He would add, "But we will still take them out," recalls Oksana Shevchenko.
Her family and fellow villagers looked for houses for the evacuees and the bare necessities. On March 26, 2022, Oleksandr took a break from his trips to Chernihiv and stayed home that morning. But his phone rang around noon. After the talk, he told his wife, "We're going for a ride." Alarmed, Oksana asked her husband to stay, but he replied that he had to. 
"The convoys would move constantly back then. Some counted as many as 70 vehicles, not your mere 5 or 10," says the woman, explaining why she was worried. Tears well up in Oksana's eyes as she associates that day with the unknown, with the beginning of something that cannot be explained.
She lost contact with Oleksandr almost right away. But this was no big news under the occupation. The woman says that she had no bad thoughts at first—she expected her husband to return in the evening. However, her anxiety grew, because Oleksandr would not show up. 
Searching for him in the middle of the night was suicide. The fighting continued, the village whispered about a sniper who operated on the outskirts. Mykola Babin's relatives were also prepared to search, because Mykola had not returned home that evening, either. 
At daybreak, Oleksandr's friends set off to look for the men. According to Oksana, they had an idea where they could have stopped—on the outskirts of Hryhorivka, with fields on the one side, and a wooded area on the other.
"However, as soon as the boys entered the woods and walked 200 to 300 meters, they were covered by heavy fire. So they fled through ditches and barely escaped," Oksana says. 
The search ended that day. Hours of waiting turned for Oksana into days. 
On March 31, enemy troops began to retreat. Convoys were passing without stopping. The locals counted up to 80 military vehicles in the one moving through Hryhorivka. The others were passing occupied villages.
As soon as the last vehicles disappeared beyond the horizon, Oleksandr's friends and fellow villagers went on another search. At noon, they came across Mykola Babin's car among roadside trees. His body was spotted nearby. Oleksandr was not found. 
That day Oksana got a call from the police. "Your husband is wounded, but alive. He is in captivity," the receiver said.

Episode Two: captivity
There are several industrial facilities in Haivoron, a village nearby. Viktor Prokopenko worked as a security guard at one of them in March 2022.
He recalls how the Russian military broke into the agricultural company on the morning of March 22, 2022. The "V" and "O" letters were painted on their equipment. They took mobile phones from everyone who was there and checked their IDs. Then they threatened: "You have 20 minutes to get lost." But as soon as the men began to pack up, the Russians changed their minds: "Stay here for a couple of days."
Three guards became hostages of the Russian military. They saw the Russians set up their equipment on the area with a few huge hangars and put up guards at the gate. The shack where the guards usually stayed the night in turns is deep inside the area. It was there that the Russians kept their hostages. One could only leave the shack with the permission of the supervisors, even to go to the bathroom. 
"It was cold there in March. We heated the shack with anything at hand," says Viktor Prokopenko. 
A few days passed when the Russians entered the guard shack and ordered the beds to be moved to make room. Later, a wounded man was brought in on a stretcher. The guards were made to bring pallets that the stretcher could be put on. It was placed in an empty remote room, and the three guards took up residence in a larger one. They did not know the wounded man's name.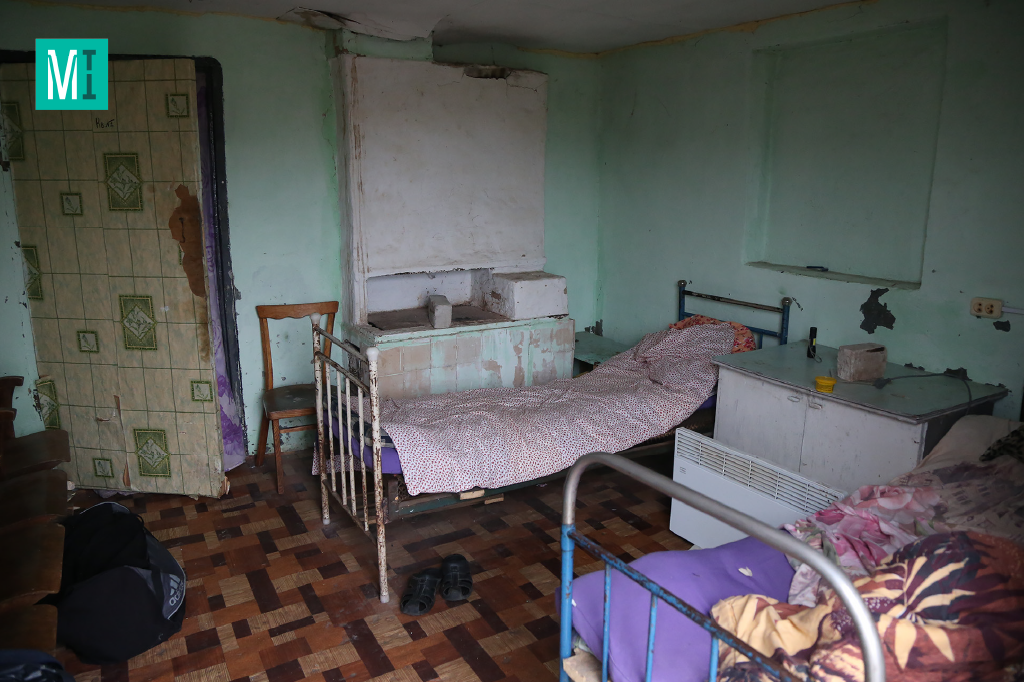 "He was conscious and groaned. But he would say nothing in the first days," Viktor Prokopenko recalls. The condition of the injured was grave.  When his outer clothes were removed, Viktor saw a bandage around his right collarbone, with blood seeping through. 
Two medics would occasionally come to the wounded man—a paramedic called "doctor" and a nurse. "The latter was referred to as 'Kurbashy.' This was probably his call sign," Viktor assumes. "The 'doctor' was tall, taller than 190 cm, black-haired." The wound was redressed every two or three days. Some pills were given. There was no other medical care.
"They did not beat him, but would press hard on the wound when changing the bandage. He was in pain. They also put psychological pressure," says Prokopenko.
The shack was guarded by three Russians all the time—they were afraid that the one brought on a stretcher could run away. However, he could not move on his own.
The man was interrogated a few times. People in civilian clothes also came. Victor assumes they were from FSB. He does not know what they talked about. "As soon as someone came to talk to him, everyone had to step outside at once," the guard explains. 
It was mostly guards who took care of the wounded—they tried to feed him, although he refused to eat. And one day he asked them to take him outside for a breath of air. "We took him up by the arms and brought him out," says Viktor. "He stood there for a while. It was clear then that he was getting a little better."
The guards could not ask the man about anything because of the constant surveillance by the Russians. They only learned his name—Oleksandr.
One morning, Victor assumes it was March 29 or 30, three Russian soldiers came in, blindfolded Oleksandr, and were about to take him out. Viktor recalls the Russians saying to each other that the wounded, including Russian soldiers, were being taken to the Russian Federation, to Kursk.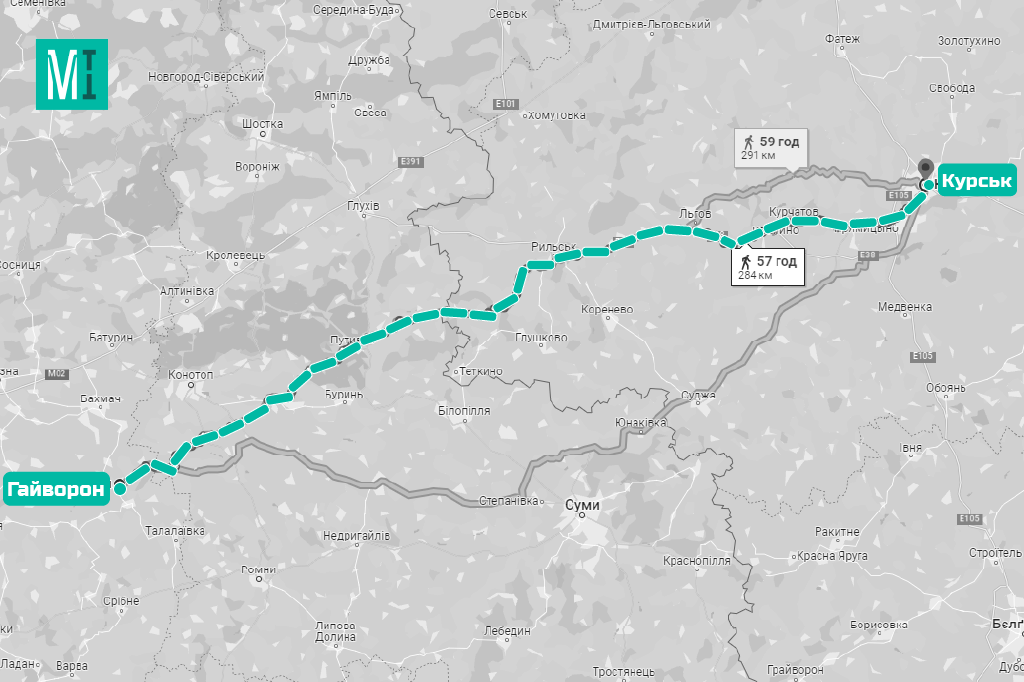 On April 1, 2022, the Russians left the facility and Chernihiv Oblast as a whole. They retreated towards Konotop, Buryn—the same way they invaded. Left behind, the guards returned home.

Episode Three: search 
On April 4, Oksana Shevchenko went to Haivoron. She was told by the police that the guards who had seen the wounded man were there. On locating one of them, she showed him a photo of the man. He recognized Oleksandr. He remembered that the Russians had brought him on a stretcher. The other two guards confirmed.
It was obvious to Oksana that her husband ended up in the Russian Federation.
By now, there are almost no traces of occupation left at the facility. Just like a year ago, the agricultural company is watched by security guards. MIHR journalists are let in with the owner's permission—on hearing the missing Oleksandr's story, he does not hesitate in giving his consent. 
We enter the shack where the Russians kept the hostages and see two small rooms there. One contains two beds, a table, a heater, a stove, and several wooden chairs that the supervisors used to sit on. The other room is smaller and almost empty. There is a folding bed. It was here that the wounded man was kept, and it was from here that he was taken.
A quick note: during the retreat from the northern regions of Ukraine, the Russian military took some civilians along and released others. According to MIHR, at least 11 people vanished from Chernihiv Oblast at that time. The whereabouts of eight are still unknown, and three are held in pretrial detention centers and penal colonies in the Russian Federation. Their status was confirmed by the International Committee of the Red Cross (ICRC).
In the meantime, recovering from the occupation, Haivoron residents began to clean up the mess after the Russian soldiers and stumbled on an interesting find—the phone number of a Russian soldier written on a household appliance. The purpose could only be guessed. As Oksana Shevchenko puts it, the Russians went looting en masse back then. This way, the Russian must have "called dibs" on the wanted trophy, but did not have time to pick it up.
Oksana made a call and got an answer. The soldier's name is Nazim Daryghi. He said that he had come to Ukraine from Novosibirsk and got wounded. Daryghi said he had not seen Shevchenko, but promised Oksana to look for information about her husband, and then advised her to call round Russian hospitals.
The woman began to reconstruct the events step by step. It turned out that Oleksandr had joined the local volunteer formation of their territorial community on the very first day of the invasion. "Here's his contract," the woman shows one of the documents neatly packed in a folder. 
On March 26, the day of his disappearance, he had an official mission from the leadership of the unit. This is confirmed by another document—a combat order signed by the acting commander of the volunteer detachment of Bakhmach Town Territorial Community, of which Oksana has a copy as well. It says that a team of five, including Oleksandr, was to "gather intelligence on the movement and activities of the enemy's manpower and equipment, liaise with the local population."
It turned out that Oleksandr had come to Mykola Babin that day in his own car. There, he left it in his yard to switch to Babin's car, and they drove towards Haivoron, where enemy equipment was located in roadside wooded areas.
The team of Shevchenko and Babin was accompanied by another team of three. They were in another car. Oleksandr's son Anton learned from his father's comrades that the car with the three defenders was the first to come under fire. "Military vehicles came into sight. My father and Mykola started to divert fire to themselves," says Anton. But they could not effectively oppose military equipment. Mykola was killed. So was another defender from the other team. And Oleksandr was wounded and captured by the Russians.
Episode Four: struggle
"Online resources helped me to find many people like me looking for their relatives," says Oksana with tears in her eyes. Coming together with them, she began to fight for at least some information about her husband. This involved dozens of meetings and inquiries. She reached out to the Coordination Headquarters for the Treatment of Prisoners of War, to the National Information Bureau. She met with the Ombudsman and staff of the International Committee of the Red Cross.
"I wrote letters to the Russian penal colonies and even," says Oksana, lowering her voice as if ashamed, "to their president and the Ministry of Defense."   
In Russia, they mockingly referred to the Geneva Convention and said that she should ask the ICRC for help in finding her husband. The Coordination Headquarters let Oksana know that Oleksandr was allegedly held in Kursk, but the ICRC did not confirm this fact.
The search for her loved one continued until March 2023. Oleksandr's brother submitted DNA samples. The anniversary of Oleksandr Shevchenko's disappearance was nearing. This is when Oksana got a call from the joint SBU center for an update about her husband. "Do you know that your husband is confirmed by one of prisoners released on June 29 (2022, — MIHR.) during a POW exchange?" Oksana was asked. She didn't know that. "It is reported that your husband is in captivity in Russia," added the voice on the phone.
Oksana was not told the name of the released serviceman, but it was enough for her to hear that someone confirmed Oleksandr's detention.
"Honestly speaking, I breathed a sigh of relief then, thinking, 'So he's alive, that's the most important thing. Sooner or later, he will be exchanged and return home'," Oksana Shevchenko recalls her feelings.
But another phone call in April 2023 changed everything. It turned out that experts found a match between Oleksandr's DNA and his brother's samples.
"For me, it was like a bolt from the blue. I did not understand how this was possible. To the last, I believed that it was some kind of mistake," says Oksana in despair. 
Another expert examination was required for confirmation. So her son handed over his DNA sample. The result left almost no doubt— 99.9%. "But even that tenth of a percent gives me some hope," Oksana Shevchenko adds through tears.

Episode Five: unanswered questions
Oksana's holding a document she feels strange about. This is a death certificate. She cannot believe what is written there. And it is not only about the fact of Oleksandr's death, but also about the place of death, which reads as "Donetsk Oblast, Mariupol." 
The morgue where the Shevchenkos picked up Oleksandr's body said that it had been handed over by the Russians during an exchange in Zaporizhzhia Oblast on June 4, 2022, along with Azovstal defenders' bodies. This is why, according to the records, Oleksandr is also considered a Mariupol defender. 
The cause and exact date of death cannot be established due to the poor condition of the body. "I saw him on the photo, there is nothing but bones," says Oksana, crying. "Where did they have to keep the body for this to happen to it?"
The expert assumed that the death occurred in April last year. No bullet wound could be traced on the body. 
So how did Oleksandr Shevchenko end up in Donetsk Oblast, alive or dead? His son Anton assumes, "the bodies might have been taken to one place so they all could be exchanged together." 
What about the confirmation by the Ukrainian soldier released on June 29 who said that he had seen Oleksandr in captivity? MIHR managed to locate this man. He turned out to be a serviceman of the 36th Marine Brigade, who assures that Shevchenko was not with him. He could not recognize the man on the photo, either. "It might have been a mistake," explained the released serviceman. The marine was held at Correctional Colony No. 36, Sukhodolsk, occupied Luhansk Oblast.
We showed Shevchenko's photo to a few ex-POWs released from Kursk, but they did not recognize Oleksandr, either.
So, one can only claim now that Oleksandr Shevchenko was alive when captured by the Russians. After the injury he was getting better, even though slightly. At least that's what the guard who was next to him claims.
The question remains unanswered—where exactly Shevchenko died: in transit to the Russian Federation or on the Russian territory.
MIHR journalists investigated the stories of other prisoners of war who had been sent after capture to Kursk, including stories of wounded people.
According to former prisoner Serhii Kyslukha, he was brought to a military hospital in Kursk on May 14, 2022, where he was undergoing treatment until June 13. "This hospital is in downtown, an old three-story building. There is a park and a church nearby," says Kyslukha.
Yaroslav is another wounded Ukrainian serviceman brought to a local pretrial detention center after a short treatment in the Kursk military hospital. The man had a gunshot wound. At first he was kept in a tent city in Belgorod and then transferred to the Kursk hospital. "There, the doctors waited for the gunshot wound to heal and said a surgery was required for a plate implant. I had surgery in late May. In mid-June, I was sent to the Kursk pretrial detention center," Yaroslav tells MIHR. This is where he was brutally beaten unconscious, ending up in intensive care.
Neither Yaroslav nor Serhii know about Ukrainian civilians kept at the Kursk military hospital. They have never heard of deaths in pretrial detention centers or hospitals.
But the Kursk PDC and the Kursk military hospital are not the only places of detention in Kursk Oblast, including for the wounded. As reported by the Russian BBC service, the Federal Medical and Biological Agency sent doctors last spring to Kursk Oblast to attend to the wounded. They went to Kurchatov, Rylsk, and Hlushkovo, which are not far from the border between Kursk and Sumy Oblasts. Besides, cases have been reported of prisoners moved far out of Kursk Oblast. Yaroslav and Serhii referred to above ended up in the Crimea after some time.

Episode Six: funeral
All this confusion with the place of death and the confirmation of Oleksandr's capture fueled Oksana's hope to the last. She was not even sure that the body should be buried. She wanted to wait for any new facts that could come up. But her son Anton insisted on burying the body, which had already been waiting for identification for a long time. 
Oksana and I are going to the cemetery. On the way, she is saying that her husband was buried with honors, as a hero, as a defender of Ukraine. 
"Someone might say one day, 'We didn't send them there.' But he definitely remains a hero for me. He is a hero for our son. What happened to my husband is a huge injustice," says Oksana Shevchenko.
A large photo of Oleksandr is put up near a fresh grave, densely covered with wreaths and flowers. There are cigarettes and candies next to it. Oksana takes a few more candies from her pocket and puts them there, too. 
"Captivity is no proof that the person will really come back. I would like my story to help bring the boys home alive. Terrible things are done there. And if you remain silent, it seems to me that no one will be held responsible. I cannot know what is done to them at PDC. But I assume that they are tortured brutally," says Oksana Shevchenko in despair.

P. S. The fact of Oleksandr Shevchenko's death shocked not only his family, but also dozens of people waiting for their relatives' release from captivity.
On May 8, 2023, staff of Civilians in Captivity NGO reported on Oleksandr Shevchenko's situation and asked Oleksandr Kononenko, representative of the Ombudsman, to respond to it at a meeting with the Coordination Headquarters for Prisoners of War.
"A year after his capture, Shevchenko's family got news of his death. Does this mean that any of us can get such news?!" asked Civilians in Captivity staff.
Kononenko replied that "when the war is going on, anyone can get such news." He also noted that he did not know about this case. He went on to attribute the lack of civilian exchanges to the fact that "there is no political will of the representatives of the Russian Federation" for this. 
"Civilians are not involved in exchange processes. The Russians turn our citizens into 'criminals' and bring various charges against them. But we have to understand why this is being done—to force Ukraine into political negotiations. There will be no such negotiations. However, negotiations are underway to get things moving," said Oleksandr Kononenko.  
Meanwhile, Oleksandr Shevchenko's family still has many questions that they are still looking for answers to. Where was he held? Why did his body end up among Azovstal defenders' bodies? And who is directly complicit in Oleksandr's death?
MIHR continues looking for witnesses who could have seen the man in captivity or who can answer at least one of these questions.
This material was prepared by engaging MIHR documenter Kateryna Ohievska.