"An ordinary person." In the Mykolaiv region, a woman is on trial for "turning in" a veteran, but half of the village does not believe it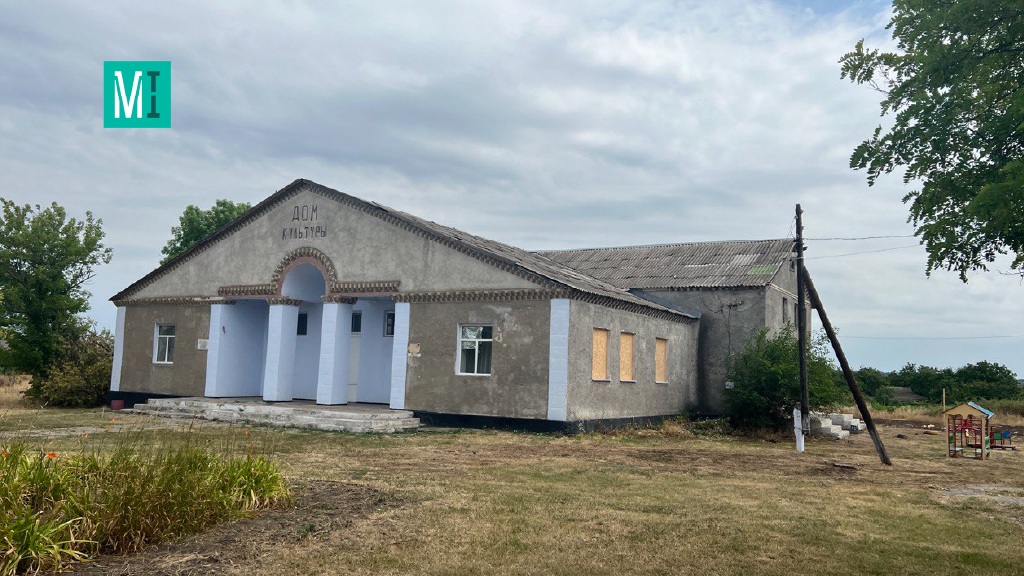 In the spring of 2022, Russian troops seized Kherson and moved on to Mykolaiv. At that time, dozens of tiny villages in the Mykolaiv region found themselves under occupation, albeit short. In some places, it lasted several months. In others, a few weeks. However, the consequences were the same as in any region where the Russians came: looted houses, destroyed infrastructure, murder, and torture.
In the village of Novofontanka, in the Bashtanka district, the Russian military tortured two men: a local ATO veteran, Serhii Kuchereshko, and Valentyn Sedinin, who was captured on the Mykolaiv highway. After the de-occupation, the bodies of the men with signs of torture were found in a shallow pit near the village.
There are two criminal proceedings regarding these killings. The first one is under Article 438 of the Criminal Code of Ukraine on violation of the laws and customs of war by the Russian military. The second is a case of high treason, in which Svitlana Ogol, a resident of the neighboring village of Kashpero-Mykolaivka, is accused. According to the investigation, she handed over Kuchereshko to the occupiers.
MIHR journalist attended the court hearing in Ogol's case, talked to her mother, residents of Kashpero-Mykolaivka, and the deceased's sister — and told the story of the accusation, which not everyone believes.

Ten days of occupation
The villages of Kashpero-Mykolaivka and Novofontanka are an hour's drive from Mykolaiv and about ten minutes from each other. To get here, exit the Mykolaiv highway H-14 and drive a few kilometers along a potholed road along sunflower fields.
On March 5, 2022, a column of Russian troops entered Kashpero-Mykolaivka by this route. Destroyed houses, boarded-up windows, and a burned-out starostat remind us of these events. But the two-story school survived — the Russians organized a headquarters and conducted filtration here. The locals gather near the school to clean up before the new school year.
Oksana, Inna, and Zina, who came to work, are just taking a break, sitting on a bench on the side of the vast yard. We get to know each other. They tell me about the occupation, Russian tanks, and the seizure of their fellow villagers' houses. They immediately say that they do not believe in Svitlana Ogol's guilt.
– "Well, for example, what did she do?" asks the black-haired Oksana Rusnak. "They say she turned herself in for rations. But no matter who you name in the village, they gave everyone those rations. For us, it's a big question, who could have accused her like that. I don't believe it was her."
The woman says that Svitlana's husband is in the army, and in general, the occupiers did not come to anyone else's house, and "they could take people through the house." Oksana continues:
– "It's no secret that Svetka could smoke and drink. But why would she rat someone out? Especially since she has a brother in the army. As a person, she was not evil. She was a master at sewing and embroidery. Her only problem was that she liked to drink. She got a little messed up because of it. She's not a bad person. An ordinary person."
During the occupation, Oksana did not cross paths with Svitlana because she spent almost all her time in the basement on the other side of the village with her neighbors. But Inna, sitting on a bench next to her, did see Svitlana — on the first day the Russians entered the village, they were hiding in the same basement. The woman recalls:
– "When they took us out to practice in the morning, she told them nothing. Everyone here had husbands who went to the front, but she didn't give anyone up.
While we are talking, another local woman approaches us. They start discussing Serhii, who the Russians tortured. Oksana tells us that he was a classmate of Svitlana's brother, "a good guy." They recall how Svitlana was detained. Short, dark-haired Zina says:
– "Our people came in the morning on the 14th (of March — MIHR). They said they were looking for Svetlana Ogol. It was near my yard. They made her kneel. She said she had never knelt before the Russians, so why should she? And then they took her somewhere. They said she was forced to dig a hole for herself. Some people filmed it and showed it in the village. Romka's son had that video. They are a family of Azerbaijanis who live a couple of houses away from her. She used to work for them. They say he will appear in court today as a witness against Svetlana.
The women assume that this family "fed kebabs" to Russians of Caucasian origin, and now they are "whitewashing" themselves by accusing Svetlana. 
– "Save our Sveta," Zina says in parting.
Across the street from the school is an old one-story outpatient clinic with a Ukrainian flag flying on its facade. The district starosta now works here because the starosta's office was burned down during the fighting.
The village head is Liudmyla Nikolaienko, a short, middle-aged woman with a short haircut. She speaks quickly but reservedly. She recalls how the occupation began on March 5. The Russians set up positions in the woods on a hill, so the village was in their hands.
The occupiers "checked" Lyudmyla on the first day they found out where the starosta lived. They took her sons for filtration while they settled in a neighboring house. Liudmyla tried not to go out into the yard, but she had to several times to organize the funerals of the locals. During one of these "outings," Lyudmyla Nikolayenko saw Svitlana.
– "She was just walking down the street, she said hello, and that was it. She was sober," starosta recalls. "However, she heard from the locals that Svitlana was drinking with the occupiers.
She learned about Serhii's murder after the de-occupation. 
– "If Svitlana is guilty, she should be punished, but the investigation must prove it. Allegedly, witnesses no longer want to testify. "Many of us had husbands who went to war, but their families were not touched," says Liudmyla. "You can't raise a person anymore. They won't tell us what happened."

The prosecution
After the arrest, Svitlana Ogol was brought to Kropyvnytskyi as stabilization measures were underway in the Mykolaiv region. For this reason, the investigation and prosecution are represented by the SBU (Security Service of Ukraine) and the Kirovohrad Oblast Prosecutor's Office.
The 53-year-old woman is currently in custody. In September last year, the Supreme Court sent her case to the Mykolaiv region for territorial jurisdiction.
According to the investigation, Svitlana Ogol was in close contact with the Russian military — the 205th separate motorized rifle Cossack brigade was based in Kashpero-Mykolaivka. She allegedly passed them information about people who could resist — for this, she received money, rations, alcohol, cigarettes, and relative safety.
The 205th Brigade was created in 1995 during the First Chechen War. It is based in Budyonovsk, Stavropol Territory, Russia. In March 2022, the GUR (Defence Intelligence of Ukraine) named the soldiers from this brigade as war criminals and made their names public. Subsequently, the President's Office and investigative journalists claimed that this brigade was involved in the June 6 bombing of the Kakhovka hydroelectric power station.
The prosecutor's office launched an investigation under Article 438 of the Criminal Code of Ukraine into violating the laws and customs of war in the Bashtanka region, mainly through the torture and murder of two men. However, a year and a half later, there is no information on which Russian military personnel were involved. Valeriia Vlasova, a Mykolaiv Regional Prosecutor's Office spokesperson, told MIHR that the investigation is ongoing.
However, in March, the Leninsky District Court of Mykolaiv extended the pre-trial restraint for Svitlana Ogol. According to the investigation, Ogol was drinking with Russians during the occupation in the house of local resident Tatiana Vashchenko, where they had settled.
– "Then, the accused (Ogol — MIHR) provided the address of Serhii Kuchereshko, a classmate of her brother, a former ATO participant from the neighboring village of Novofontanka. Russian troops killed the man with particular cruelty. They also killed his friend Valentin Sedinin, who was at his home," the prosecutor said.
Instead, Sedinin's wife says this is not the case. She wrote in a messenger in response to a question from the MIHR journalist: "He has nothing to do with these people, except that he was captured with Serhii on the same day. They do not know each other at all. My husband was passing through this village to visit his family in Kherson. He was stopped at a checkpoint and taken prisoner. The man who gave him a ride contacted me and told me where he was killed and hidden."
Evidence that Ogol may have been involved includes Russian rations found in her home and witness testimony. On July 13, they were supposed to testify in court. But they did not come due to "personal reasons." Therefore, on that day, the court only extended Ogol's detention, although a Free Legal Aid Center lawyer requested a lighter measure of restraint.
Earlier, Valentyna Myronivna, Svitlana Ogol's mother, handed the lawyer a letter from her daughter — 36 pages about life under occupation, conflicts with neighbors, detention, and non-admission of guilt. The woman hopes that this will help protect her daughter. Valentyna Myronivna talked to the sister of the murdered Serhii and her fellow villagers. After the court hearing, in a telephone conversation with the MIHR, she said:
– "Why don't the investigators go to Novofontanka to work properly and only go through one street in Kashpero-Mykolaivka? I have been thinking about all this for a year and a half. Serhii was my son's classmate. Such a terrible death. Is my child really to blame? I ask her this question every time: if you are not guilty and you were framed, then who and why?"
The hearing on July 13 was held online: the prosecutor connected from his office in Kropyvnytskyi and the accused from the pre-trial detention center. The judge explained that it was "decided not to take Svitlana to court in the heat of the moment."
The next hearing was scheduled for September 10.

Murder in Novofontanka
After capturing Kashpero-Mykolaivka, the Russians entered Novofontanka. They also broke into houses and interrogated men. They also came to Serhii Kuchereshko's house.
He was born and raised in Novofontak and went to school in the neighboring town of Kashperivka. Svitlana Ohol's brother was his classmate, and his mother was a teacher. Like everyone else in the village, he had a farm and lived off of it. In 2014, he served in the ATO zone and exited the encirclement. He returned to the village, lived alone, farmed, and had an apiary.
His sister Tetyana still lives in the neighborhood. She was tilling the land when we arrived. We were lucky to have a mobile network — we called and asked to meet her. 
We didn't have to wait long — in about 15 minutes, a short, thin woman of about 50 years old, with worn-out hands and a "working" tan, came out of the field. Her brother, Serhii's house is the last in the village, bordering the area. Tetyana's house is next door.
With a confident step, she walks to her brother's yard and shows him the old house, the remains of the farm, a burnt motorcycle, and orphaned beehives in the tall weeds at the end of the yard. Behind them are fields and floodplains. Before the Russian occupation, life here was quiet.
– "Serhii called to say that the columns were coming," Tetyana recalls. "I looked out the window, and they were already behind the houses. My husband and I grabbed a bottle of water and ran to the pit from the cellar. We stayed there until the evening."
On March 6, Serhii, like many locals, was checked but released. The next day he was taken away forever.
Tetyana saw armored personnel carriers driving away from Novofontanka and immediately realized they were approaching her and her brother. There was no one else — only their houses were on the other side of the village. 
After the inspection, Tetyana and her husband were left alone. They heard shots coming from Serhii's house. When everything died down and the Russians left, they went to his house — everything was upside down, and the shed with the motorcycle was on fire. Her brother was nowhere to be found. A few days later, the woman discovered that Serhii had been tortured.
She was told about this by a man the Russians captured along with his traveling companion on the Mykolaiv highway.
– "This elderly man Misha is not a local. He was driving past the village, giving a ride to a man from Kherson. They were caught on the highway," Tetiana recalls. "This elderly man said that Serhiy's ears were cut off and that they hung him from a tree by his arms and legs. And he was tied up and forced to watch." They said: "Look what we are doing to your compatriots." Serhii and that man were killed and left in the same pit. My grandfather somehow managed to escape. I don't know how they could let such a witness go."
The murdered fellow traveler was Valentyn Sedinin from Kherson, mentioned by the prosecutor's office in the Ogol case. Like Sedinin's wife, Tatiana says that this man was simply in the wrong place at the wrong time and was not a friend of Sergei's.
– "They say that Svetlana Ogol ratted out your brother," we tell Tatiana.
– They say. The SBU was there, they said. Okay, but the Russians came from below, from Novofontanka, not Kashperivka. The SBU said to me: "What evidence do you have?" And what do you have? Ogol was in the cellar with people. All the people say that if she had given someone up, she would have told about everyone. But everyone survived. The ATO soldiers in the village at the time are all alive. As for our Serhii, not many people remember where he was," says Tetyana. She assumes that the Russians killed her brother during a "cleansing operation."
She is convinced that the investigation should have interrogated Misha's grandfather, who witnessed the torture, in case he knows why Serhii was detained.
Serhii Kuchereshko was buried only a month and a half later in May. Because of the investigation, the body could not be touched. 
– His head was a mess. His jaw was broken. There were gunshot marks," says Tetyana. Despite her restraint, she starts to cry. "Serhii was honest. He helped. There are few people like him now. It's a pity he was tortured like that.
Serhii Kuchereshko's sister is not a victim in any criminal proceedings. She has not received any compensation either. She also is still determining what will happen to the land shares that her brother received after serving in the army.
Although Serhii fought for Ukraine in 2014 and was tortured for it, there is no Ukrainian flag on his grave, like other fallen soldiers.
– "I was told there would have been a flag if he had died in battle. It's the audacity to say that. Whether there is a flag or not, for me, he is a hero," says Tetyana.
She adjusts her camouflage cap — she has to go. Her slim figure moves away into the same field behind her brother's house from where she came. She has work to finish — harvesting the land she has reclaimed.