Friends from Nova Kakhovka: How Yevhen Pryshliak and Artem Baranov were Abducted by Russians and are now Transported Around Russia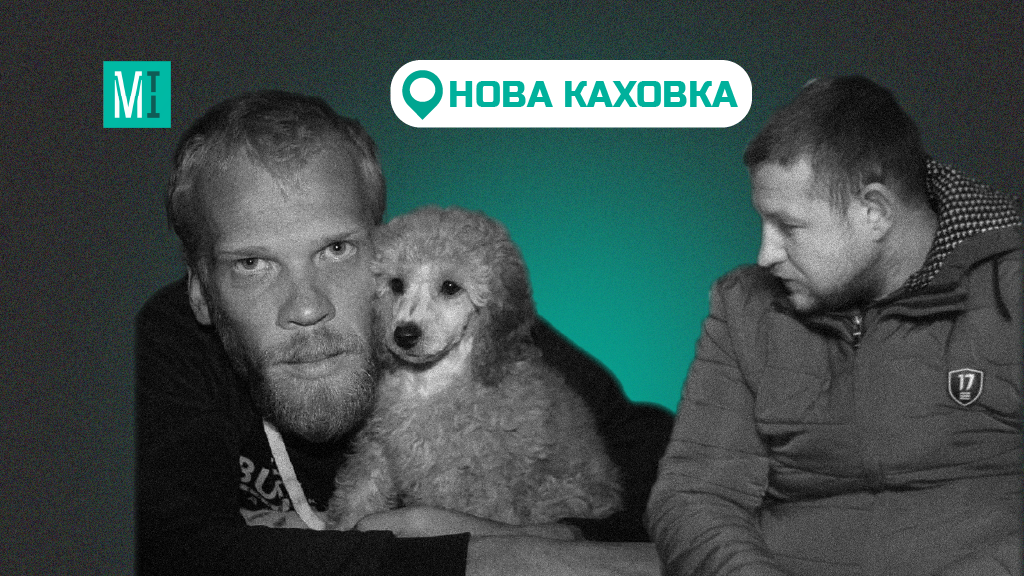 "Hi mom, dad! I am kept in captivity, in a prisoner-of-war camp. Conditions are normal: we have three meals a day and heating. We have a TV. We watch Russian news. Nova Kakhovka has been on TV a couple of times. They promise to exchange us, but I don't know when it will happen…" Such message was received by the relatives of Yevhen Pryshliak, a resident of Nova Kakhovka, in January this year. Since then, there has been no news from him. The man has been held in Russian captivity for nine months. His relatives do not know his exact whereabouts. 
Russians occupied Nova Kakhovka on the first day of a full-scale invasion – February 24, 2022. A few days later, enemy troops occupied almost the entire territory of Kherson Oblast. Yevhen Pryshliak was detained by the Russian military on August 13, 2022. That day he went to see his friend Artem Baranov. The men had been friends for many years: they were of the same age and lived close to each other. Yevhen worked at an asphalt plant. He repaired roads in Kherson Oblast. Artem was a lawyer. He worked for the municipal security service lately. He used to be a police officer. They shared a love of dogs. Artem was the owner of Herda, a dark grey cane corso, and Yevhen was the owner of Sonia, a red poodle. They often met and walked their four-legged friends. Everything was the same that day.

Yevhen together with his dog stayed overnight at his friend's house on the evening of August 13. That happened due to the curfew which began at 10 p.m. in occupied Nova Kakhovka. It was forbidden to walk on the streets after curfew.
"It was unbearable to live under the occupation. One won't say too much, one won't write too much on the Internet. When going outside, we would not take our phones with us because even one photo or one phrase could be a sufficient ground to take you away," says Liubov Pryshliak, Yevhen's relative. According to her, since the beginning of the occupation, people, in fear for their lives, had bolted front entrance doors. They appointed someone on duty to open the doors.
There was an intercom system installed in the house where Artem Baranov lived. A call rang after 10 p.m. "Guys, let me in." It was Victor, a friend of Artem and Yevhen. They allowed him to enter. Together with the man, 15 armed soldiers of the Russian Federation broke into the apartment and began searching for evidence of the boys' involvement in anti-Russian activities. Meanwhile, their neighbors could hear sounds of beatings and the boys' screams. Later, Artem, Yevhen and Viktor were taken out of the apartment. There were bags on the heads of the three. Moreover, the occupiers took several valuable things from the apartment, including a laptop and phones.

The following day, when the curfew ended, their relatives found out that Artem and Yevhen had been detained.
"In the morning, the neighbor told me that Russian soldiers had taken the boys away at night, and that the apartment was open. The father took the dog and ran to the police. They confirmed that Yevhen was there. They didn't provide any more information. They only allowed to bring small packages (food and clothes) for them every day," Liubov Pryshliak says.

First place of detention – police department
Occupiers were headquartered in the building of the Nova Kakhovka Police Department on 24 Dniprovskyi Avenue. The military commandant's office was established nearby. The boys were held in the basement of the police department for a month. On September 15, they were taken to a nearby garage, to the so-called military commandant's office. There, the detainees were dealt with by FSB officers of the Russian Federation.
Their parents brought food to Yevhen and Artem every day, handed over clean clothes and took away dirty clothes. One day, the father saw Yevhen in person when he was being taken out to carry out some repair works in the police building. They talked quite a bit about neutral things, because you can't talk much," recalls Liubov Pryshliak.
The boys managed to pass notes together with dirty clothes. They said that they were held in appalling conditions in a small basement room together with other 20-30 people. They were not fed. They had to sleep while standing or sitting on wooden pallets. Moreover, people released from that place said that captives were tortured, in particular, with electric shock.
Several stories were told to MIHR by an eyewitness who asked not to reveal his name. He claims that one of the prisoners, a resident of Nova Kakhovka, was detained because he sang the Ukrainian song "Nese Halia Vodu" (Halia is Carrying Water). A week later he was released, but his elbows and knees were injured. It turned out that occupiers had lined up detainees and fired machine guns at their feet. People reacted differently – some fell down, some defecated.
Occupiers carved a cross on the back of one of the detained men with a blade razor. Another man was detained for having previously participated in the anti-terrorist operation (ATO). The man was severely beaten, and they attempted to rape his wife while arresting him.
"My brother wrote in his notes that there were many wounded people, women and captured members of the Armed Forces of Ukraine. Sometimes he drew up lists of medicines to help the wounded. My mother passed us a lot of food so that there was enough for everyone. As far as I understand, at first they were fed, but later they stopped receiving food. Not all of them were locals, so not every one had someone to bring food products," says Liubov Pryshliak. According to the woman, her brother wrote in his notes that it was his friend Viktor who was to be blamed for his detention and who allegedly told occupiers that Artem Baranov had transfered the coordinates of Russian machinery to the SBU (Security Service of Ukraine).
"When soldiers came at night, Yevhen managed to hide his phone on the wardrobe. But they kept asking my brother about his phone all night long, and in the morning they managed to find out where it was. They drove my brother back to give them the phone. And there were a lot of data stored on the phone that occupiers didn't like," says Liubov Pryshliak.


In October 2022, the Nova Kakhovka residents were taken to Crimea
Artem and Yevhen were kept in garages for a month. Their parents brought them food every day, waiting for the guys to be released. On October 19, they once again came to the detention facility, and they were given bags with dirty things. But it turned out that those were other people's things. Following a brief inquiry, they found out that the guys had not been in Nova Kakhovka for three days already – they had been taken to temporarily occupied Crimea.
"Father tried to learn who was in charge there, and find out where the guys had been taken to. But he was told that everyone had left for Sevastopol or Simferopol. He also learned that the military had been rotated," says Liubov Pryshliak. "It was when occupiers were preparing to escape from Kherson."
The relatives started a search for the new place where the boys were kept. They went to various public agencies of the Russian Federation and quasi-state agencies that operated within the temporarily occupied territories of Ukraine, the International Committee of the Red Cross, etc. During the search, they learned that the guys were kept in a prisoner-of-war camp on the premises of military unit 06984 located in Sevastopol. According to MIHR sources, this is the POW camp that was visited by Tetiana Moskalkova, the High Commissioner for Human Rights in the Russian Federation, and representatives of the Russian mass media in April 2022.
"In January 2023, we finally received two letters from Yevhen. One letter was dated December 5, the other one was dated December 7. He wrote that he was kept in a POW camp. We know that it is in Sevastopol," says Pryshliak. "In each letter, he mentioned his poodles – Ksiusha and his favorite Sonia. He missed them very much."

Victor's family also received a letter from their son. "They gave it to me to read. There was the following strange phrase in the letter: "There will be many conversations and explanations with the parents of Artem and Zhenia who I reported." It was hard for me to read this," Liubov Pryshliak says.
The relatives sent replies to these letters, but the guys did not receive them as they had been transferred again on January 10. This time to the Russian Federation. The parents again started the process of searching for their sons. As recommended by their lawyer, they focused their search efforts on the Southern Federal District of the Russian Federation and began sending requests to various colonies and pre-trial detention centers.

Kamyshin, Volgograd, Taganrog and Rostov – new places of detention
The situation became more clear in April. The Regional Directorate of the Military Police for the Southern Military District of the Ministry of Defense of the Russian Federation replied that Artem Baranov and Yevhen Pryshliak had been detained for opposing the so-called "special military operation" and were kept within the territory of the Russian Federation.
The Baranovs also received a reply from Detention Facility No. 1 in Rostov-on-Don that confirmed that Artem was held in that institution.
As for Yevhen Pryshliak, one reply received from Pre-Trial Detention Center No. 1 of Rostov-on-Don dated as of April 7, 2023, states that provision of information about his whereabouts was denied in the absence of permission to disclose the relevant data, and another reply from the same institution dated as of April 12, 2023, says that Yevhen Prishlyak is not registered there.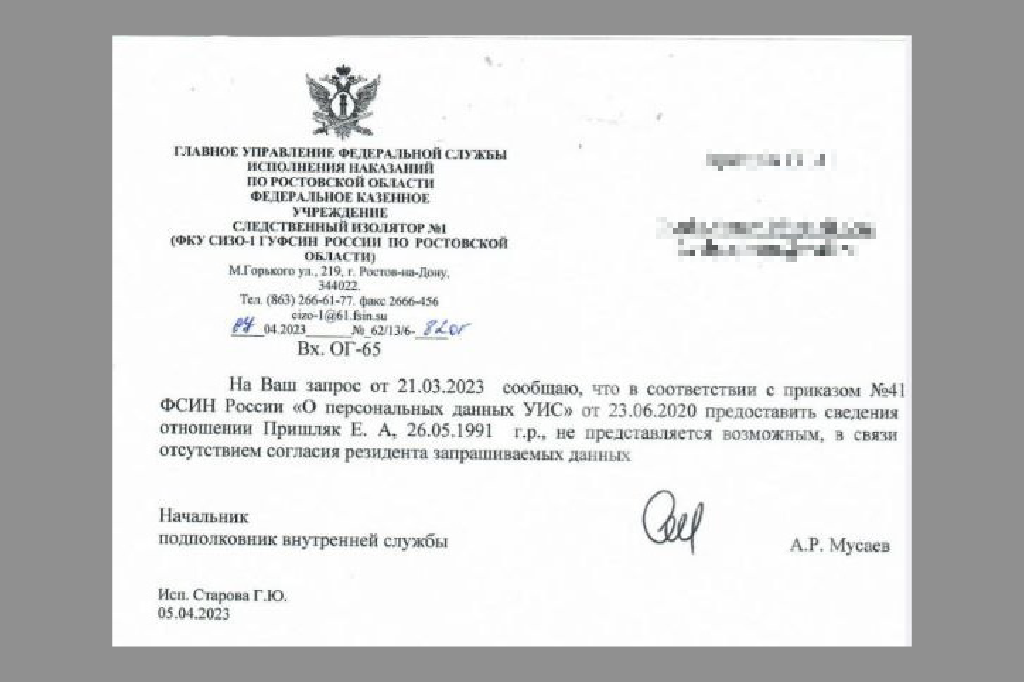 While investigating into the abduction of the boys, Artem Baranov's relatives came to the conclusion that Artem had come to Rostov-on-Don on February 14th. On that day, a criminal case was opened by Russians against him on suspicion of committing a crime under Article 276 (espionage) of the Criminal Code of the Russian Federation, and soon he faced the relevant charges. Artem's detention report was also drawn up on February 14 – in six months after his abduction in Nova Kakhovka. Baranov was allowed to have a lawyer after charges were brought against him.
In January of this year, Artem Baranov, together with Yevhen Pryshliak and Viktor, was transferred from Sevastopol to Pre-trial Detention Center No. 2 in the city of Kamyshin, Volgograd Oblast.
A relative of one of the victims agreed to anonymously talk about the tortures inflicted at that institution: "Reception of prisoners takes place in Kamyshin. A mallet is one of the tools that is used when new captives are brought in. They beat everyone. If a captive has a plaster cast, they remove it in order to hurt more."
According to him, guards of the pre-trial detention center beat prisoners with a stick with needles nailed into it just for fun. Such stick is used to beat over the legs. They make prisoners squat for four hours in a row without allowing them to get up, no matter how painful it is. Prisoners of war are also threatened with castration. Guards spray many captives with water and then attach electric wires to their genitals. The electric current is also passed through little toes and through hands. Executioners get pleasure when a victim starts twitching: "Such tortures were accompanied by the phrase: "Russia has been giving you gas for 30 years, and now you, morons, bow down to the feet of a Russian soldier for giving you gas, and kiss them." Against this background, forcing captives to sing the Russian anthem and other patriotic songs looks almost innocent.
Natalia Drozd, Artem's aunt, notes that Artem suffers from a congenital heart disease, he has also undergone several operations on his leg due to a right-sided clubfoot, and now Artem has significant stomach issues, so every day in captivity increases his sufferings.
After Kamyshin, Artem Baranov and Yevhen Pryshliak visited two more destinations – Volgograd and Taganrog. Victor was also transferred together with them.
Taganrog is the place where the paths of the three men fork. Pryshliak was not taken to Rostov-on-Don. Instead, he is referred to as a witness in the criminal case against Artem Baranov for "espionage".
"We still do not know the exact whereabouts of Yevhen. What we do know is that he was kept in a POW camp in Taganrog. But if you take into account that Artem was transferred from the city as early as in February, Yevhen also could have been transferred," says Liubov Pryshliak.
As for Artem Baranov, the pre-trial investigation is still underway. The article under which the resident of Nova Kakhovka is charged in Russia provides for imprisonment for a period of 10 to 20 years.
"We would like to draw the attention of our authorities to this case. Please don't forget about our boys! As prisoners of war and being patriots of Ukraine, they also deserve to be freed from captivity and returned home," says Liubov Pryshliak on behalf of the relatives of the civilian hostages.

Lidiia Tarash, the MIHR journalist