Hostages of Russia: MIHR presents the first analytics based on Russian war crimes documented in iDoc system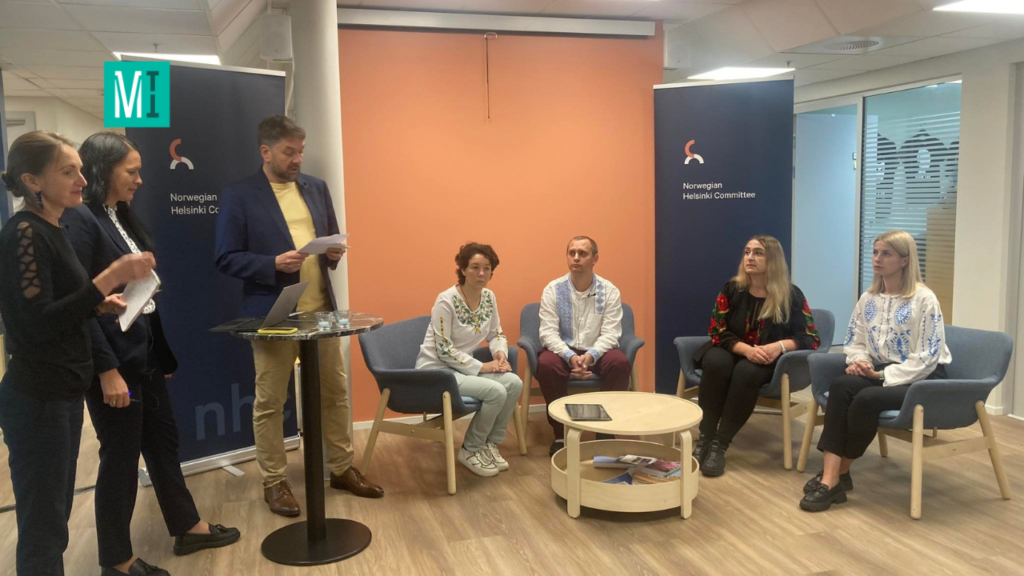 The presentation of the analytical report "Arbitrary detentions and capture of civilian hostages in the northern regions of Ukraine. Analysis of documented testimonies" was held in Oslo. The Media Initiative for Human Rights and the Norwegian Helsinki Committee co-organized the event. Representatives of the MHRI stated that their team had identified and verified 1168 civilians from Ukraine held hostage by Russia on its own or occupied territories. However, the number may be 5-7 times higher. Several former civilian hostages told their stories in Oslo.
MIHR is a member of the Coalition of Ukrainian Public Organizations "Ukraine.5AM" from the first days of the full-scale invasion. It is the Ukraine.5AM Coalition that coordinates the joint activities of the organizations which are collectively documenting testimonies and other evidence of violations and crimes committed during the armed conflict in Ukraine since February 2022.
To document the information, the organizations use the I-DOC investigation documenting system. The database includes documented interviews with witnesses to the detention of civilians by the Russian military during the occupation of Kyiv, Chernihiv, and Sumy regions, as well as photographs and other documents.
Most of these materials can be considered necessary to qualify the actions of the Russian Federation as international crimes. With the help of this data, the MIHR aims to show where and under what conditions civilians were detained, how they were treated, describe the most famous places of detention in the three regions, and show the routes of Ukrainians' transfer to the territory of Belarus and Russia.
The presentation of the study was attended by victims of Russian aggression and their relatives. One of the civilians abducted by Russians and taken to Russia was Mykyta Horban from the village of Andriivka, Kyiv region. During the meeting in Oslo, he spoke about his experiences in Russian captivity. During the occupation of the Kyiv region last spring, Mykyta and his father were taken from their home by Russians. The man was tortured, for example, by pouring water into his shoes and keeping him outdoors in the cold. Mykyta suffered frostbite on his feet. In the Russian prison where he was later transferred, the man was not provided any medical care for a month. 
"They pushed me to the point where my fingers started falling off my body. After that, I and another guy were taken to a military hospital and had surgery. Only my fingers were amputated, and the guy's leg was cut off to the knee," said Mykyta Horban.
After that, he was returned to Ukraine, but his father remained in Russian custody. The family does not know where he is now and in what condition. 
Kateryna Ohievska shared the story of the abduction of her boyfriend, Mykyta Buzinov. Russians captured 25-year-old Mykyta in the Chernihiv region. The military came to Buzinov's house on March 4 last year. Kateryna recalls how the Russians threatened Mykyta and his family with weapons. "When they brought me to Mykyta, he was on his knees, putting on his outerwear. As I discovered later, the Russians checked whether he had tattoos or weapon marks. There were dozens of Russian soldiers around Mykyta, standing with pointed weapons. They put me on my knees and started asking questions. The older one started pointing his weapon at Mykyta and saying he would kill him. I asked why they were doing this, and they said that Mykyta had done a lot of bad things and would pay for it," said Kateryna Ohievska. That day, the Russians took the boy with them. There has been no news about him for a year and a half. The family hopes that Mykyta is alive and in Russian captivity.
The abduction of another Ukrainian civilian, Serhiy Sytnyk, was told by his sister, Tetyana Sytnyk, in Oslo. Before the full-scale invasion, Sytnyk lived in Trostyanets, Sumy region, a town occupied by Russia on February 24 last year. On March 16, Russian soldiers came to Sytnyk's house. They kidnapped Tatiana's brother, searched the house, and turned everything upside down. Sytnyk's mother tried to get her son back by going to the Russian headquarters in Trostianets. "Mom took a white flag, raised her hands, and went to their center. This place was at the railway station, where they kept a large number of hostages; many men were in that basement. There are documented facts of torture. But my brother was not there. My mom returned home. We received the first information about my brother in May last year: during the exchange, a prisoner of war confirmed that he was with Serhiy. We have confirmation that Serhiy is in the Russian Federation. But we have no answer to our inquiries about where he is and his health condition. There are many such families in our country. Hearing stories is one thing, but every day, you have to think about your loved one, whether he is alive, eating, or not being tortured… We would like to be heard and helped," the sister of the civilian hostage called.
According to Tetiana Katrychenko, executive director of the Media Initiative for Human Rights, Russia has been abducting Ukrainian civilians since 2014, when it occupied Crimea and certain areas of Luhansk and Donetsk regions. As of February 24 last year, there were 301 Ukrainian citizens held by Russia in the official SSU register. Most of them were civilians. The situation has deteriorated significantly since the start of the full-scale war. "In the Kyiv region, 1000 citizens were detained, 130 are still in Russia`s detention. The relatives of the detainees appeal to various Russian authorities. The local Ministry of Defense responded that civilians were detained for opposing the so-called special military operation. By opposition to the 'SVO' (Special Military Operation), the Russians mean disagreement with the occupation and unwillingness to become collaborators," noted Katrychenko.
According to Olha Reshetylova, director of the Media Initiative for Human Rights, the abduction and detention of Ukrainian civilians by Russia has all the signs of a crime against humanity, as it is systematic and involves many Russian officials. Completely different Russian military units in different regions, who had no communication or coordination with each other, knew what to do: kidnap civilians, take them to special places, and then to Belarus or Russia. Camps were set up for Ukrainian prisoners there.
"The detention of these people is illegal from any point of view, but we need to think about ways to access them. Perhaps a separate observation mission could be established, for example, on the basis of the OSCE because they have a mandate to attend court hearings. After all, we see that some civilian hostages are being prosecuted. The Russians accuse these people of extremism and terrorism. So, when we talk about these courts, they have nothing to do with justice. But this monitoring mission may be the only chance to see these people, talk to them, and find out their condition. This is our recommendation to create such a mission. Of course, it will be complicated because Russia does not give access to anyone, but maybe we can find some solution to this problem," said Olha Reshetylova. 
According to Gunnar Eckelove-Slydal from the Norwegian Helsinki Committee, Ukrainian non-governmental organizations have done a great job documenting Russian crimes. "The results of the work of our colleagues from Ukraine are impressive. It will be difficult to ignore them. I would like this event to take place in New York at the UN General Assembly, where leaders worldwide are now gathered. They need to hear this. There should be more pressure on Russia, political pressure to allow international institutions, including the Red Cross and others, to get to the places of detention," Gunnar Eckelövé-Slydal emphasized.
Cecilie Hellestveit from the Norwegian Academy of International Law noted that the evidence collected in the MIHR report is significant in bringing Russia to justice. "Because when all these cases go to court, and I am convinced that sooner or later they will, the details will be crucial. This testimony, this level of detail, will be extremely useful when the time comes for Russia to be held legally accountable," explained Cecilie Hellestveit.
The MIHR continues to document the cases of Ukrainian civilians taken hostage by Russia, aiming, in particular, to establish the places of detention and routes of transfer of abducted people, as well as those responsible for these war crimes.