"I want to believe that he is alive. If not, I have the right to know about it." The search for Serhii Khrolenko continues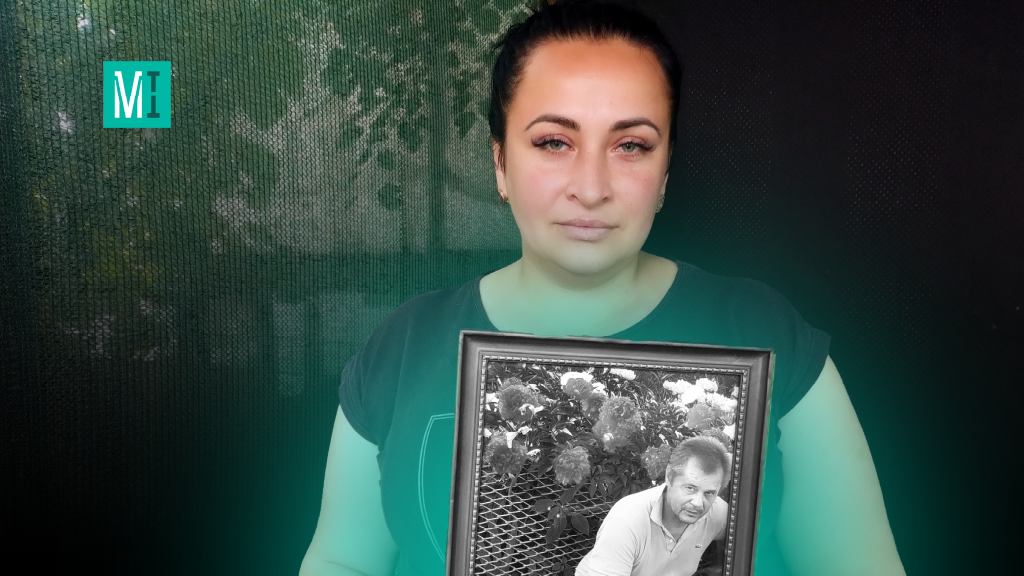 During the occupation of the Kyiv region, the Russian military abducted Ukrainian men en masse. Many of them later ended up in colonies and detention centers in Russia. MIHR tells the story of Serhii Khrolenko, whose family has been trying to find his traces for a year and a half.
MIHR met Serhii Khrolenko's daughter Yana Sheremet last year during the search for Dmytro Khyliuk, a Ukrainian journalist abducted by Russians in the village of Kozarovychi, Kyiv region. It was March 2022. At the time, Yana said that her father, a 53-year-old furniture maker, was being held at the "Viknaland" plant in the village of Dymer. In the foundry and other premises, the Russian military imprisoned more than 100 civilian hostages from the Vyshhorod district. Some were released, but most were taken to Russia in small groups to Kursk Detention Center No. 1 and Bryansk Detention Center No. 2 in Novozybkov. Last year, we published the story of the abduction of Serhii Khrolenko. At that time, Yana Sheremet did not find any witnesses who knew where her father was being held. We met with her again to find out how the search is progressing.
Went to the store and disappeared: the chronology of Serhii Khrolenko's abduction
On the day of Russia's full-scale invasion of Ukraine, Serhii Khrolenko and his wife Zhanna were in their home in Dymer. Serhii's daughter, Yana Sheremet, says that her father went to the store on February 26, the day of his disappearance. "It's about 900 meters from the house. He went without his phone and passport because he hoped to return very quickly. He took an ordinary shopping bag. It was about 3:30 pm. And then, a Russian armored personnel carrier drove up to the store. Tanks were coming. Everyone ran away, but my father decided just to keep walking home. They started calling out to him, saying, where are you going? He answered that he was going home. They said, "You'll come with us. My father refused. Then the Russians ran up, grabbed him, shoved him into an armored personnel carrier, and drove him away in the direction of the village center," Yana recounts the words of witnesses. He says that through Dymer, Russian military equipment was moving from Katyuzhanka towards Demydiv.
In early March, the Russians installed their "starosta" in Dymer, Oleksandr Kharchenko. In May 2022, after the de-occupation of the Kyiv region, the SBU detained him, and he is accused of collaboration and illegal dissemination of information about the movement of the Armed Forces and equipment during martial law. Yana Sheremet says that last March, she called Kharchenko and asked if he knew anything about her father.
"Kharchenko confirmed that his father was in captivity, in 'Viknaland.' He said he was detained because of his allegedly rude behavior to the Russian military. I started pleading with him, asking if we could negotiate his release, and promised him a car in exchange for my father's freedom. And he said that everything would be fine, that he would be released on March 19," says Serhii Khrolenko's daughter. According to her, between March 22 and 24, Kharchenko stopped answering calls and later turned off his phone altogether. The same is confirmed by the correspondent of the MIHR, who, on the same day, was looking for information about the abducted UNIAN journalist Dmytro Khilyuk, trying to contact Kharchenko about this. But to no avail.
Yana Sheremet says that later, one of the guys who was injured by the Russians but released noted that in March, he saw Serhii Khrolenko on the territory of Viknaland. "He recalled that my father reassured him, told him not to worry, said that they would release them, that they would be at home," Sheremet said.
According to the woman, the witness saw how the Russians took her father for interrogation, after which they always returned him to the other prisoners. However, one day the man was taken away and never returned. According to the testimony, this happened on March 19, 2022. Since then, the trail of Serhii Khrolenko has been lost.
Where has Serhii Khrolenko gone?
Yana does not know whether Kharchenko, accused of collaboration, has testified about Serhii Khrolenko. The SBU's response of April 20, 2023, states that the Joint Center has information about the disappearance of Serhii Khrolenko, but they do not know whether he is illegally detained in Russia.
The daughter of the abducted man conducted her own investigation. To do this, she interviewed about 30 people released through the exchange who had been held hostage in Russia. In this way, the woman sought at least some trace of her father. "I asked them if they had heard of Serhii Khrolenko or if someone who was in the cell with them had mentioned his name. But it was no use. No one had seen or heard of him," says Yana. A ray of hope flashed only once when witnesses reported hearing her father's name in Kursk SIZO (detention center) No. 1. But later, it turned out that it was not Khrolenko, but Dmytro Khrulenko, another civilian from the Vyshgorod district, who is being held in Kursk SIZO No. 1.
In a conversation with Yana Sheremet, we recall that in May last year, some telegram channels published lists of hostages, including S. Khrolenko. At the time, it was said that he was allegedly being held in Bryansk SIZO No. 2 (Novozybkov). However, the missing man's daughter says this is not confirmed. "No person released from captivity would say that he saw him in Novozybkov. In general, the situation is such that my father's path is lost. We do not know in which direction to look," Yana Sheremet sadly notes.
If it's not in Russia, where is it?
Although a police report on the abduction of Serhii Khrolenko was filed last year, his daughter has not yet received a response, even about who is leading the case. When asked by the MIHR whether she has had productive communication with law enforcement agencies, Yana replies: "I kept trying to get in touch, to find the person in charge of the case, to get some information. But I still only have an extract from the State Register of Pre-trial Investigations. But I do not know what exactly they are investigating and what their results are." Sheremet says she has recently started working with a lawyer. "He will ask the investigator to take additional testimony from Kharchenko. He needs to know where my father went after March 19," the woman believes.
She received two responses from the National Information Bureau. The first one was in December last year, stating that the NIB had received information about Serhii Khrolenko's possible captivity and that the authorized bodies were checking the data. The second answer (in April of this year) is almost identical. However, the word "possible" is no longer there. Instead, it is stated that the NIB has received information "about being in captivity." No other details are disclosed in the letter.
Yana Sheremet sent numerous appeals to Russia and Belarus, particularly the Russian Ombudsman Tatiana Moskalkova and the Russian Defense Ministry. She asked whether Serhii Khrolenko was being held on the territory of the Russian Federation. The first response from the Russian Defense Ministry came in February this year. In it, the ministry referred to the Third Geneva Convention, according to which the Russian Defense Ministry allegedly organized the transfer of data on prisoners to the ICRC. But this letter does not explicitly mention Serhii Khrolenko. A similar response was received in March. Something else came from the Russian Defense Ministry in May.
"The response of May 2 states that as of May 2, Serhii Khrolenko is not on the list of persons detained for opposing the special military operation," says Yana.
The woman is unsure of the integrity of the information the Russian Ministry of Defense provided. Still, she doubted the initial version of her father's transfer to Russia. "I don't know where he is. I went to the ICRC office in the Czech Republic, talked to them, and persuaded them to start a profile for him, but so far, he has not been confirmed by the Red Cross. Then where is he? I want to get additional testimony from Kharchenko; I want the unidentified bodies to be tested for DNA, which my brother and I submitted last year. I will keep looking. I want to believe that he is alive. But if he is not, I have the right to know about it," says Yana Sheremet. Soon, she will file a lawsuit with the ECHR over her father's abduction.