Military duty, captivity, death: the tragic story of Sviatoslav Saltykov, military band saxophonist of the 36th Separate Marine Brigade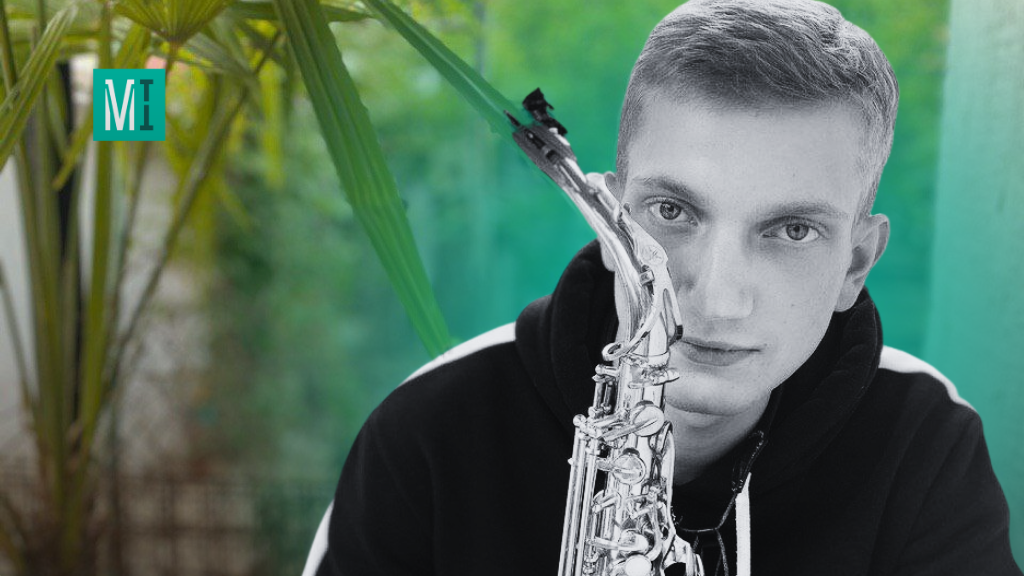 "Last summer, our entire family shared a dream of Sviatoslav, where he returned home and entered our house. It seemed as though our son was filled with eagerness to come back, as if he awaited his exchange," recalls Serhiy Saltykov, father of 22-year-old marine Sviatoslav Saltykov. For a year, the family anticipated their son's return from captivity, only to receive the devastating news in April 2023 that Sviatoslav's life had tragically ended.
Talented in every way
In the small village of Kryva Balka, located 18 kilometers from Mykolaiv, we are welcomed by Sviatoslav's family, consisting of his parents, two older sisters, and grandparents. Displayed in a frame adorned with a black ribbon is a portrait of Sviatoslav Saltykov, a proud soldier of the 36th Separate Marine Brigade, dressed in his immaculate white uniform.
"When we were blessed with a son, I saw it as a divine gift. Sviatoslav was an incredibly gifted child, showing exceptional talent in drawing and a deep passion for dancing," shares his father.
He reveals that Sviatoslav's early affinity for music led them to enroll him in a music school. Initially, he started his musical journey by learning the piano, but soon his aptitude shone through as he swiftly mastered the saxophone. Upon graduating from the music school in Mykolaiv, his peers encouraged him to join the renowned military orchestra of the 36th Separate Marine Brigade, named after Rear Admiral Bilinsky.
On February 24, 2022, Sviatoslav Saltykov and his military band were on a work assignment on the outskirts of Mariupol. Consequently, when the full-scale invasion began, Sviatoslav, along with the entire orchestra, did not remain passive.
"His comrades-in-arms spoke of his remarkable composure and fearlessness," his father recalls. "In his messages to us, my son expressed his determination to fight, mentioning his deployment to the front lines. There were even reports in the news about the band's involvement in combat. I must admit, I didn't initially realize the gravity of the situation; after all, they were musicians."
What was the orchestra doing in Mariupol?
While Svyatoslav's father recounts memories of his son during the initial days of the full-scale invasion, a girl enters the house. "Please meet Diana," Maryna Viktorivna, the boy's mother, introduces her. "She and Sviatoslav were part of the same orchestra."
Like Sviatoslav, Diana became a member of the 36th Brigade's orchestra in 2019: "We were like a close-knit family. I was the only girl among them". 
The military band found themselves on the premises of an abandoned detention center in the village of Staryi Krym near Mariupol when the full-scale invasion began. 
"Not far from us, there was a factory," recalls Diana Polianytsia. "Initially, it was targeted by bombings. Then, on February 25, our base came under attack. That's when we experienced our first casualties."  
Fortunately, Diana was able to leave before Mariupol was completely surrounded, while her fellow comrades stayed behind to fulfill their duties – conducting patrols, securing the area, and delivering ammunition.
"People frequently wonder about what the orchestra was doing in Mariupol. We went there with our instruments, stationed on the second line of defense rather than the immediate frontline. Despite the harsh conditions within that cold, dilapidated prison, we persisted in our practice sessions, even preparing for a concert," Diana explains. 
In early March, when supplies of food and ammunition were depleted, the orchestra relocated to the premises of the Ilyich plant. Diana maintained constant communication with her comrades through the conductor of the orchestra, who would search for areas with cellphone reception and update her on the situation. She shares that her comrades never expressed complaints, but instead offered encouragement to her and their families, even though they themselves had gone without food for several days.
The orchestra's final communication occurred on April 10, 2022, and by the 12th, news emerged that everyone who had been at the Ilyich plant had been taken captive.
Complex search mission
The family received the distressing news of Sviatoslav's captivity through a video shared by Russian propagandist Alexander Sladkov, and unfortunately, no further details were available about his situation.
"During meetings at the Coordination Headquarters, they kept telling me that they knew the whereabouts of every Ukrainian prisoner, "says Maryna Saltykova", so I asked them to tell me where my child was. 
They said that he was probably in Olenivka, then later in Kamyshyn in Volgograd Oblast, and subsequently at the fifth penal colony in Stavropol. The information kept changing every month."
Despite the parents' efforts to seek information about their son, including reaching out to the International Committee of the Red Cross (ICRC), no details regarding Sviatoslav were provided. Even when some soldiers from the 36th Brigade were released, his whereabouts remained unknown. It was not until the summer of 2022 that the ICRC confirmed Sviatoslav's status as a prisoner of war, but unfortunately, the organization did not disclose any information about his specific location to his family.
In August 2022, Sviatoslav's parents received two letters from their son. In these letters, he reassured them of his well-being: "I am young, strong, healthy, I will survive. Sooner or later I will return. Take care of yourselves and give my regards to everyone. I love you all and pray for you." The last letter arrived in September, although neither the date nor the precise location of the prisoner was indicated in any of the correspondence.
On April 14, 2023, a poignant message surfaced in a Telegram group dedicated to locating missing individuals: "Seeking Saltykov's parents." In that moment, the family of the young man learned that he was last seen at Pretrial Detention Center No. 2 in the city of Kineshma, Ivanovo Oblast. Just a week later, they received a call with the news that Sviatoslav's lifeless body had been repatriated to Ukraine.
"They sent me preliminary identification photos. Though I noticed certain distinguishing features that pointed to our son, I couldn't bear to examine them closely. It was incredibly difficult to look upon," Serhiy Yosypovych shares with a heavy heart.
The documents that accompanied Sviatoslav's remains revealed that he passed away in November 2022 while at Pretrial Detention Center No. 2 in Kineshma. However, the cause of death was undisclosed.
Teeth fell out from torture
The fate of Sviatoslav remains shrouded in mystery, as no definitive information has emerged regarding his circumstances. The condition of the body presented to his grieving family was utterly distressing. Serhiy Yosypovych, Sviatoslav's father, was present during the identification process.
"According to forensic experts, the state of our soldiers' bodies upon retrieval makes it exceedingly challenging to ascertain the cause of their deaths. I noticed evidence of a nosebleed and bloodstains on his person.
I'm no forensic expert, but his broken jaw and crooked nose were also apparent during the examination," recounts the bereaved father.
From the accounts of several individuals who shared the same detention center with Sviatoslav, the parents obtained sparse details. These fragments of information, however, illuminate the abhorrent treatment inflicted upon Ukrainian prisoners in that place: meager rations, woefully inadequate medical attention, blindfolded and stooped walks, and stringent prohibitions against any form of communication amongst them.
"A recently released young man recounted the harrowing ordeal they endured, sharing that they were subjected to brutal taser strikes on their heads, resulting in him having only four remaining teeth on his upper jaw. The excruciating pain and the severe beatings caused his teeth to fall out," says Maryna Saltykova. "I have also been in contact with the mother of another freed young man, as he trembles uncontrollably when confronted with these haunting memories, rendering direct conversation impossible."
The boys also told the parents that Sviatoslav was identified by his voice, as he was frequently coerced to sing. "The last song remembered by the guy who was exchanged was 'Paradise Lost' by the Russian band Aria. It is likely that he was coerced to sing these songs, as singing Ukrainian ones would have resulted in beatings," says the father.
According to the released soldiers, Sviatoslav experienced health issues while in captivity – his blood pressure started to rise, and he was even hospitalized. However, in October, as Maryna Saltykova recalls, her son was heard participating in morning exercises and seemed to be doing well. However, something happened in November.
"A guy who was with Sviatoslav during the summer shared that our son was a constant source of moral support for everyone, always maintaining a positive attitude and singing songs. His presence and music brought comfort and uplifted their spirits. However, we suspect that something changed later on. We have a feeling that he stood up for someone and faced severe beatings as a result," suggests Serhiy Saltykov. 
Pretrial Detention Center No. 2 on Shuiska Street in the city of Kineshma is situated adjacent to women's correctional facility No. 3. Access to the prisoners' building requires passing through a checkpoint followed by traversing a lengthy underground corridor. With a capacity to accommodate 122 individuals, the pretrial detention center comprises 40 cells and 2 solitary confinement cells.
Where was the Red Cross looking?
Svyatoslav's untimely demise struck his family with disbelief, as they had been constantly reassured that he was safe and would soon be reunited with them.
"I always believed that the orchestra could never remain in captivity for such an extended period," says Diana Polianytsia, "as our primary tasks involve concerts, video recordings, charitable initiatives for children, and collaborations with other musical ensembles. Our aim has always been to elevate the cultural landscape of our nation. Yet now, even the information we receive cannot be relied upon. 
No one could have fathomed in their worst nightmares that one of them would lose their life. We held onto the hope that if they were captured, it meant they had managed to evade the clutches of that Mariupol bloodbath and would survive."
Every time Maryna Viktorivna reached out to the Red Cross, they reassured her that Sviatoslav was in good health, pointing to his letters as evidence and insisting that they knew his whereabouts, assuring her to be patient for the eventual exchange.
"They claim to have knowledge of everyone and maintain complete control," says the marine's elder sister with indignation, "but how is that possible? If Sviatoslav has been dead for five months, yet they persistently assured us that everything was fine?"
On May 2, 2023, Sviatoslav Saltykov was laid to rest at the cemetery in the village of Kryva Balka, while the melodic tunes of jazz, his beloved music genre, filled the air. Andriy, his friend, played the instrument, honoring their shared passion. "We never expected to bid farewell to him this soon," says Maryna Viktorivna.
This publication was compiled with the support of the European Union and the International Renaissance Foundation within the framework «European Renaissance of Ukraine» project. Its content is the exclusive responsibility of the authors and does not necessarily reflect the views of the European Union and the International Renaissance Foundation.