Nothing Sacred: How Russian Forces Abducted UGCC Priests Ivan Levytskyi and Bohdan Heleta in Berdiansk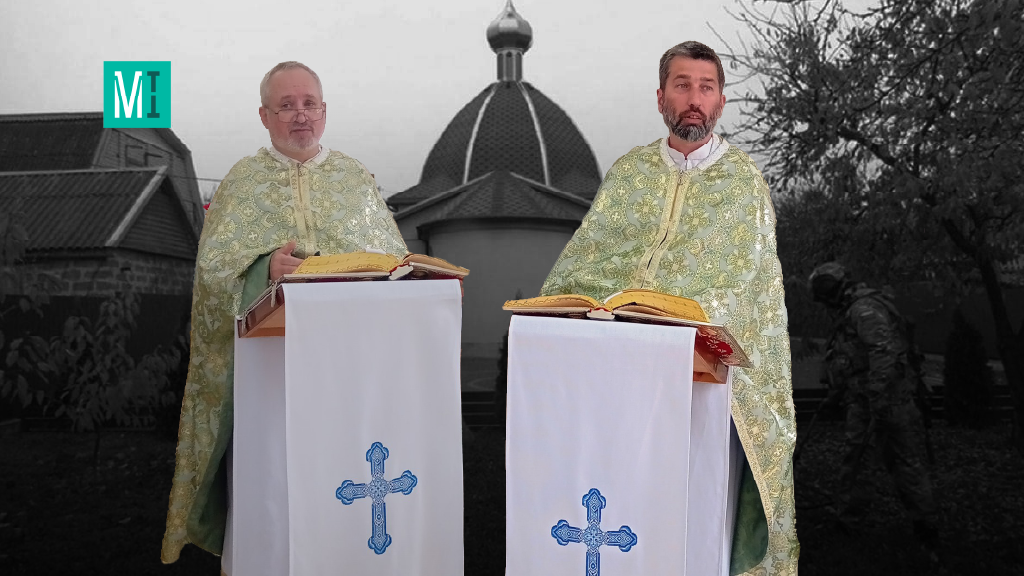 Ivan Levytskyi hails from the Lviv region, while Bohdan Heleta comes from the Ivano-Frankivsk region. Driven by their spiritual calling, both decided to become monks. They served in Berdiansk for approximately four years. The parish of the Nativity of the Blessed Virgin Mary of the Ukrainian Greek Catholic Church was relatively small. According to relatives of the priests, their term of service in Berdiansk was due to conclude by the end of 2022, and they were planning to return home.
"When the full-scale war erupted, we suggested to Father Ivan that he return home. However, he stated that he would not abandon his people and his church," explains Khrystyna Lekh, a relative of Ivan Levytskyi.
On February 27, 2022, Russian troops seized Berdiansk. In response to the occupation, locals engaged in peaceful protests, in which the clergy of the UGCC also participated. Each day at noon, Father Ivan Levytskyi led prayers for peace in the city center near the installation "I Love Berdiansk."
Father Andrii Bukhvak, the Chancellor of the Donetsk Exarchate of the UGCC, shares that during the initial days of the occupation of Berdiansk, priests conducted prayer services for peace under Ukrainian flags. However, they stopped using Ukrainian symbols after the forceful suppression of peaceful protests. On November 16, Ivan Levytskyi was apprehended in the city center during another peace prayer. Later that same day, Russian forces captured Bohdan Heleta, another priest from the UGCC's Parish of the Nativity of the Blessed Virgin Mary.
Russian law enforcement officials searched the Church of the Nativity of the Blessed Virgin Mary the following day, with Russian propagandists filming a report about the event.
Ivan Levytskyi – in a story by Izvestia
Trumped-up accusations
Russian propagandists published a news story on November 24 of the previous year regarding the detention of the rector of a Greek Catholic Church. The story claimed that three TNT blocks, electronic fuses, mortar shells, and two pistols were supposedly discovered in the church. Additionally, they found Ukrainian church literature, which they deemed as evidence of the priests' unlawful activities. They also aired an interrogation of Ivan Levytskyi, who did not admit to any "crimes."
"We are confident they couldn't have done that. You should know them. Father Ivan Levytskyi is an incredibly kind and compassionate individual. He has consistently aided the poor and those in need and has always been attentive to everyone," reassures Khrystyna Lekh.
The Donetsk Exarchate of the UGCC believes that these accusations were fabricated as a response to SBU (Security Service of Ukraine) searches at the Kyiv-Pechersk Lavra. The Exarchate's leadership supports this stance, pointing out that there were no mentions of the priests by Russian security services from the outset of the full-scale war until their arrest. Furthermore, the search of the church, the parish house, and other technical facilities within the parish occurred after both priests had already been apprehended, rendering them incapable of overseeing these premises or the actions of the Russian military.
The Exarchate statement asserts, "The accusations against the Pastoral Fathers stem solely from their unwavering loyalty to God and the Church."
On December 1, 2022, Sviatoslav (Shevchuk), the head of the UGCC, called for the release of the priests: "Yesterday, we received reports of their merciless torture. Employing classic Stalinist repressive methods, they coerce false confessions from them. Their lives are in imminent danger."
Viktor Dudukalov, Deputy Chairman of the Berdiansk District Council, also confirms the torture of the priests. In a Facebook post, he writes, "Father Bohdan has diabetes. Detention is perilous for his health. He is currently held and subjected to torture in colony #77."
In April of this year, Russian forces seized the Roman Catholic Church building in Berdiansk. In a video report, propagandists accused Catholic priests of engaging in "large-scale subversion" against Orthodox Berdiansk.
"The likelihood is high that the church on the mountainside provided refuge to Ukrainian military personnel, subversive groups, and served as a covert location for Greek Catholics who concealed weapons and explosives in their hideout," the report claims. Additionally, the propagandists allege that Catholic priests unlawfully accessed personal data of parishioners and utilized their biological materials.
The Berdiansk City Military Administration asserts, "The Church of the Nativity of the Blessed Virgin Mary wasn't just a religious congregation. It provided support to those in need, and both city residents and visitors could enjoy organ music. From the outset of the occupation, the church offered shelter and assistance to anyone requiring it."
Petro Krenitsky, rector of the UGCC parish of the Assumption of St. Anne in Melitopol, is well-acquainted with the Berdiansk priests. While residing in Russian-occupied Melitopol, he also faced harassment and eventual "deportation."
Tried not to provoke and sometimes joked
Striving not to provoke and occasionally using humor Petro Krenitsky, of Slovak nationality and recently turned 67, shares his experiences with MIHR about interacting with the occupiers. He arrived in Melitopol 12 years ago from Zakarpattia. He founded the parish of the Assumption of St. Anne here, along with others, including the Nativity of the Blessed Virgin Mary parish, served by Oleksandr (also known as Sashko) Bohomaz.
Describing Melitopol as an oasis of Ukrainian culture, spirituality, and thoughtful individuals, Petro Krenitsky highlights that many locals have roots in western Ukraine. Post-USSR, the demand for a Greek Catholic Church emerged.
"We initially established a chapel in a regular house in Melitopol. Later, we constructed a church in the village of Orlove in the Melitopol district. Given the considerable number of immigrants from Zakarpattia, we transported wood to build a church there. We also formed communities in other nearby villages," Petro Krenitsky recounts.
Both the number of parishioners and priests grew over time. Petro Krenitsky notes that the Ukrainian Greek Catholic Church gained trust in the region throughout the years, and the priests maintained positive relationships with authorities, the community, and other churches.
When Russia's full-scale invasion began, priests in Melitopol, similar to those in Berdiansk, offered prayers for peace in the city center. As the occupied villages in the district required assistance, the priests aided civilians by providing bread, water, and medication, and assisting pensioners with ATM transactions.
Recognizing that arrests would eventually target him in the city, Petro Krenitsky understood that the occupiers aimed to instill fear. The first encounter with the occupiers occurred in mid-March 2022.
"They were representatives of the Russian FSB. I endeavored to maintain a positive demeanor, preventing fear from overwhelming me and resisting their attempts to assert control," recalls Krenitsky.
Surprisingly, the Russians responded with hostility and puzzled disbelief when a Ukrainian priest spoke Ukrainian. "I joked, 'Look at my age! When will I manage to learn Russian?' I clarified that I was Slovak and had chosen to remain there to assist people," Petro Krenitsky recollects.
Multiple encounters with Russian intelligence followed, particularly at checkpoints, as the priest frequently traveled to villages deserted by other church members.
"There was a variety of individuals among the military," says Father Petro. "I even encountered our fellow Ukrainians from Donetsk and Luhansk, who treated me kindly and asked, 'Father, pray for us to return home!' Some soldiers, aware that I delivered bread to villages, recognized me by saying, 'Ah, the Father who smells like bread.' Nevertheless, some military personnel confronted me. On one occasion, they learned of my Slovak background and aggressively questioned whether I knew that Slovakia had supplied weapons to Ukraine. I humorously responded, 'Gentlemen, I'm sorry that the Slovak authorities didn't consult me and decided without my input.' I then added, 'Gentlemen, I am merely a priest. I live with people and for people.' I explained that I had nothing to fear or conceal, as my mission was to serve the elderly in nursing homes, assist the needy, the sick, and the homeless."
Father Petro aimed to engage the Russian military in conversations devoid of sarcasm or incitement to aggression, despite their provocations. Each interaction left him drained, and he sought solace and recovery through prayer.
"It's not the golden domes that adorn the church, but golden hearts." 
Petro Krenitsky had another encounter with Russian intelligence services on November 22, following the detention of the Berdiansk priests. At that point, Father Petro decided to travel to Berdiansk to gather more details. However, at the checkpoint near Berdiansk, he was detained and subjected to a harsh interrogation.
The military personnel asked me, 'Aren't you afraid?'". I responded, "What harm can you do to me? None. You can kill me, and I will be thankful because I have all the necessary documents to go to heaven," shares the priest. "They questioned me about why our church's stance was against Moscow. I explained that irrespective of policies, monarchs, or presidents, there will always be people who are hurt, carrying mental wounds, and those in need of support. My role is to help them find peace and spiritual strength."
During this period, Petro Krenitsky's residence permit had already expired, and Russian military personnel advised him to go to Zaporizhzhia, a free territory in Ukraine, to renew it.
"He suggested that with a new residence permit, I could obtain other documents within the occupied territory. Later, I discussed this with our Bishop and informed him that I wouldn't leave, as I knew they wouldn't allow me to return once I left," recalls Father Petro.
The Russians attempted to "buy" him by offering a substantial amount of money to construct a cathedral in Melitopol honoring the martyrs.
In response, I told them that it's not the golden domes that grace the church, but golden hearts. "I said, 'Assist people and allocate the funds for medical treatment. If people require a church, we'll have a building. If not, we'll pray outdoors. God doesn't need gold—God needs us to live in love for people,'" recounts Father Peter. "I've been familiar with the KGB since my early years. Russia hasn't changed since the Soviet era—the attitude is haughty; the principle remains the same: you may have your own God, but his power is limited to what we permit, and you are insignificant. I realized they were enslaved by fear, afraid of betraying each other. That's why they hide from one another."
On that day, they held him for approximately four hours. Afterward, he proceeded to the Church of the Nativity of the Blessed Virgin Mary, where Ivan Levytskyi and Bohdan Heleta served. The church had been sealed. He observed a woman weeping near the fence.
"We were acquainted as I had visited here before. She rushed over, embraced me, wept, and shared the story. Father Ivan used to drive to the city center daily for prayer. He was accompanied by 3 or 4 women. An elderly parishioner had penned a Ukrainian poem, discovered by the Russians in a prayer book within the church. The poem touched on war, pain, and suffering. She had written it on a piece of paper, signing her name. The Russians used this information to track her down. She was apprehended and detained for three days. They released her under a humiliating condition: she had to memorize the Russian anthem within four hours and sing it in the city center," Father Peter recounts.
Fallen under the "Berdiansk wave"
Three days later, on November 25, Petro Krenitsky encountered the occupiers again. During the morning service, he noticed two unfamiliar men pretending to be parishioners. Adjacent to the church was an old house where Father Petro resided. Workers were conducting repairs. After the morning service, the priest provided breakfast to the workers and went to the churchyard. At that moment, a car with tinted windows approached, and masked soldiers disembarked. One of the soldiers confronted the priest, ordering him to remove his cassock and kneel.
"He issued the command but didn't wait for me to comply. He began assaulting me," Petro Krenitsky recalls. "He kicked and punched me, striking me with his hands and feet, and hit my spine with his automatic rifle. While I knelt, they evacuated the workers from the house. One of the workers inquired about the situation. A soldier grabbed him by the hair, slamming his head against the wall, causing injury. Their FSB leader, who supposedly respected me, restrained his subordinates and informed me that I had fallen victim to the 'Berdiansk wave.' Subsequently, they searched both the church and the house but found nothing. They intended to seize my car, but I managed to transfer it to another person."
Petro Krenitsky reveals that he wasn't informed about the "deportation." They instructed him to pack his belongings for a change. He requested to take his Bible, a prayer book, and a prayer rope. However, he was prohibited from taking his robe. With a bag placed over his head, he was seated in the back seat between armed soldiers, and they drove off to an undisclosed location. After approximately 10 kilometers, he began struggling to breathe.
"I told them, 'Gentlemen, either assist me in crossing over to the other world, or I can't breathe; I'm choking.'" The FSB officer responded, "Remove the bag." Following that, they informed him that the Russian Federation was extending kindness by transporting him to the border at no cost," Petro Krenitsky recounts.
They took him to the Vasylivka checkpoint, where he was handed over to different soldiers. One of them began taunting him.
"When they handed me over to him, he remarked, "I will do to you everything your fascists are doing to our military." His language was vulgar, and he said, "Shall we have some fun?" Subsequently, the soldier took me about 500 meters away from Vasylivka, confiscated my money and phone, read out the 'deportation' verdict, and stated, "That's it, go. I might shoot you along the way."
The Russian soldier, however, refrained from shooting. Petro Krenitsky reached a Ukrainian checkpoint, where he received assistance in traveling to Zaporizhzhia. Later, he returned to serve in Zakarpattia. Approximately one week after his deportation, another UGCC priest from Melitopol, Oleksandr Bohomaz, also faced expulsion.
Petro Krenitsky notes that representatives of other faiths also experienced harassment. For instance, Jehovah's Witnesses followers departed immediately after the occupation, as this organization is banned in Russia. Representatives of other Protestant churches, such as New Generation, New Life, and Grace, were likewise compelled to flee.
International Law and Protection of Priests 
"Andrii Yakovliev, an expert from MIHR and managing partner of Umbrella Law Firm, declares that the actions of officials from the Russian Federation who authorize the illegal imprisonment, deportation, and capture of civilians in the occupied territories, including clergy representatives, exhibit characteristics of war crimes."
— In accordance with international humanitarian law, religious personnel, as well as civilians who find themselves under the control of a party whose nationality they do not possess due to armed conflict or occupation, are recognized as victims of war. Consequently, these individuals are safeguarded by the Geneva Conventions. Specifically, they are protected by the Convention relative to the Protection of Civilian Persons in Time of War (Fourth Geneva Convention) and its Additional Protocols, adopted in 1977 and 2005.
These documents encompass numerous regulations that the occupying power is obligated to fulfill with regard to the civilian population remaining within the occupied territory. For instance, a civilian residing in occupied territory holds the right, regardless of circumstances, to personal dignity, respect for their honor, religious beliefs and rituals, customs, and traditions. The state party involved in the conflict, under whose authority these civilians find themselves, must treat them humanely and implement appropriate security measures.
When addressing the clergy, Article 58 of the Fourth Geneva Convention stipulates that the occupying state must permit clergy members to offer spiritual support to their fellow believers. Furthermore, the occupying authorities are required to accept shipments containing books and items essential for fulfilling religious needs and to facilitate their distribution within the occupied territory.
In relation to violent acts against civilians, the Geneva Convention prohibits acts of torture, subjecting individuals to cruel, inhuman, or degrading treatment, arbitrarily taking lives, making arbitrary arrests and detentions, denying freedom of thought, conscience, and religion, and presuming an individual guilty until proven innocent before a court of law! Additionally, taking hostages is strictly forbidden.
In cases where an individual is alleged to have committed an offense within the territory of the occupying state, the potential offender has the right to a fair trial. For a trial to be considered fair, it must adhere to principles such as the equality of all participants in the legal process before the law and the court, the adversarial nature of the parties involved, and their liberty to present evidence to the court and establish its credibility before the court. Furthermore, the accused is entitled to a defense and similar rights. Failure to meet these conditions signifies a breach of international law by the occupying state.
Concerning the Russian side's practice of deportation as a form of punishment, firstly, international humanitarian law universally prohibits the forcible individual or mass resettlement or deportation of the population from occupied territory, irrespective of motivations, unless there are valid grounds for evacuation. Secondly, focusing on this mode of punishment, as previously mentioned, such a determination should be preceded by a fair trial. Otherwise, it represents a violation of international humanitarian law. As per Article 7 of the Rome Statute of the International Criminal Court, dated July 17, 1998, "deportation or forcible transfer of the population" is classified among crimes against humanity that entail international criminal accountability.
Given the aforementioned, it can be stated that the actions of Russian Federation officials who decide on the unlawful imprisonment, deportation, and capture of civilians in occupied territories, including clergy representatives, exhibit indications of war crimes. I would like to highlight that war crimes and crimes against humanity are not subject to a statute of limitations."