Detained for being active in social networks, released without a court "sentence"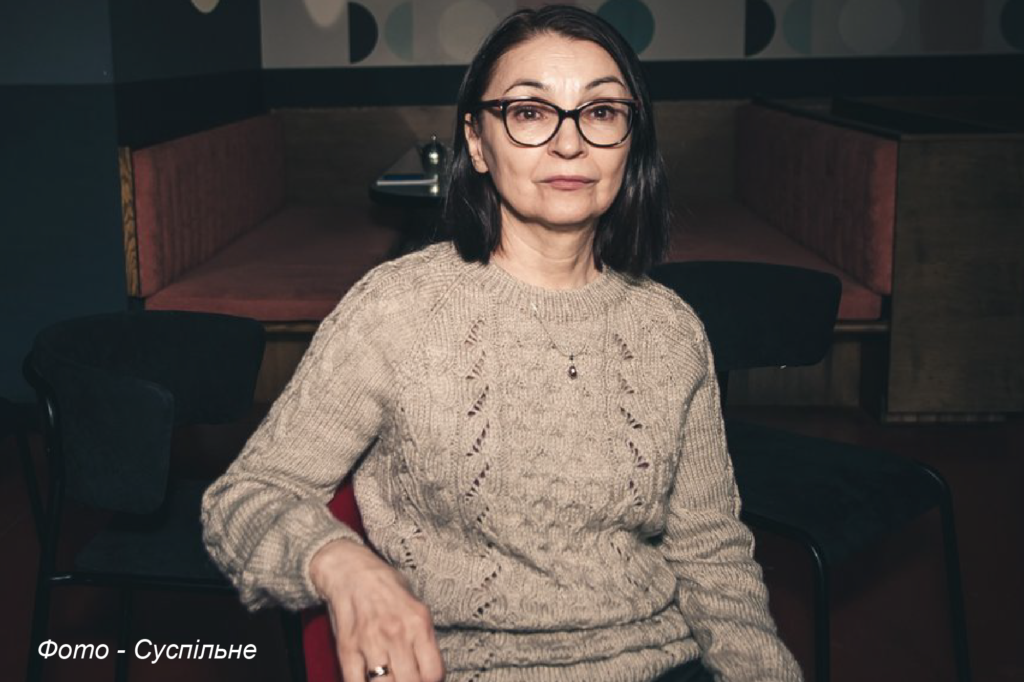 Lyudmyla Huseinova, a volunteer from Novoazovsk, spent more than three years in prison in occupied Donetsk. They managed to free her as part of the exchange of 108 women on October 17, 2022. 
The reason for the detention was volunteering, her pro-Ukrainian position (a blue-yellow flag had been hanging over her house in Novoazovsk for a long time), as well as activity on social media. According to Lyudmyla, her "case" included 50 episodes from her Facebook page where she "liked" something during 2014-2019. According to the "legislation" of the occupiers, this fell under extremism, non-recognition of the authorities, and espionage.
Lyudmyla was not the only female recently detained in the occupied territories for using social networks and approving posts in support of Ukraine. There was a woman in the cell with Huseinova – Olha, who was detained not even for publishing posts, but only reactions to somebody's ones. Her "case" was classified because she had subscribed to the page of Stanislav Aseyev, a journalist and former civilian hostage.
After the occupation of certain districts of the Donetsk region and her native Novoazovsk, Lyudmyla Huseinova had been taking care of children from a boarding school that lived on the front line. On the territory controlled by Ukraine, she collected children's clothes and shoes, bought school supplies, vitamins, candies, books. She, along with her husband Dmytro Parkhomenko, took all these things to the rural school in the village of Prymorske, the Donetsk region.
On the day of her detention, on October 9, Lyudmyla was heading to work – she worked as a safety engineer at a poultry farm in Novoazovsk – and right in front of her a car just braked, armed men wearing military uniform jumped out of it, seized the bag from her hands and put a plastic bag over her head. Representatives of the so-called Ministry of State Security accused Lyudmyla Huseinova of "espionage" and "high treason."
Following the detention, her husband tried to find out what had happened, and where his wife was, he came to the local police department to file a missing person report. "At first, neither the "police" nor the "prosecutor's office" accepted any applications. 'Why did you come? You know that the MGB took her'", that was the way they answered, Dmytro Parkhomenko was telling MIHR earlier.
As it became known, the woman was thrown into the infamous torture chamber in Izolyatsia, a former cultural center in Donetsk, which, after the occupation, was converted into a prison. Lyudmyla was very afraid that her relatives or friends would be imprisoned along with her, because as she says, "they take families there, it makes easier to put pressure", beat confessions out. Her lawyer did not have free access to her; they could meet only at the investigator's office when he summoned her for questioning.
The woman remembers her stay in Izolyatsia with horror – all the cells are under video surveillance 24/7, and screams could be heard 24 hours a day, as soldiers and civilians are tortured. When taken to the investigator, one had to have a bag on the head. Even for a walk, the prisoners went out only with a bag on their heads and were constantly being kicked by guards, who were only male. Some prisoners were forced to work at Izolyatsia. Lyudmyla recalls how in cold November people were taken to an agricultural field and ordered to actually pull carrots out of the almost frozen ground with bare hands, "And they threw us a bag with these carrots into the cell, so that we could wash, peel and grate those. They gave us one blunt knife and a grater, our hands bled with those carrots."
Lyudmyla Huseinova spent 50 days in Izolyatsia. All this time she had no contact with her relatives. "They started to learn something about her when Lyudmyla was transferred to the pre-trial detention center, but there was still no access to her. Meetings were forbidden, the lawyer was meeting with her, but she was not allowed to see her sister," Huseinova's husband recalls.
When Lyudmyla Huseinova was transferred to the Donetsk pre-trial detention center, she, a political detainee, was imprisoned with real criminals – female recidivists. "I was in a cell with 20 women, eight of whom were imprisoned for murder, and eight for drug trafficking. The situations were different: conflicts, fights," Lyudmyla Huseinova says after her release. 
During the three years of Lyudmyla Huseinova's imprisonment, the local "courts" never delivered the so-called sentence. The former captive says that there is a myth that only "convicts" can go to the exchange – that's why some are willing to pay money not for release, but for the end of "trial proceedings" at the request of "lawyers". "We understand that these are just attempts to get money from the detainees," she adds.
"We have a typical situation when authorities created by the occupation administration deprive a civilian of their freedom without legal grounds. It seems that these authorities are deliberately depriving civilians arrested on politically motivated charges of the right to a fair trial," says managing partner of the Umbrella attorneys at law and MIHR expert Andrii Yakovliev.
Otherwise, it is difficult to justify both the long-term deprivation of liberty in inhumane conditions and the right to a fair trial.
"International humanitarian law, in particular, Part 3 of Article 2 of the Additional Protocol (Protocol I) to the Geneva Conventions requires the release of detained persons as soon as the circumstances justifying the arrest are no longer valid. This norm was violated; moreover, the deprivation of Lyudmyla Huseinova's freedom was due to the lack of an effective right to defense, since the justice system did not provide any guarantees for release," he continues. "Deprivation of the right to a fair and public trial, along with illegal deprivation of liberty, are gross violations of Geneva Convention IV of 1949 and Additional Protocol I to the Geneva Conventions and, accordingly, are war crimes."
According to the lawyer, the Russian Federation, violating international humanitarian law, deprived Lyudmyla Huseinova of both her freedom and the right to a fair trial, which should be classified as war crimes.
———–—— 
The project "The quasi-legal system in the occupied Donbas: combating impunity by legal and advocacy tools" is implemented by the Media Initiative for Human Rights with the financial support of the Embassy of the Kingdom of the Netherlands in Kyiv.