Brussels, July 6. MIHR press event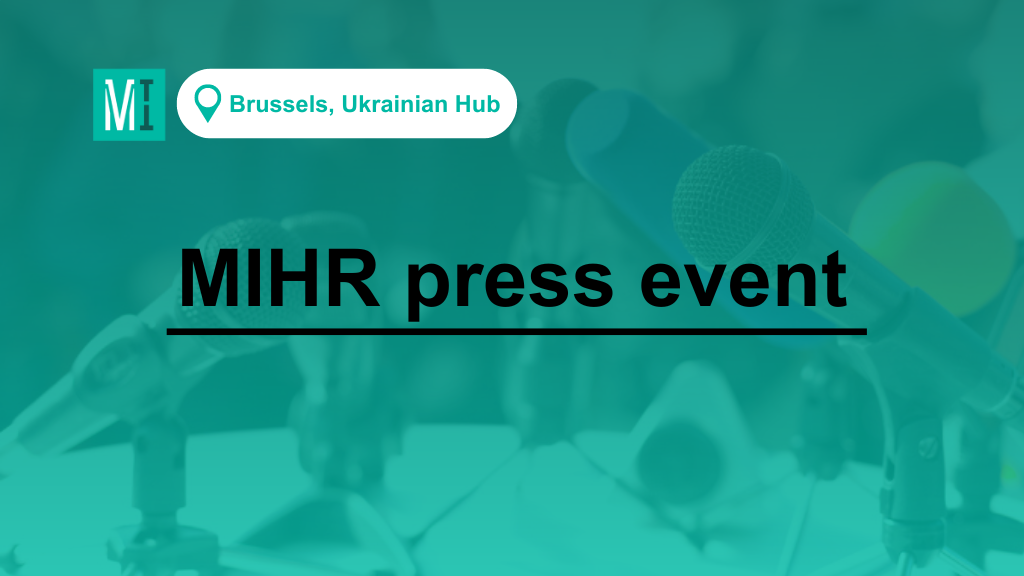 Dear Journalist Colleagues,
We cordially invite you to a press event on Thursday, July 6, 2023, with Ukrainian witnesses to Russia detaining Ukrainian civilians as hostages and the Ukrainian nongovernmental organization 
The Media Initiative for Human Rights (MIHR).
Speakers:
Olha Reshetylova, Coordinator at MIHR

, will analyze the issue of holding Ukrainian civilians hostage by Russia;

Tetiana Katrychenko, Coordinator at MIHR

, will present an interactive map with locations where Russia holds captives and mechanisms that could help release hostages;

Vasyl Khyliuk, father of Dmytro Khyliuk, a Ukrainian journalist held hostage by Russia

, will speak about his fight for the son's liberation;

Yulia Khrypun, Co-Founder of the Civilians in Captivity NGO and daughter of Serhii Khrypun, a civilian kidnapped by Russians

, will speak about her efforts to liberate her father from Russian captivity and founding an NGO to help hostages and their families;

Mykola Zahozhyi, a former civilian hostage

captured in March 2022 while riding home, will share his experience of holding captive in a colony in the Russian Federation.
Under international law, arbitrary detention and taking hostage of civilians during armed conflict are strictly prohibited. But, as of June 2023, MIHR was able to identify 1,168 civilian hostages held in the Russian Federation, Ukraine's occupied territories, and, in some cases, Belarus. However, the actual number of released hostages and those who are still being held could be several times higher. Unfortunately, Russia has not been forthcoming with information about the detained civilians, withholding details from their families, Ukraine, and international organizations.
MIHR developed an interactive map that displays over 100 locations where the Russian Federation detained or is currently holding civilian hostages and prisoners of war. The map undergoes regular updates and additions after thorough verification by MIHR. Also, MIHR experts developed mechanisms that could provide access to civilian hostages and help to release them.
The press event will take place on Thursday, July 6, 11.00–13.00 at the Ukrainian Hub, Pl. du Luxembourg, 1050 Ixelles.
You can bring photo cameras and audio recorders.
R.S.V.P. by Wednesday, July 5, 18.00 to l.illarionova@mipl.org.ua or +38 068 590 74 20 (WhatsApp).