MIHR and victims of Russian war crimes testify in Warsaw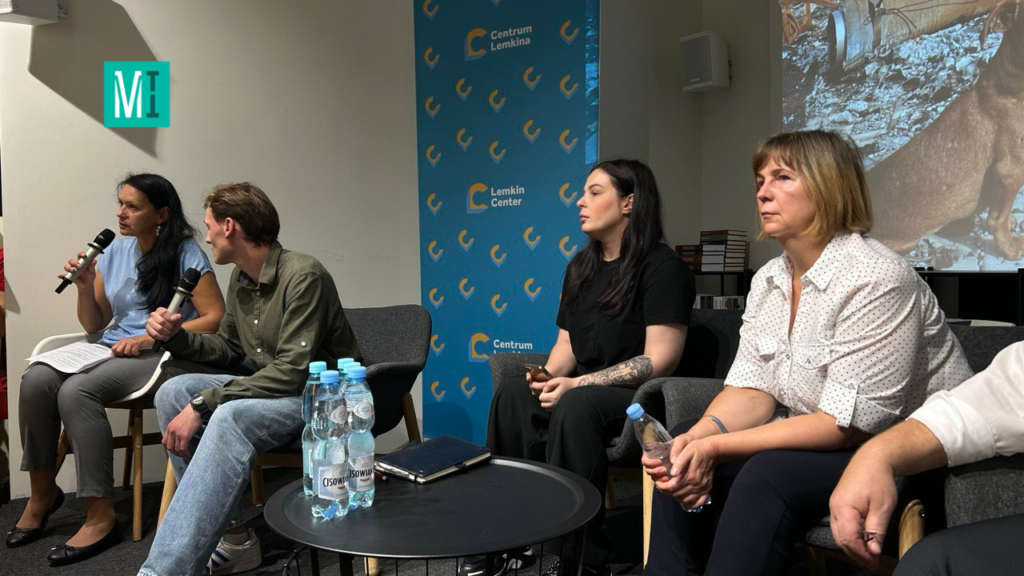 On September 18, at the Piletsky Institute, at the initiative of the Rafal Lemkin Center for Documentation of Russian Crimes in Ukraine, a discussion was held in Warsaw about war crimes committed during the Russian armed aggression. In particular, the detention of civilian hostages.
Russia started this practice not in 2022, but in 2014, when it occupied Crimea and seized parts of Donetsk and Luhansk regions. This was stated by former hostage Iryna Dovhan, who was held by the occupiers for five days. Her release was helped by the fact that the New York Times published a photo of her tied to a pillar.
Isabella Pekh, daughter of civilian hostage Olena Pekh, who was detained by Russian-backed armed groups in 2018, said that her mother was tortured, including with electric shocks, and raped. After that, the woman was imprisoned for "treason against the homeland," i.e. the so-called ""Donetsk People's Republic"". "Although her only homeland is Ukraine," her daughter said.
Kateryna Ohievska spoke about the occupation of Chernihiv region in February-March 2022 and the abduction of her boyfriend, Mykyta Buzinov. Both of them, as well as Mykyta's mother, were detained by the Russian military, mocked and tortured. "Now we will kill him, and then you will be able to say goodbye to him," Kateryna recalls the words of a Russian soldier, "They put a lot of pressure on us morally, they wanted to get a confession from everyone.
"Russia denies holding civilian hostages, hiding them in pre-trial detention centers and penal colonies in the occupied territory of Ukraine and in Russia itself. Representatives of monitoring missions are not allowed to visit them, nor are lawyers. In such conditions, it is very important not to lose a person when his or her whereabouts are unknown," said Tetiana Katrychenko, Executive Director of the MIHR.
She emphasized that there is currently no civilian release mechanism, but it is very important to talk about this category of citizens and demand that Russia release them unconditionally, as required by international law.