"I will Fight to the Death. I will Never Surrender" – the Story of Oleksandr Dubovyk, an Israeli Volunteer Killed by a Wagner Group Member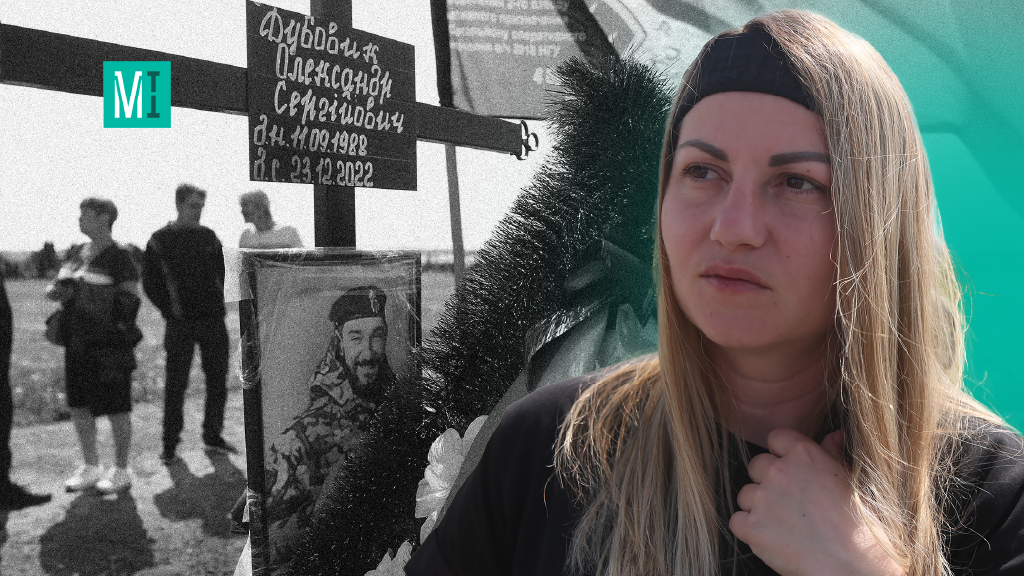 Forest, trench, two silhouettes. One of them is a Ukrainian soldier, the other one is a Russian Wagner Group member. The Ukrainian soldier wounded and unarmed stands still, the Russian looms over him. What follows is a short dialogue. What they are talking about remains unknown. In a moment, the Wagner group member puts on a helmet, goes around the trench, stands behind the Ukrainian, raises his weapon and shoots him.
This video was made by a Ukrainian reconnaissance drone. It recorded the murder of Ukrainian soldier Oleksandr (or Sasha) Dubovyk using the call sign "Partisan", a volunteer of the Svoboda (Freedom) Battalion of the National Guard of Ukraine, who was taken into captivity by Russians.

He made his last phone call to his wife at the end of December 2022. "Sasha's 23rd unit launched an assault near the village of Ozarianivka, the Bakhmut direction. No one has yet been able to tell what happened. But we realized that we were ambushed: a sniper was sitting somewhere, they came under fire. I don't know how many people were together with Sasha, but ten of our soldiers died that day," says Olena Dubovyk, the wife of Oleksandr Dubovik. 

"I cannot remain a passive observer. I served in the army. This is my duty."
We met Olena in the Alley of Glory of the Krasnopillia Cemetery in Dnipro. This is where Oleksandr was buried. With tears in her eyes, but still with a smile on her face, Oleksandr's wife talks about her husband. She admits that no matter how painful it may be, her memories of Alexander bring her joy alone.
"He has a very positive outlook. He can transform any dire situation into something that make you laugh. Even his fellow soldiers were talking about it on the day of the funeral. He would say, "Well, why are you so sad?" I remember that and I can't help but smile. He is everywhere with a smile, everywhere. Even during the war," Olena describes her husband in the present tense, although she learned about his death almost immediately.
Oleksandr Dubovyk was 34 years old. He met Olena in Dnipro. This is where they got married and where their son Artem was born. Because of the illness of a member of their family, they went to Israel, where they received citizenship, lived and worked, and where their daughter was born. However, the family planned to return to Ukraine and settle in Dnipro.
Everything changed on February 24, 2022.
"On February 26, Sasha and Artem with balloons and the flag went to Tel Aviv to attend a rally in support of Ukraine. After his return, he made calls all the time and talked with his friends, those with whom he served in the army when he was 18. They said they were going to join the Armed Forces of Ukraine," Olena recalls.
On March 1, Oleksandr, as usual, went to work. However, Olena got suspicious because "my husband is looking so good and is going to work, always in work clothes, and now he is dressed up." Her husband replied that he would be back soon. 
He came home in the evening. He said that he had been at the Ukrainian embassy and was going to war. "I burst into tears at once. Of course, I went into hysterics. I tried to dissuade him," says Olena. "We could talk normally only the following day. Then Sasha said to me, "I cannot remain a passive observer. I'm a man. I served in the army. This is my duty.". It was difficult for him to see men leaving Ukraine. He would say, "If everyone leaves, who will defend Ukraine?"

"No one wanted people without combat experience" 
The man left on March 2. He arrived in Ukraine as a member of the International Volunteer Battalion of the Armed Forces of Ukraine.
On March 13, together with his fellow soldiers, he was at the International Peacemaking and Security Center at the Yavoriv Military Base. That day, Russia launched about 30 cruise missiles targeting the military base, some of which hit the barracks. The battalion that did training there was disbanded. Some of the foreign soldiers returned home, and some, like Oleksandr, began to look for other units.
"He was a member of the Georgian battalion for a short time, but they did not take an active part in battles. Sasha said that he could not watch and do nothing. He tried to find another unit. No one wanted people without combat experience. In the end, he joined the National Guard," says the wife of the fallen soldier.
He completed training, spent a short time in Kyiv Region, later in Luhansk Region, and then they were transferred to Bakhmut.
All that time, Olena kept in touch with her husband. She came to Ukraine several times with her children. Oleksandr had rotations.
"Once we came for two weeks. My vacation was over. I had to return to Israel, and Sasha had his vacation extended. Then my son refused to go. He said, "No, I will not go. Let mom go, and I'll go to war with you, dad." So Artem spent a little more time with him," Olena says and smiles. "The last time we saw each other was on October 31 in Kyiv. We fooled around all day, ate ice cream, then Sasha left." 
December 22, 2022, was the last time when Olena spoke to him. The man warned her that they were going on a mission. There would be no communication for several days. The last text message was as follows: "Honey, we are going."

He was identified by a tattoo with his children's names
Oleksandr Dubovyk died on February 23, 2023. He did not fall in battle. He was brutally killed. His wife would find out later exactly how.
On February 26, Olena received a call from the military unit and was informed that her husband was considered missing and presumed dead. Later, it turned out that a Ukrainian aerial reconnaissance drone had been near the battle site and had recorded Oleksandr's murder.
"Sasha was wounded in the right shoulder. He was leaning on the trench. Maybe something happened to his leg. And a Russian soldier sat aside. He took off his helmet and was looking around all the time. They talked about something for a long time. No one knows what they talked about and probably will ever find out. I think Sasha told him everything: about his fellow soldiers, mothers, children. He told him who they are and where they should go to," says Olena.
The video recorded by the aerial reconnaissance unit shows how a Russian soldier dressed in the uniform of the Wagner Group that held those positions, shoots at captured Oleksandr Dubovyk. Oleksandr falls, and the Wagner Group soldier continues shooting in his back.
The wife of the fallen soldier was told that his body would ever be found, because Wagner Group soldiers would try to hide the traces of the crime. "They committed a war crime. He was wounded. He should have been taken captive. But they do not take captives because they are orcs. They shot and left him there. And the other bodies were taken away in order to exchange them in the future," she says.
And yet Oleksandr's body was found. At the end of April 2023, Olena received a call from a morgue and was asked to come for identification. The identity of the fallen soldier had been determined thanks to the tattoos – names of his children Artem and Sonia.  
The wife was told that Oleksandr's body had been found in a forest strip near the place of the murder. There were five other bodies nearby – three Wagner Group members and two Ukrainians. The bodies of Oleksander's fellow soldiers, who died that day, have not been found so far. They are considered missing. 
Oleksandr Dubovyk was buried on May 5, 2023 in the Alley of Glory in his native village of Krasnopillia. "He used to say, "I will fight to the death and will never surrender," recalls Olena. It was after her husband's death that she found a video on his phone that Alexander never sent her. In the video, he says that Elena should not regret anything, because it was the way things should be. The woman is sure that her husband felt that he would not return home, so he tried his best to protect his fellow soldiers and destroy as many enemies as possible.
Photos and videos by Viktor Kovalchuk