"Pro-Ukrainian Activist/Extremist Woman"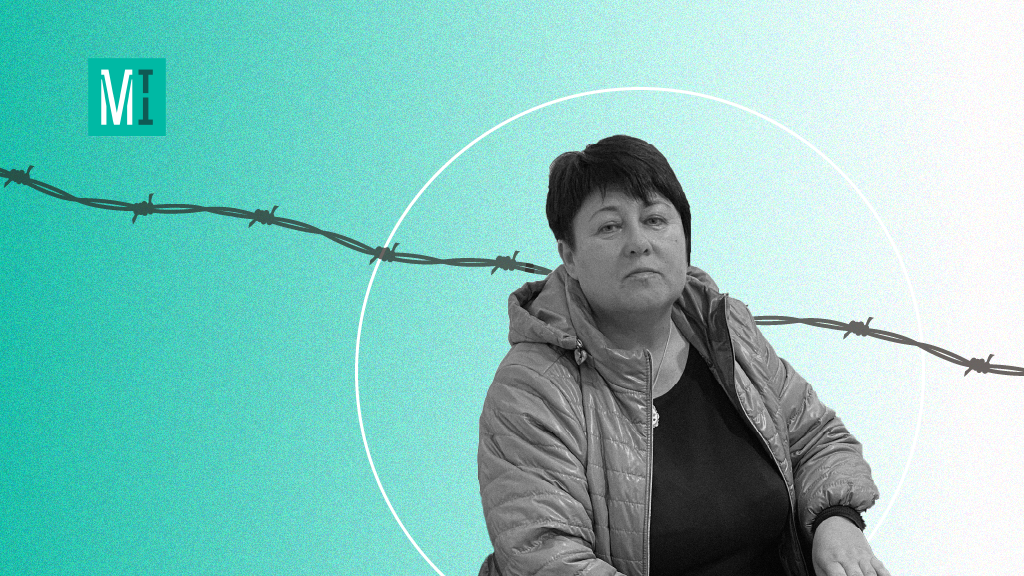 MIHR documented the tortures endured by a woman residing in Berdiansk
"My husband had a small ax. They took it out of the chest and said, "If something happens at the port in the morning, we will drive this ax into your head." This is how the conversation between the Russians and Oksana Zaiaryna began. She was accused of collaborating with the Ukrainian military by occupiers. On the night of June 26, the woman and her husband were kidnapped from their own home, taken outside with their hands raised and machine guns pointed at them, body-searched and then taken to the commandant's office of the occupiers. Oksana was tortured there. MIHR documented this war crime. Below is the direct speech of the victim.
"We'll take you, bitch, to the DPR"
About ten men carried out the search, another 10-15 stood outside. When I was getting dressed, they asked my husband, "Why don't you like us, Russians, so much?" We stood with our hands raised, and after 30-40 minutes I asked the guard if we could lower our hands a little. He allowed it. Then I saw that my husband, who had been brought outside in a T-shirt and underpants, was shaking. He asked if he could also lower his hands. They replied, "No!" Then I suggested that I should raise my hands so that my husband might lower his hands, because it was difficult for him – he is already 67 years old. The guard said, "Okay, put them down." We put them down. My husband was even allowed to go to the toilet. So we stood with machine guns aimed at us till the end of the search.
At half past two in the morning I was already at the commandant's office. There used to be the city police department there (3 Hretska Str.).  I did not sleep the whole night, and on Sunday, June 26, at 11 o'clock in the afternoon, I was taken for questioning. There were three rooms where they conducted interrogations. I was taken to a remote one. Four persons entered the room, then the fifth one came. They wore balaclavas. One stood beside me like a guard. Two stood silently. Two conducted the interrogation. What was the interrogation like? One hit the wall with his fist near my head. They asked me what my call sign from the SBU or GUR was. They wanted to know the names of the persons to whom I had provided the data about the Russian military.
I said that I didn't have any call signs. They shouted about some organization and demanded that I should name it. What organization? Look at me, do I look like the head of a terrorist organization? There was one person in the room wearing a balaclava and yellow glasses. He shouted that he would "take me, b*tch, to the DPR", and I would be sent to prison for 20 years. I said, "Do not take me to the "DPR". I'm guilty of nothing. Let me free. I'll go to the children. I was going to leave the city. Data collection and transfer of coordinates – you must be kidding?"
I asked them not to torture me
Then they brought in a black device and asked, "Do you know what it is?" I said, "I guess I know the answer." I had already read about electric shock tortures. "Now you will tell us everything." I pleaded, "Please do not torture me. I don't know anything." Then this guy with glasses says, "Now we will bring your old fag and beat the f*cking hell out of him in front of you, then you'll tell us everything." I replied that there was no need to bring him as I had nothing to say. Well, I was sure that they wouldn't find any coordinates in my phone and any data supposedly transferred by me. And then they took two wires from this device, tied them to my legs and started torturing me.
I was wearing breeches. My legs were bare below the knees. I don't know how long it lasted. I screamed wildly. I cannot bear any pain. I have a very low pain threshold. And they continued torturing me. They turned on and then turned off this device. They asked about the same things over and over again: my call sign, to whom I had transferred information, local group members, and so on. I said I didn't know anything. Then they switched on the current again. When I screamed and cried, they switched it off. They asked about the same thing and turned on the device again and again.
Oksana showed MIHR journalists marks left by the tortures.
I sat near the wall on a metal chair attached to the floor. It did not move. A guard stood nearby and pulled me away so that I could not remove the electrical wires. They threatened to hit me or do something else. As soon as I lowered my hands, he raised a rubber baton, the one used by police, against me. He stood holding it and slightly beating his leg so that I could see it. The person in front of me was switching that apparatus – a black box with all kinds of devices on it. Wires were tied above my ankles. I still have a dark stripe and a spot on one leg. I can see them. I got bruises on my legs on the next day after this interrogation. During the interrogation, one of them shouted at me, the other one tortured, and one stood nearby, watching so that I could not remove the wires. They shouted at me rudely, using dirty language.
Interrogations 24 hours a day
After the interrogation, I slept on the floor for a day. Then I was transferred to a one-man cell where there were already three girls at that time. One woman, 58 years old, worked as a nurse at the Military Commissariat. She did not leave the city because her stepfather had fallen ill (a stroke), and she took care of him. She was detained on June 16 – her colleague had reported on her. Her bruises were bigger than mine. She had them on her arm, on her body and on her leg. She was tortured three times with an electric shocker. There were two other girls in this cell. One was 36 years old, the other one was 19. The week I spent in that cell, we didn't sleep at all, because interrogations at the commandant's office were conducted 24 hours a day. And we could hear it all. Especially on Friday and Saturday, when they reaped the "harvest" in all kinds of cafes, where people could express their opinions. They brought and abused them.
The National Guard of Russia and police were located in the commandant's office, and Federal Security Service (FSB) officers conducted interrogations: "So what? You bitches and slaves." That is, they abused people. Then they announced an air raid alert and ordered everyone to lie face down for an hour and a half. This happened twice. We asked if the air raid alert was real? We knew that Ukraine would not drop bombs on the civilian population.  They replied, "Yes, yes, real. All our people are also in the basement." And they walked and giggled.
On Thursday or on Friday, they had some kind of a party on the third floor. They drank and danced. Then they took those who had just been brought in and beat them. The last one was beaten in the cell. In reply to the question about what was happening, he answered that Russia had attacked Ukraine, and that was why they beat him. Then they entered the cell where my husband was kept. We heard them asking him, "Have you been beaten yet?" The man said, "No". So they said, "How come you have not been beaten yet?!" I began to worry. I did not sleep at all until morning.
On Saturday, a duty officer came and called me. But I was not taken to the interrogation room, but to the central entrance. They told me to go straight to the open door. I came closer. There was an officer in a mask. Those were all FSB officers. I started to panic. They said, "Come in. Don't be afraid, we won't beat you today. Sit down." I sat down. There were two of them wearing masks. He took a sample of saliva under my tongue for DNA analysis. Then he started taking fingerprints and recording data. When fingerprints were taken, I saw a writing at the top: "Pro-Ukrainian activist/extremist woman". That is, that was how they categorized me in their database. On July 2, we were taken out of the commandant's office and transported to Berdiansk Penal Colony No. 77.
P.S. Oksana Zaiaryna was held captive by the Russians for 83 days in total. She became the last of the detained women who were released from the Berdiansk Penal Colony. MIHR will tell you about what happened there, who is in charge of this colony and how they treat hostages in our future materials.