Russians arranged a so-called prison for civilians in Biliaivka of the Kherson region. The story of three months in captivity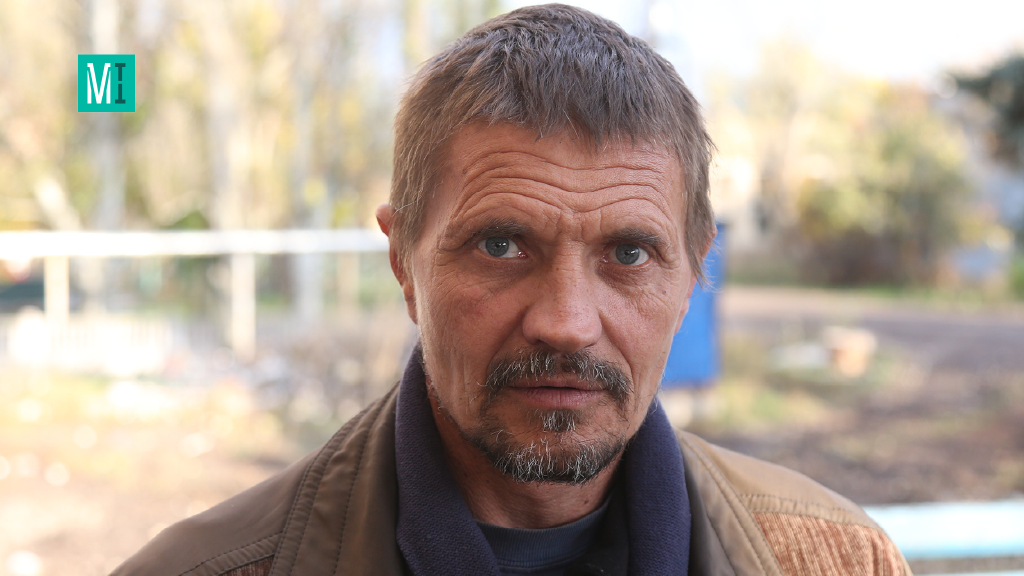 The Russian military had been illegally depriving residents of freedom in the occupied villages of the Kherson region. They kidnapped civilians, and then put them through an absolute hell: they kept more than ten people in a small, dark room for months.
Serhii Urodlivchenko, a resident of the de-occupied village of Liubymivka, the Kherson region, told MIHR journalists about the tortures. We met him at his home, where his wife and four children had waited for Serhii's return for three months, and they had not known whether he would be alive.
Detention
Serhii Urodlivchenko is an electrician. On March 11, he left for work – this local enterprise at the outskirts of Liubymivka grew vegetables in greenhouses. Serhii's task was to set up and control lights and the inside temperature of the greenhouses.
He worked with security man Taras. At some point, Russians broke into the territory of the enterprise, having broken the door with their heavy vehicles. There were up to ten people. All of them were wearing balaklavas. They started to demand documents from men. Neither Taras nor Serhii had any with them. Then Russians said, "We take you with us for identification."
"Those were exactly military men from the Russian Federation – their uniform and talks showed that. They had guns with silencers, walkie-talkies. They didn't come to the village itself, they stayed near it. There were soldiers from the so-called LDPR, those were walking around the village," Serhii says.
They took him and Taras to a military vehicle. Inside he was able to give it a close look. "There were seats in the middle, and triplexes (multi-layer glass – MIHR) along the perimeter. We were seated in the middle, headed somewhere. There were two or three military men in the car," he adds.
Location One
A few minutes of driving, and the vehicle stopped near another enterprise: a farm where one used to raise broiler chickens and pheasants. Serhii and Taras were taken to one of the small buildings. There was no one besides them.
A bit later, another man was brought there. He told them that a shell had exploded near his house. He ran away to hide to a forest belt and sit to smoke a cigarette. That's where they caught him.
The forth detained was brought there in a few days. It was a volunteer from the village of Sokorivka, who had been driving to the territory controlled by Ukraine to bring people food.  
Serhii tells about the fifth detained, too. He was a single wounded among them. They supposedly detained him when he was accompanying humanitarian aid, and they found something "suspicious" on his phone.
"He had gunshot wounds to his legs. He said that Russians did it to him during his interrogation. They made him dig his own grave because they had found red-and-black case in his glove box. He heard Russians calling him Right Sector," Serhii says.
The military who stayed at the farm, called themselves "military police". They fed detained three times per day. Also, Serhii says, a doctor visited regularly and asked them about their health. Yet, Russians didn't name the exact reasons why they were keeping people and when they would let them go.  
Three weeks passed – right to April 4.
Relocation
"This is not your war, we'll take you to a safe place," saying these words Russians took Serhii and Taras from the farm, put them to a civilian car and carried them to the nearby village of Biliaivka.
There is a dirt road between villages, so when it rains it's almost impassible. The car got stuck. They were transferred to the Tigr special purpose armed vehicle and taken to their destination. The men learned what that place was only in three days.
Location Two
They took Serhii and Taras to a small dark room on the second floor of the building. Serhii says, it was approximately four meters long, and two meters in breadth. There were no other people, except for them.
There was no window in the room. It was like a storeroom for keeping household items. They had bottles instead of a toilet. Also, they received water in bottles.
Next day Russians brought there four more prisoners. At some point, there were eleven of them. And the men finally learned from one of them, who was a local, that they were kept in the school of Biliaivka.
There were racks made of boards – the men were supposed to sleep on them. The detainees themselves tied those racks up with belts and created a sleeping place for themselves.
For the first three-four days, according to Serhii, they didn't bring detainees any food. Shortly after that they started feeding them once per two days. This lasted until Easter, April 24, when some Russian warrant officer responsible for ensuring came. Detainees told him that they were not fed.
That day they were given a bit more food than usually "in honor of the holiday". Since then they fed them once a day. Serhii describes how it happened,
 "They took a five-liter container, cut the top off, and pouredsoup or borshch to the down part. And we would drink from that tank one at a time and passed it to another. Of course, we had no spoons. The rarely gave us bread."
They navigated in time by pigeons – when those began cooing it meant the sun was coming up. In a few hours, light made its way through the cracks.
"We were lucky that it was still cold and we were wearing warm clothes. Yet, we were freezing, even when the Russian military started coming to us wearing T-shirts, and we understood it was getting warmer outside," the released prisoner recalls. 
Murders
Russians severely beat one of the detained men. It was happening right behind the door of the so-called prison. Serhii says that cries had been heard for almost forty minutes. And then a beaten man, whose name, as it turned out, was Oleh, was brought to the rest of the prisoners.
He was breathing hard, he had broken ribs, and we tried to bandage the wounds somehow. But, in approximately twenty minutes, he died…" Serhii says.
And that wasn't the last death. Another similar story happened to a middle-aged man whom Serhii didn't know personally.
The former prisoner continues, "That man acted inadequate: took off his clothes, urinated whatever he liked. And kept saying that he was drugged. Then he was taken away for three days. When they brought him back, he kept talking about some injections, but acted better. He constantly asked for water, he was dying of thirst. And we didn't have enough water to drink for ourselves. He was fading fast, and in four days he died – I had the impression that just dried up because of the dehydration… And Russians who were watching us, were saying, 'If you don't behave, the same thing will happen to you'".
During all the time of detention, Serhii learned almost every story of those who were kept with him. He retells them, "There was a senior man, like more than 60 years old. He is local – from Biliaivka. He was an electrician. They were given electricity from Tryfonivka. So there was power in Biliaivka, but there was no line to the water tower. And he drove to Russians to ask the permission to leave the village to check the line. And they took him."  
There was also a young local fellow. He told his companions in misfortune that had been helping locals: redoing the roof here, cultivating a garden there. And he "was just bothering" the Russian military. So they cought and sent him to "prison".
"Once they brought two farmers from Trudoliubivka," Serhii says. "Their entire yard is full of surveillance cameras, because they had a lot of valuable equipment. That's why they were detained, accused of monitoring the activities of Russian troops". 
The oldest detainee was 68, and the youngest — a little more then twenty.
Moral Tortures
The cold and dark room, in which one could barely take a few steps, exhausted people. They were disoriented, didn't know what was going on around, whether their families were safe.
Detainees began to have health problems. One of them suffered from diabetes mellitus, and he begged for medicine – but received no help.
There were always two Russian soldiers on duty behing the door. Serhii saw them when they were giving them food. It happed the following way: one of them brought a container with food, and the other one stood still with his gun in combat readiness – cocked.  
The man heard that other soldiers on duty called one of them Elbrus. Serhii doesn't know whether it's his name or callsign.
"The boss" also appeared there, and Russians called him "Brigade Commander". He came a few times per three months and "maintained the discipline". There was one time detainees heard yelling at the hall — "Brigade Commander" scolded one of the military men for sending home stolen children's toys.
One day they started bringing prisoners in for questioning one by one. They put a beg on the head and took one throught the hall to one of the rooms.
Serhii didn't see who was spoking to him, "I was told that there were three options: they will either shoot us, or let us go home, or sent us to prison in Russia. That they asked me about my address and household composition, and took me back."
From time to time, during the whole detention period, they offered prisoners to release them on condition that they will be taken to Kakhovka or Nova Kakhovka. All refused because they didn't believe in "Russians' pure intentions".
Yet, they did forcibly took three people in an unknown direction.  
"We hoped to be released," Urodlivchenko shares his memories about imprisonment. "At first, I thought, I hoped my wife and kids had managed to leave. And then I thought that it was not likely she would leave the house and drive away not knowing anything about me. I assumed that she waited at home. I had dreams of coming back to normal life, resuming household, and living."
Release
On June 12, eight out of twelve people were put in the car and moved to an unknown location. At that moment, Serhii says, no one knew where they were taken and what for. 
"They stopped amid fields. They dropped us off like blind kittens. Saying, your village is that way, and yours is the other way. And they left," Serhii recalls that moment with undisguised pleasure. "I went home. My legs hurt terribly…"
It took some time for his wife to recognize her husband Serhii, whose whereabouts and fate remained unknown for three months, in a frail and exhausted man.
For a few more weeks, Serhii couldn't stop thinking about his life in captivity. His Liubymivka remained occupied until October, when the Armed Forces of Ukraine freed the village.
—
This article was prepared by the Media Initiative for Human Right supported by the Hela Sverige Skramlar for Ukraina project.