Tetyana Katrychenko
Coordinator of the direction The problem of hostages in CADLR (certain areas of Donetsk and Luhansk regions)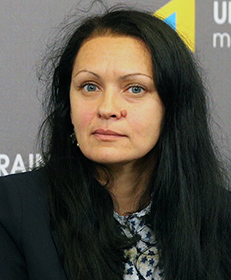 She's an alumna of the Institute of Journalism of the Taras Shevchenko National University of Kyiv, who used to work for the Glavred magazine and the STB television network, collaborated with the newspapers Den and Ukrainska Pravda. Currently, she is a political columnist for the Focus magazine.
She has been covering the topic of illegally detained Ukrainian citizens on the territory of the Autonomous Republic of Crimea and Donbas since 2015. She started with journalistic materials, later joined organizing advocacy campaigns to promote the release of illegally detained persons. She's the author of the reports Military and civilian detainees in Donbas: searching for the efficient mechanism of release and Female face of Donbas hostages. 
Since February 2020, she has been a member of the Interdepartmental Commission for consideration of issues related to the recognition of persons deprived of their personal freedom as a result of armed aggression against Ukraine and the implementation of measures aimed at their social protection.
Since July 2020, as an expert, she has been cooperating with USAID Human Rights in Action Program.