Ukrainian Hostages who Disappeared in Crimea: the Story of one Cell in the Simferopol Pre-Trial Detention Center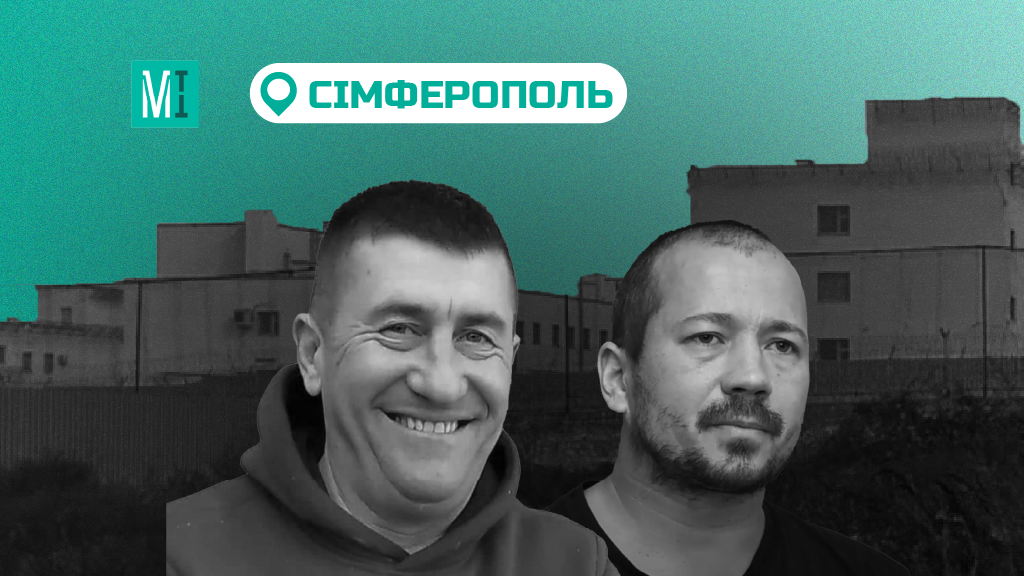 The Russian military have followed the practice of capturing civilians since the beginning of the full-scale invasion of Ukraine. Civil persons are kept in administrative buildings, police stations, courts and on industrial premises located in occupied Kherson and Zaporizhzhia Oblasts. Some captives were moved from the right to the left bank of the Kherson region, others were taken to Crimea almost immediately after their abduction.
In Crimea, Ukrainian civilians are mostly held in Simferopol Pre-Trial Detention Center No. 1. The Russians have been using this pre-trial detention center to hold hostages since early 2014. Ukrainian film director Oleh Sentsov and activists Volodymyr Balukh and Oleksandr Kolchenko were kept there.
The Crimean Human Rights Group notes that the Simferopol Pre-Trial Detention Center was expanded with additional 458 detention places in the early autumn of 2022. It is supervised by the FSB (Federal Security Service) of the Russian Federation. Most of the people detained there are civilians residing within the territories of Ukraine occupied after February 24, 2022, in particular territories of Kherson and Zaporizhzhia Oblasts. They include community activists, volunteers and representatives of local authorities. MIHR has recorded about 100 cases of detaining Ukrainian civilians in the Simferopol Pre-trial Detention Center.
Some detainees managed to get released from there. Prior to being released, prisoners are forcibly subjected to polygraph test, are interrogated and undergo medical examinations. Detention center officers collect and analyze samples, take photographs, count the number of teeth, make detainees write with their left hand and take fingerprints.
Volodymyr (the name was changed for security reasons) is a former hostage who was held in the Simferopol Pre-Trial Detention Center. At present, the man lives in one of the European countries. He says that he was detained while trying to cross the administrative border between Kherson Oblast and the Autonomous Republic of Crimea.
"My phone was examined by FSB officers who didn't like something," said the man. "I was taken into a booth measuring 2.5 meters by 2.5 meters, where there was an FSB officer sitting at the table. He started asking me if I had served in the army, whether I knew someone from the SBU, the police, "prohibited terrorist organizations" like Azov. I knew some people from the SBU, so they gave me a questionnaire to fill out concerning the purpose of my communication with them. The questioning began in the evening and continued throughout the night. Then I was driven to Dzhankoi, locked in the local FSB office and told to wait for the arrival of their colleagues from Simferopol."
For small faults, they throw you into the basement of the Simferopol FSB Department building; for possible connections with the Armed Forces of Ukraine, they send you to Pre-Trial Detention Center No. 1.
On August 13, at 5 p.m., Simferopol FSB officers entered the room. As soon as the door opened, they put a hat on Volodymyr's face, wrapped his hands with tape and said, "We are transferring you." Then they threw him into the car, where there was another captive already. They drove two hours.
The men were thrown into the basement of the Russian FSB Department in Simferopol. Volodymyr states that those Ukrainians whose alleged offenses seem less serious to FSB officers are held at this place waiting their turn to undergo a polygraph test. Those who are suspected of having connections with the Armed Forces of Ukraine are sent to a pre-trial detention center.
The room in the basement in which Volodymyr was kept had no windows and measured 3 meters by 3.5 meters. There was one bed, a table, two chairs, bottles for defecation, a video surveillance camera, something looking like an intercom and a lot of books about Putin's achievements. The light was never turned off. A powerful air ventilation system hummed all the time. The room was cold and damp. The hostages understood that they were held in the basement of the FSB when they called over the intercom, and, on the other end, they could hear someone speaking in the duty officer room and mentioning that it was the FSB.
"One day, a woman was thrown into our cell," continued Volodymyr. "And we had been transferred to another cell with four boys from Kherson. One of them turned out to be a truck driver and was waiting his turn to undergo a polygraph test."
According to Volodymyr, all his cellmates from the FSB basement were later released. In a few days, he and another boy were transferred to the pre-trial detention center. They put caps on their faces, tied their hands and put them on their knees in the GAZelle car.
"They transported us as if we were bustards not people," the man said. "We were brought to the territory of the pre-trial detention center, as if we were criminals. We walked bent over with our hands raised up and tied and with our faces down to the floor. The reception process was as follows: they stripped me completely, I stood naked with a bag on my head. They took my lighter, took off my bracelet, ring, socks, and pulled out the laces from my sneakers. Then they ordered me to get dressed quickly, but I did it awkwardly, because I had a bag on my head: underwear – sideways, pants – backwards, T-shirt – inside out. At the same time, I was beaten over my back, ribs and legs. Then they took me to the leadership's office, where I had to tell them about myself while they hit me in the stomach."
Volodymyr was thrown into a solitary confinement cell with a smelly toilet for one day. The next day, he was transferred to a cell where three Ukrainian civilians abducted in the occupied Kherson region had already been held: Serhii Kotov, a 50-year-old driving instructor from the city of Oleshky, Dmytro Zakharov, a 36-year-old individual entrepreneur from Henichesk, and a young man from a village near Kherson.
MIHR talked to the relatives of Serhii Kotov and Dmytro Zakharov and found out where and when they had been kidnapped by the Russian military and how they ended up in the Simferopol Pre-Trial Detention Center.
"You should have stayed together with your wife and should not have done stupid things."
Serhii Kotov was detained in his own house in the city of Oleshky on April 7. Victoria, the man's oldest daughter, testifies that at 6 o'clock in the morning, the street where the family lived was blocked by four two-story military vehicles with locators. Ten military men in dark uniforms with the chevrons of the Russian Federation, in balaclavas, with automatic rifles and shields began to enter the yard from three sides: after climbing over the fence, they advanced from the side of the neighbors and through the central gate. The host was ordered to wake up his wife and younger 14-year-old daughter and take them out in the yard.
"The Russians began a search: they opened cupboards, put some kind of shield in front of them and then said, "Clean," noted Victoria. "Then my relatives were taken to different rooms of the house. I do not know what they talked about with my dad, but he was angry when I saw him. Mom was asked what she did and who was in the photos hanging on the walls. They went to inspect the garage and the car, then they ordered my father to get his things together, and one soldier said, "You should have stayed together with your wife and should not have done stupid things." Before leaving, the Russians promised my mother that they would call and she could pick up my father in the evening."
The next day Serhii called his wife and both of his daughters. He asked them not to worry. He said that he had felt sick, and the Russians had allowed the doctor to put him on drips. He was frightened and spoke in the speaker mode, and when they asked him if he had been beaten, he answered briefly "No".
"Later, I learned from witnesses that my father had been kept in the SBU building in Kherson. They beat him severely, put a bag on his head and shot a machine gun above his ear," Victoria continued. "My father is a disabled person of the third group. He had an unsuccessful operation on his leg. Since then, he has been limping and suffering from pancreatitis. The Russians stepped on my father's sick leg to torture him. Now I have information that he walks with crutch in the pre-trial detention center."
During the search, the Russians found a social network group in Serhii's phone that included another 300 users. They suspected that Serhii Kotov might have transferred data on occupation troops to the Armed Forces of Ukraine.
He was brought with someone else's jeans put on his head
On June 16, the Russian military kidnapped local businessman Dmytro Zakharov near Store No. 17 in the city of Henichesk that had been occupied in the first hours of the full-scale invasion of the Russian Federation. The man sold fish wholesale and retail. At 10:00 p.m., the drivers who delivered goods called to inform him that the Russian military had detained them for breaking the curfew and asked Dmytro to come. He disappeared after that.
"At first, Dmytro's wife was afraid to go anywhere and hoped that he would be released soon," said Tetiana, Dmytro's mother. "In a month, she went to the occupied police station, where they answered her, "Why did you come so late? You will be a number-one suspect. Maybe you killed him and buried him. Then we will come to you to conduct a search. We will turn the house upside down, dig up the garden and look for traces of blood. By the way, what do you tell your children about the disappearance of their father?" The Russians refused to accept her report and she returned home frightened."
Dmytro's mother managed to find a man who claimed that he had been held in the same cell with her son for a month in the detention center on Teploenerhetikiv Street in Kherson.
"According to this man, my son was beaten over his legs and heels," Tetiana continued. "His legs were swollen and had a strange color. The witness said that Dmytro had been brought to the cell in the temporary detention facility with someone else's jeans put on his head, which he washed and wore in prison. I was told that my son had started smoking there, although he had never smoked before. I know that they even smoke tea there."
In the summer, Dmytro's wife went to occupied Kherson and tried to give her husband clothes and food. She also handed over a picture of two their children to the temporary detention facility, and wrote on the back: "We love you and are waiting for you." The witness told Tetiana that Dmytro had received this package, and he had been crying when he read the postcard. He said that Dmytro had been taken out of the cell at 6 o'clock in the morning on July 27 and he had not seen him again. He assumes that the man could have been taken to the Crimea.
"In late September, my daughter-in-law was summoned by phone to the occupied police station in Henichesk," Tetiana said. "There she wrote a report about Dmytro's disappearance. We also hired a lawyer in Crimea. On September 27, he received a reply from the city of Dzhankoi in response to one of his requests. The letter said that Dmytro had been in Crimea from May 5 to May 9, and had not appeared within the territory of Crimea ever since. We were denied opening a criminal case under the article about the search for a missing person."
Russian propaganda mass media filmed an episode about Dmytro and released several publications accusing him of having sent spam messages to the Russian military with a call to surrender and having acted under the orders from the Security Service of Ukraine.
They beat you during reception to show that a captive has no rights there
Serhii Kotov told Volodymyr that when he was held captive in Kherson, he had been severely beaten, taken to the hospital to bring him back to consciousness, and then returned and beaten again. Dmytro was also tortured and threatened to be sent to Donetsk. He was told that people like him had already been waited for to arrive there. Dmytro and Serhii were not mistreated in the Simferopol Pre-Trial Detention Center. Volodymyr says that pre-trial detention center officers beat you immediately, as part of reception process. The officers seem to want to show what kind of regime they have and demonstrate that prisoners have no rights here. He says that he heard a guy being beaten right in the corridor and thrown into the adjacent cell. He talked back, asked why they were hitting him and sent the Russians to hell. They answered him using dirty language and promised to rot him, kill him right here and make a fagot out of him.
"Dmytro was in a normal emotional state. He joked and talked about his business," Volodymyr recalled. "Serhii prayed four times a day. He knew two prayers by heart and muttered them constantly. His clothing was in a terrible state. He looked worse than a vagabond. This was because he had changed a lot of places of detention in the same clothes since April.  Before I was released, I gave him all the clothes I had on, even my underpants. And I put his clothes on."
Volodymyr says that both men do not have lawyers. No official charges have been brought against them. According to unconfirmed information, Serhii together with another Kherson resident is allegedly involved in an espionage case. They even were held in the same cell of the pre-trial detention center for some time. Both limped, so their cell was called the cell of the lame. But later Serhii was moved to another cell.
"Neither Dmytro nor Serhii were offered to undergo a polygraph test. They were almost never summoned for questioning. The boys remain optimistic. They understand that they are being looked for and waited for, but they do not believe that they will be released in the near future," the man continued.
Toilet paper and toothpaste are given once for the entire period of detention
Volodymyr could not find his way around the pre-trial detention center building, because every time he was taken out, a bag was put on his head. We managed to find out that one of the floors of the pre-trial detention center (the second or third floor where he was kept) was overcrowded with Ukrainians. It is not known how many cells there are. The man assumes that they hold up to a hundred people. Ukrainian women are also kept on this floor in cells separately from men. The cells are arranged to have a U-shaped layout. There were several rooms/halls among them for interviews, where prisoners were taken out from time to time. On the floor below, there are women's pre-trial detention cells, but Ukrainian women are not kept there."
All things in the cell where Volodymyr, Serhii and Dmytro were held, including bedclothes, had the stamp of Pre-Trial Detention Center No. 1. There is another prison located next to the Pre-Trial Detention Center building.
"Thieves are kept there," said the man. "At 10 p.m., they became active: they would transfer messages and cigarettes to each other using threads, or "channels" as they called them. I could hear from the opposite cells: "28, make a channel to 116." 28 is the cell number. Prisoners threw threads to each other and used them to pass cigarettes and other things."
Volodymyr says that life in the pre-trial detention center is arranged according to a strict schedule. Wake-up is at 6:00 a.m. It is forbidden to sit on the bed until 10:00 p.m. The bunk bed must be lifted up. You must stand or sit on a bench. When they shout in the evening: "Lights-out", then you must go to bed immediately. Shakedowns are conducted every day at 9 or 10 a.m.: three officers of the pre-trial detention center accompanied by a dog fly into a cell. The prisoner must raise his hands up, put them on the wall and turn his palms outwards. Then they tell you to get out. You must bend over with your hands behind your back, go out of the cell and take the previous position in the corridor while the pre-trial detention center officers search the entire cell. Prisoners are not allowed to go for a walk in the pre-trial detention center. Once a week, prisoners are taken out to wash under cold water and are given a clean towel and sheet. Sometimes the bathing day was canceled for no reason.
"We tried to wash in the sink every day," Volodymyr said. "Socks and underwear were washed there. Water was not always supplied to the cell. The boys were very happy when I brought toothpaste and toilet paper from the solitary confinement cell. Toothpaste and toilet paper are given once for the entire period of detention, so for prisoners, they are worth their weight in gold. In the morning, afternoon and evening, they bring terrible food. They gave half-baked, gluish pearl barley porridge, tinted boiled water instead of tea and soup with chicken feathers floating in it. No fruits or vegetables. Bread was grey-black, but fresh. Serhii made checkers out of it, painted half of them with activated charcoal and we played checkers. We shared food. Serhii has pancreatitis, so we tried to give him our portions of the soup. I don't like jelly, so I would exchange it for tea."
Volodymyr testifies that almost no medical care is provided in the pre-trial detention center, but medical examinations are conducted.
"Serhii Kotov every day asked to send a doctor to him. He has problems with his pancreas. His limbs were swollen, and his injured leg hurt. During the five days that I was there, the doctor did not come to see him. On the third day, I was taken for a medical examination. The doctors seemed adequate to me. They asked me what chronic diseases I had. I lied a bit that I had an ulcer and felt sick. I was advised that I should not skip meals, because there were no pills there, no one would save me, and I should take care of myself. Then they drew blood samples from my vein, checked the number of my teeth, gave me a plate with my last name, first name and date of birth, and photographed me in full face and profile."
After five days of staying in the cell, Volodymyr was visited by FSB officers who took him back to the Russian FSB Department in Simferopol. There, the man was questioned in accordance with the Russian interrogation procedure and underwent a polygraph test. The entire right corner of the room where the interrogation took place was filled with bags and belongings of detainees. According to Volodymyr's estimations, such number of things could belong to 10-15 detainees. After interrogation, he was again transferred to the pre-trial detention cell where he stayed for another two days, and only then he was released.
"Before I was released, I was stripped to the waist and filmed," said the man. "They gave me the text that said that I had been kept on the premises of the FSB in Simferopol for the purpose of checking for membership in sabotage-reconnaissance groups, that I had been treated well, I had no complaints against the FSB and I was ready for further cooperation. Then I was ordered to turn 360 degrees so that the camera could document that I was intact and had no wounds. My legs were still blue as a result of beatings, so I didn't take off my pants. They took my fingerprints and for some reason asked me to write with my left hand."
At the same time, the Media Initiative for Human Rights knows that Oleksandr Zаrivnyi, the Head of the ATO Veterans' Union from Oleshky, and Serhii Tsyhipa, the ATO veteran and activist from Nova Kakhovka, are charged under Article 276 of the Criminal Code of the Russian Federation (i.e. espionage). The MIHR has also recorded 10 cases of initiating criminal proceedings against Ukrainians kept in Crimean pretrial detention centers under paragraph 1 of Article 361 of the Criminal Code of the Russian Federation (that is, for an act of international terrorism). There was a preliminary court hearing conducted, and later they were transferred to the Lefortovo Pre-Trial Detention Center in Moscow. Moreover, the MIHR has recorded three cases of transferring Ukrainians from the Simferopol Pre-Trial Detention Center to the Rostov Oblast Pre-Trial Detention Center.
This article was prepared by the Media Initiative for Human Right supported by the Hela Sverige Skramlar for Ukraina project.