While a mother is in Russian captivity, her little son has been collecting money to buy her a ticket home — at Yale University, MIHR talked about female prisoners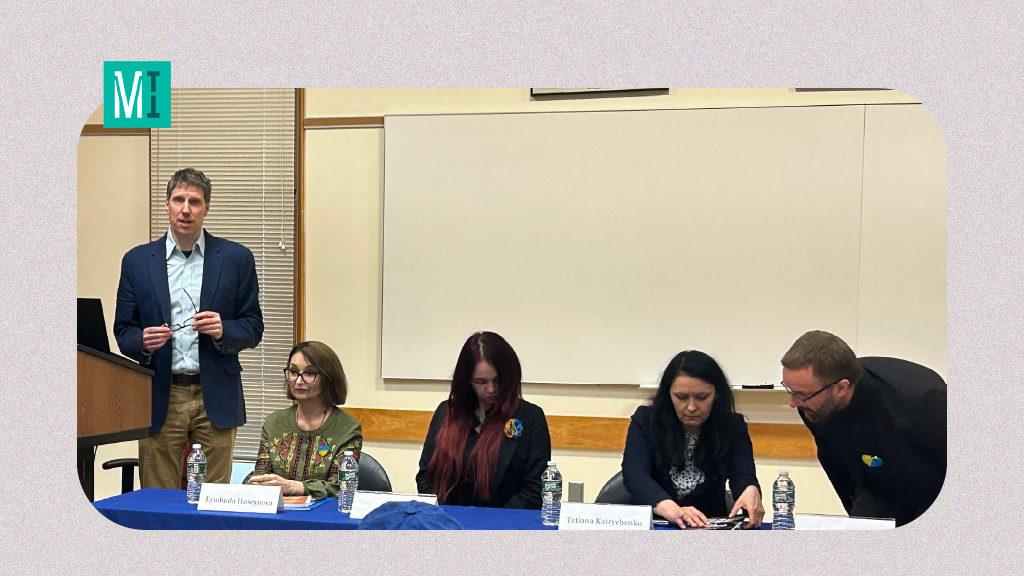 "Three years ago, Olha Mielieshchenko was detained for tweets. She liked them. When she was prisoned, her younger son was four years old. He was told his mom had left him to work somewhere else. During these years, the boy has been collecting money he is gifted on Christmas and other holidays to buy a ticket for mom and help her return home."
The story of Olha, a hostage in the Donetsk pre-trial detention center, was told by a former civil hostage Lyudmila Huseynova at the panel discussion at Yale University. Together with the combat medic Anna Olsen, who spent half a year in Russian captivity, and Tetiana Katrychenko, the coordinator of MIHR, they have started an advocacy trip to the United States. At all events in the next two weeks, MIHR will talk about Ukrainian women in Russian captivity.
At Yale University, Lyudmila and Anna shared their experience of captivity.
Lyudmila Huseynova is a volunteer from Novoazovsk in the Donetsk region, which Russia occupied in 2014. The woman was captured in 2019 and was released only in October 2022. Lyudmila Huseynova was held in Isolation, a former cultural center in Donetsk, which the occupiers have turned into a prison. "During the three years I spent captive, I was denied to see my relatives. There was no proper medical examination and just one doctor who did not have any medicine. There was no drinking water. We did not have the right to defense," Lyudmila said. She also mentioned abuse and threats of sexual violence by guards.
Anna Olsen is a combat medic. The Russians captured her in April 2022, along with other defenders of Azovstal in Mariupol.
At Yale University, Anna talked about torture, threats, and sexual violence to which prisoners are subjected. "When I was taken for the so-called interrogations, there was only one answer to why I was detained: "Because you are Ukrainians because you do not want to return to the Soviet Union, and simply because we want so." If it seems to the Russian military that you are not in enough pain, they turn to a more brutal form of physical violence and torture."
Anna also pointed out that, for the Russian military, it does not matter who is in front of them — a woman, a man, a soldier, or a civilian. For them, every Ukrainian is an enemy that must be destroyed by all available means.
"By telling all this, I want you to understand and convey to your friends and colleagues that Russia is a virus that threatens the whole world. Russia does not want to develop and treat its own and non-own citizens normally. While the entire civilized world is fighting against violence, against racism, Russia accepts them and believes this is how it should be," Anna emphasized.
Read more about Ukrainian female prisoners in Russian captivity in our report.