To collect evidence for the UN General Assembly: German Foreign Minister met with former hostages of Russia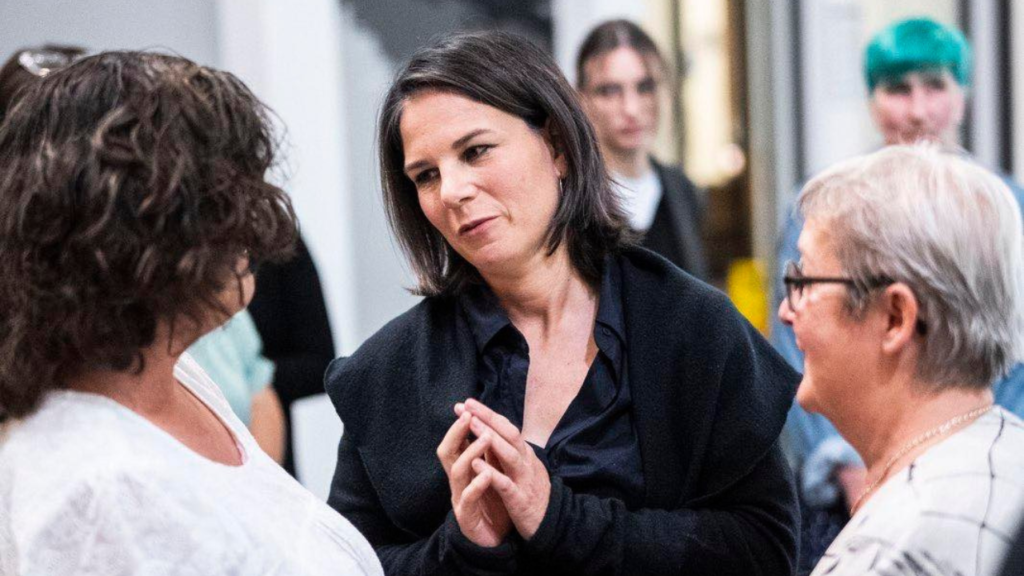 On September 11, German Foreign Minister Annalena Baerbock met in Kyiv with former civilian hostages of the Russian Federation, as well as relatives of those abducted by Russia in the occupied territories and still being held there. The meeting was initiated by the German Embassy in Ukraine and the organizations of the "Ukraine 5 AM Coalition" — the Media Initiative for Human Rights and the Human Rights Centre ZMINA, which deal with the issue of civilian hostages and detentions of active citizens.
Annalena Baerbock noted that the problem of civilian detention is quite important for the European community. She knows about such cases and would like to hear more information. According to Ms. Baerbock, she needs to have more arguments on the eve of the UN General Assembly, which will take place this month.
"I, my husband, and my son were detained in Kherson, kept in a temporary detention center, and tortured with electric shocks. When the Russians wanted me to admit that I was a spy, they took me to a door behind which they beat my son. He was screaming. I could not stand it," said Olha Cherniak, whom the Russians held for almost a year. First in Kherson, then on the border with the occupied Crimea.
"My pro-Ukrainian position was the reason for my detention," added Oksana Zayaryna from Berdiansk. The woman was also detained and tortured by Russians. In total, Zayaryna spent 83 days as a hostage of the Russians. Now, she lives in Kyiv.
Illia Honchar spoke about his brother's disappearance, and Yulia Khropun about her father's detention. Russia has held both for over a year, hiding them from the outside world. Ilya and Yulia co-founded the Civilians in Captivity NGO, which unites about three hundred civilian families.
The detention of civilians by the Russian Federation is not a new issue — this practice has been going on since 2014. Back then, the first civilians who disagreed with the occupation disappeared in the occupied Crimea. Then, the detentions began in Donbas.
"This is the third wave of Russian aggression. And if there were dozens of detentions during the first wave in Crimea, during the second wave in Donbas — hundreds, now it is thousands. We don't know for sure how many Ukrainian citizens Russia has kidnapped in the occupation, transferred to the territory of the Russian Federation, thrown into basements and prisons in the occupation, or tortured," said Tetiana Pechonchyk, head of the board of the Human Rights Centre ZMINA
Olha Reshetylova, co-founder of the MIHR, noted that her organization now has to document things that used to be read about in the memoirs of dissidents in history classes — interrogations, torture, deportation to Siberia, murder. "And I didn't think we'd be documenting such cases in our time. And since we have studied history well, we know what will happen after the waves of detentions: people will be transported deep into Russia, creating camps where they will disappear. This was also mentioned in a recent investigation by the Associated Press. Journalists found documents that show that Russians will build dozens of new camps for Ukrainian citizens," she said.
Reshetylova noted that currently, all the mechanisms invented after World War II to control the treatment of civilians are not functioning. Therefore, new ones need to be developed. But before that, efforts should be made to identify the places where all detained civilians are held and monitor their conditions.

At the end of the meeting, Baerbock said that Germany, together with several other states, including Canada, is trying to get Russia's abduction of civilians in Ukraine to be recognized as a crime against humanity.