Tula Maximum Security Penal Colony: captured Ukrainians are moved increasingly further away from the border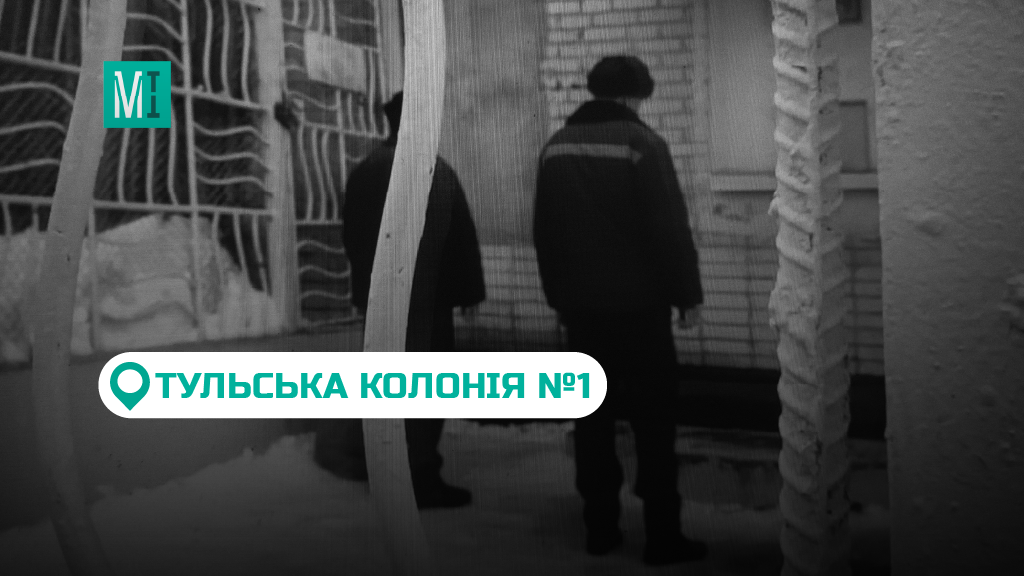 Maximum Security Penal Colony No. 1 of Tula Oblast is located in Donskoy, a town 240 km from Moscow and 640 km from Kharkiv. In this prison, the Russians keep citizens of Ukraine — prisoners of war and civilians. MIHR had a chance to interview witnesses who had been there and agreed to share the details of the place of their detention. 
The two-story building of Colony No. 1 in Tula Oblast will be remembered for a long time by Ukrainians who are held in custody there, primarily for regular torture, abuse, and malnutrition.
"Before my transfer to Tula, I was held at a PDC [pretrial detention center] in Oskol (Stary Oskol, Belgorod Oblast, — MIHR). I thought it was the worst place you could be in. Until I was transferred to Donskoy, which I realized was even worse. We sometimes thought that we would not make it. Whether you were military or civilian, you were treated equally badly. [They are] Worse than animals. Worse than Hitler," says serviceman Vasyl, who changed three prisons in a year of his captivity in the Russian Federation.
According to Russian websites, Colony No. 1 in Tula Oblast is designed to hold 1,500 inmates. According to Vitalii, who was released from there, there were about 250 people in the two-story building, including 50 civilians.
The colony territory is large, with the U-shaped main building located in the center. Until October 2022, Oleksandr Plaksin was the warden of CC-1 in Donskoy. Now that he has been arrested and sent to a PDC on suspicion of accepting a bribe of RUB 100,000, Maksym Dragunov has been appointed as acting warden. Neither the former nor the latter is subject to sanctions.
"They would keep us as if for exchange, but eventually brought us to the Tula penal colony"
Ukrainians are mostly sent to the Tula Correctional Colony from some other prison, where they have been since the beginning of captivity, rather than from the occupied territories of Ukraine or Belarus. For example, the Russians brought Vasyl from PDC No. 2, Stary Oskol, Belgorod Oblast. And Vitalii was brought from Kursk PDC No. 1.
"I was captured in Kyiv Oblast in March 2022 as a civilian. We were then taken to Kursk, where we were held until early May. One day they came to the cell, called some last names, and said, 'Get out.' First, we were taken to an airfield in prison trucks. We boarded IL-76, took off, landed, it seems, in Belgorod, where other prisoners were added. Then we landed at the Tula Airfield and were then transported to Donskoy in prison trucks. There were so many people that we didn't even get into our cells at first and had to spend the night in courtyards, outdoors," Vitalii says, noting that they had been told in Kursk PDC that they were taken for exchange.
As reported by the victims, admission in the Tula colony involves beatings. "The admission is cruel, they would kill… beat us with sticks, batons, electric shockers. They would line everyone up into a file and beat them, without skipping anyone. You are taken to change clothes and get beaten, too. People could not walk as a result, because their legs were badly beaten. The wounds were severe and would putrefy," says Vasyl.
Instead, Vitalii mentions that the group of prisoners that he was a part of was not beaten as severely as in Kursk: "In Kursk, Spetsnaz [special forces] members were waiting for us in the assembly hall to beat up everyone severely. Then we ran to shower, where we were also beaten. There were screams and shouts, all in a nervous and panicky atmosphere. In contrast, we were only "slapped" a little in the Tula Colony. Our first two weeks were generally more or less OK, and then the terror followed." According to him, military personnel, especially marines, were beaten up very severely in Donskoy at admission.
Upon arrival, prisoners are examined by a doctor, do an X-ray, have their fingerprints and photos taken, they change their clothes and pass a brief interrogation to share their first and last names, place of birth, date of marriage, permanent residence. According to Vitalii, prisoners' personal files were transferred from Kursk to Donskoy together with them, so they were rarely interrogated here. But others (including those transferred from Belgorod) were regularly questioned by staff of the Investigative Committee and the FSB of Russia.
"We were woken up every night to stand by the beds. Often twice a night"
The territory of the Donskoy colony is arranged around the main two-story building with fenced walking grounds. You can see cameras along the corridor. Cells include bunk beds, a table, two benches, a toilet, a sink, a cabinet for hygiene products. Witnesses say that Donskoy prisoners are usually segregated to keep civilians and POWs in different cells. But not always—sometimes they are mixed. Donskoy cells are designed for 10–24 people. Obviously, their capacity has been increased since the beginning of the great war. "In Oskol, 6 or 8 people are kept in a cell, a maximum of 10. But Tula cells are huge, for 24 people, for 18, 16," says Vasyl.
The prisoners are waked up at 6 A.M. After breakfast, they are taken for a walk. They also have lunch and dinner. All the time they don't eat, they have to stand in the cell with their heads down until lights out.
The cells are searched every day, and the prisoners are dragged out into the corridor and beaten. They are taken for a shower once a week. "The shower is nice, you were given 20 minutes. Besides, when entering it, we were rarely beaten, while we were always beaten in Kursk and then given a few seconds to wash," Vitalii says.
Prisoners get their hair cut once every two weeks. Before or after that, they are almost always pounded. Compared to Kursk or Bryansk PDCs, Donskoy colony is special in that prisoners cannot sleep their full as they are woken up at night and forced to stand for two hours at a time. There may be several such wakeups during the night. "You are lucky if you get 5 hours of sleep," recalls former prisoner Vasyl.
The Tula Colony offers poor meals. "Due to small portions (even tea was up to 100 grams) and the low caloric content of the diet, the prisoners often feel starved and quickly lose weight without exception. We have many people coming from there with dystrophy," Vasyl explains. And Vitalii shows a photo taken in Ukraine after an exchange. The man lost more than 35 kg during 11 months of captivity.
"We saw no ICRC staff"
The Tula Colony carefully keeps the prisoners in the dark about their location. However, they do find out, one way or another, where they are held. For Vasyl, it leaked when the prisoners were ordered to write letters to the ICRC. Tula was printed on the paper issued for this purpose. Instead, Vitalii heard the word "Donskoy" during the interrogation.
Asked by MIHR whether they saw or heard at least something about ICRC staff's visits to the colony, both answered 'no.' "The boys say that once a Russian TV crew was seen on the second floor reporting that Ukraine allegedly did not want to exchange its citizens," says Vitalii.
Torture in Tula Colony No. 1 is commonplace. Captured Ukrainians are punched, kicked, beaten with sticks, get their ribs broken. "They didn't hit us on the head—there must have been some order. And they would never beat us in the cells—only in the corridor and in other facilities," says Vitalii, noting that this is done by the Federal Penitentiary Service staff and Spetsnaz in Donskoy.
It is useless to complain that one feels bad, especially as a result of a beating. However, people with chronic diseases are occasionally given medication, and those with severe bleeding or festering wounds may be given a bandage. "It depends on the shift. Some help and give medicine, and others ignore requests for medical aid," says Vitalii.
Almost all former prisoners interviewed by MIHR have serious health problems after release from Russian prisons. For example, Vasyl now has sick kidneys and, in addition, tuberculosis. After Tula, the man was held in another prison, but could not find out exactly where. He says that the conditions there were worse than in Donskoy.
Vitalii also refers to health problems after surviving 11 months of captivity. "I got a shell-shock in Kyiv Oblast. But problems with my back (three hernias) developed after the captivity," the man says. According to him, Ukrainians do their best to support each other in captivity and try not to lose hope of getting out and returning home. Thinking about one's family helps not to lose one's mind. For example, for the sake of his wife and daughter, Vasyl gave up thoughts of suicide, which obsessively haunted him during his Russian captivity.