"We've been proving for a year that it was no ordinary stroll with assault rifles." History of the struggle of Kherson territorial defense members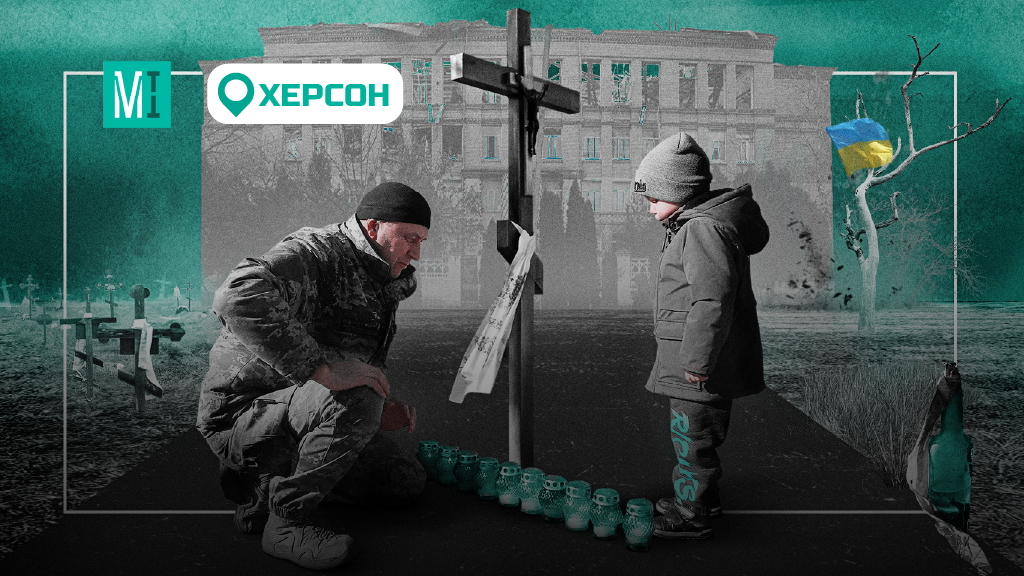 A man who introduced himself as an FSB officer put a notebook in front of Oleksandr Starodubets, saying "I know everything, but would like to hear it from you. And you're going to tell me." His words sounded plausible. They "prepped" Oleksandr for this interview for 20 minutes by dragging him to the basement with a bag on his head, beating him up, electrocuting him, attaching wires from the field telephone—the "tapik" that Russians use for "interrogations"—to his fingers and ears.
Oleksandr looked at the notebook to see last names with personal information and phone numbers handwritten on it. The lines included him, too: "Oleksandr Starodubets, phone number, 192nd battalion." He had put these data down in his own hand about three months ago.
In February 2022, Oleksandr joined the ranks of Kherson Teroborona [Territorial Defense Forces, TRO]. As a driver, he would transport the wounded out of Lilac Park. And when TRO was crushed, he decided to go underground. As early as in June, Oleksandr Starodubets and many other TRO members who had put their names down in that notebook were interrogated in the basement of Suvorivskyi Police Station in occupied Kherson.
MIHR interviewed about 20 Kherson defenders and relatives of fallen fighters. A year later, another struggle continues for these people, who managed to survive in the underground and torture chambers of the aggressors, and for family members of the dead. Kherson defenders are still not formally listed in Kherson Territorial Defense Forces and, as a result, do not enjoy the rights available to people who have participated in hostilities. In addition, neither Oleksandr Starodubets, nor dozens of other detainees, nor the relatives of those tortured have any answers to the question of how the Russians got their hands on the lists of Kherson defenders to stage a bloody hunt for them later.


Boarding school. The beginnings
"Hurry up to the Military Commissariat on Parovozna [street]," Police Lieutenant Colonel Vitalii Lapchuk urged his friend Mykola Raitarovskyi over the phone in the first days of the Russian invasion, when the Russians were rapidly approaching the city.
Mykola Raitarovskyi is an officer and an old acquaintance of Lapchuk. They thought together about the unit they should join to defend the city. Fighting was already underway on the outskirts of Kherson, and the atmosphere on Parovozna was tense, with everyone willing to join the fight right there and then.
At that time, hundreds of people, including civilians, joined the TRO ranks along with officers. Weapons were issued to new arrivals— an assault rifle with two magazines and about 30 extra rounds.
"Roughly speaking, three ammo loads per assault rifle," says Raitarovskyi. "There was no gear, naturally." Those who did not get an assault rifle would prepare Molotov cocktails.
Similar things were happening outside Kherson. People from Bilozerka, Nadezhdivka, and Chornobaivka, villages located close to the Oblast center, also assembled.
"At that time, a large unit of about 200 people got together in the village of Veletenske," says Kostiantyn Kozak, an officer from Bilozerka.
But on February 25, they were all disbanded due to a threat of a massive attack on the site of their deployment.
A lot of them left for Kherson. Three more buses went east to one of the brigades. Fighters who volunteered to defend Kherson within the 124th TRO Brigade were quartered at a local boarding school. This large two-story building became their base. And it was there that they started forming units and appointing commanders.
This is how the 192nd and 194th battalions emerged. Companies in battalions were formed chaotically, says Mykola Raitarovskyi. "We were initially enrolled in the fifth company of the 194th battalion. Dmytro Kuzmenko was introduced to us as our battalion commander. Then we were told that we would be in the 192nd rather than 194th battalion. Then everything changed over again. They said, 'You are now [in] the third company.' Vitalii Lapchuk is the company commander, Denys Myronov is the deputy company commander, and I am the platoon commander. At some point I ask, 'What battalion are we in?' Vitalii answers, 'Does it matter? We have our missions.' I mean, it was a huge mess, but I knew that my commander was Vitalii Stepanovych and that I was responsible for my platoon," says Raitarovskyi.
Fighters kept arriving at the boarding school for three or four days and were enrolled in units. Some left the TRO ranks for various reasons— they were crossed off.
TRO fighters would stay the night in the boarding school. They slept mostly on the floor without mattresses—there were no amenities to accommodate hundreds of soldiers. It was like that until February 28. The tension within the battalions grew, in particular because of rumors that the Russian invaders had entered the city en masse. Some TRO members could not bear it.
"We had our assault rifles and ammo at the ready. A person would pass by, but you didn't understand whether it was friend or foe. Suddenly someone says that Russians are advancing, and I hear a characteristic sound as the cartridge is driven into the chamber. Someone shouts out from above, 'These are Ruscists, take them down!' But hold it, how can you take them down without a warning?!" this is how Mykola Raitarovskyi describes his first days in TRO.
Men kept arriving at the boarding school. There was a shortage of assault rifles, so many started preparing Molotov cocktails. But they understood that rising against tanks and machine guns with improvised incendiary devices meant almost inevitable death.

Fighting near the lyceum. Unequal forces
"Combat readiness. All assemble. In full gear," this swept throughout the boarding school on March 1, shortly after breakfast. Everyone lined up near the buses. Some fighters got an order to move out to Lilac Park, others—to the road from Kherson to Bilozerka. The rest stayed to put up the defense of the boarding school.
The first company, including 65-year-old officer Kostiantyn Kozak, headed for Bilozerska Square. The bus holds about 47 people, a box of additional rounds, and two crates of grenades. Two RPG-22 (hand-held anti-tank rocket launchers) were issued to each company. This is all the weapons that the TRO members had.
"We got off about a kilometer from the lyceum and continued on foot," says Kostiantyn Kozak. "On the way, I meet a person I know, my former commander. He asks, 'Where are you going? Russians are all over that place'." 
Kozak and a few fighters took up their position in the square behind the concrete foundation of a billboard. Some other fighters made a shortcut across the lyceum grounds.
Three well-equipped Russian servicemen with white bands on their arms and legs were seen on the horizon. Kherson defenders fired several bursts at them. The three fell. Action ensued.
The Russians threw several smoke grenades, creating a smoke screen, to pick up their wounded or dead. The remaining military, who were standing behind, swarmed out in surrounding residential buildings.
"We would fire at the smoke, aimlessly," says Kostiantyn Kozak. "Next we see a pick-up truck pull up and a man in civilian clothes get out. He fires two magazines at the Russians, gets back in, and drives away. We don't even know who it was. Maybe, a policeman."
The fighters who went across the lyceum grounds ended up closest to the enemy. It was they who came under the heaviest enemy fire. But this followed a situation shared by several witnesses with MIHR journalists. At one moment, a woman in civilian clothes with a mobile phone walked right in front of the TRO members. She was moving confidently towards houses occupied by the Russians.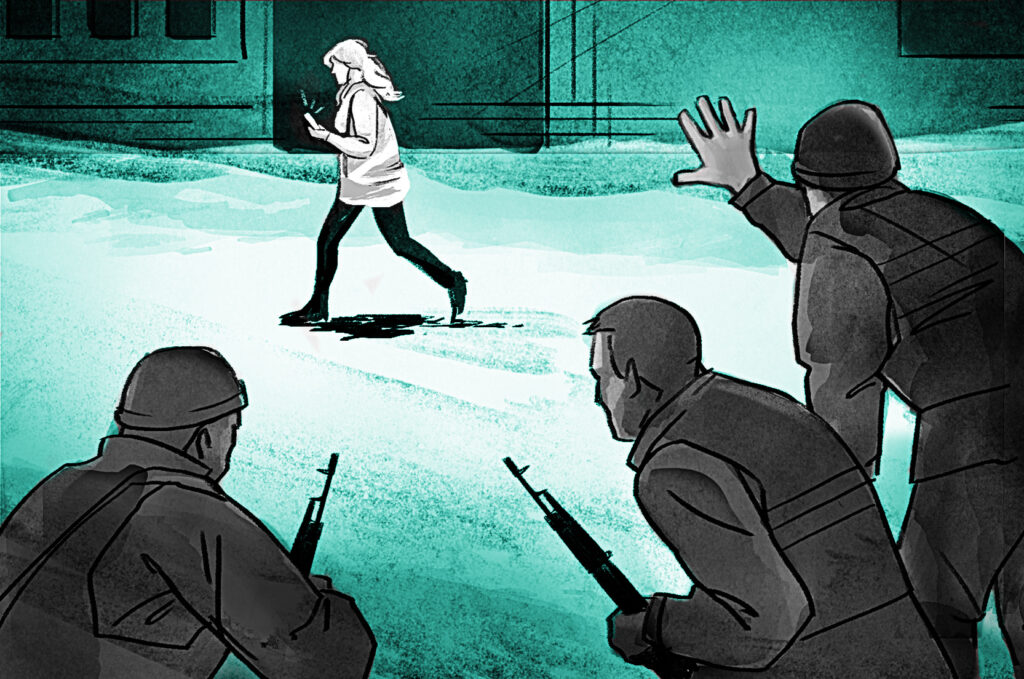 "One of us shouted to her, 'Where are you going? There is a fight, they are shooting!' But she kept walking," recounts Mykola Tsilko, who took up his position near the lyceum.
"We couldn't shoot at her, thinking she was just a civilian," adds Mr. Mykola.
On entering a building, the woman opened fire at the Ukrainian defenders.
"She turned out to be a Russian sniper," says Tsilko.
A drone flew over the TRO positions near the lyceum, searching for targets. The men tried to shoot it down, but the drone apparently accomplished its mission—the Russians started firing at the Ukrainian defenders' positions, most likely from an IFV.
The aggressors' superior manpower, the use of equipment, including Tigr [4×4 multipurpose all-terrain infantry mobility vehicle] and IFV, made resistance unlikely. So, the Kherson defenders began to retreat.
"I tell Chief of Staff Bodnar, 'Let the young ones go, let them retreat, and we, the old ones, will back them up'," says Kostiantyn Kozak.
And they did. But the Russians still set out in pursuit of those retreating.
Ihor Lapin is another participant of the lyceum fighting. He got three wounds then, including one in the head. The bullet caught his eye, and the man fell. Blood flooded his face. Trying to get up, he got his leg wounded. It got numb.
"I thought I would stay behind. I lay for a long time, bleeding all over. Then I look and see someone walking. I thought it was Russians and took out a grenade. But these were our boys—their Kherson dialect saved them. They say, 'Hey man, lie still, we're going to help you'," says Lapin.
Mr. Ihor is a stocky man. It was difficult to evacuate him from the battlefield. At that moment, an ambulance was passing by. Ihor's comrades asked the doctors to take him to hospital, but got a refusal. Then two soldiers put the man on a carpet taken from the lyceum and carried him to a civilian car.
"My eye was falling out, so I was holding it up with my hand. My blood pressure was 40/60. Then I was taken to the Oblast hospital for surgery and, on the way, I passed out," says Ihor Lapin.  
A few TRO fighters, including a wounded one, stayed in the lyceum basements.
"They were there throughout the night. Unfortunately, the wounded person died. The Russians were afraid to go into the basement for a check. So they just propped up the door. But the boys pushed it back and forth until it yielded in the morning, went to the men's dormitory close by, and changed their clothes. And they came out as civilians with women who were staying there," says Kostiantyn Kozak.
After the battle, local teacher Volodymyr Protsenko saw the bodies of five killed soldiers and covered them with blankets.
"Here, near the lyceum, near the fence," the teacher is pointing where the defenders were killed. "The Russians were already waiting for them—they'd been here since the evening. And when our men approached, they got together, and the fighting broke out."
Kostiantyn Kozak was able to identify seven dead people. But their number can be as high as 12. Currently, no official number is reported. 

Lilac Park. Huge losses
There were up to 50 people in the bus with the first company of the 194th battalion moving out to Lilac Park. On their way, the guys who had more ammo shared with those who only had two or three magazines each.
Most of the TRO fighters took positions in the park itself, behind thin trees or bushes. A few more were across the street from the park, near private homes. They had more cover from shelling. Battalion commander Dmytro Kuzmenko led the soldiers. "He gave us orders, saying who should take a position and where," says Mykola Mysiuk, a participant of that fight.
Kostiantyn Kozak's son Oleksandr took his position on the other side of the park, looking out for Russian equipment. When a Russian IFV showed up on the horizon, Oleksandr fired his first shot from an RPG and hit the enemy vehicle. Action ensued.
The Russians began to respond with large-caliber machine guns from their IFV. Then the infantry came. "There were 20 people near the IFV alone, and how many more—we can only guess," says Mykola Mysiuk.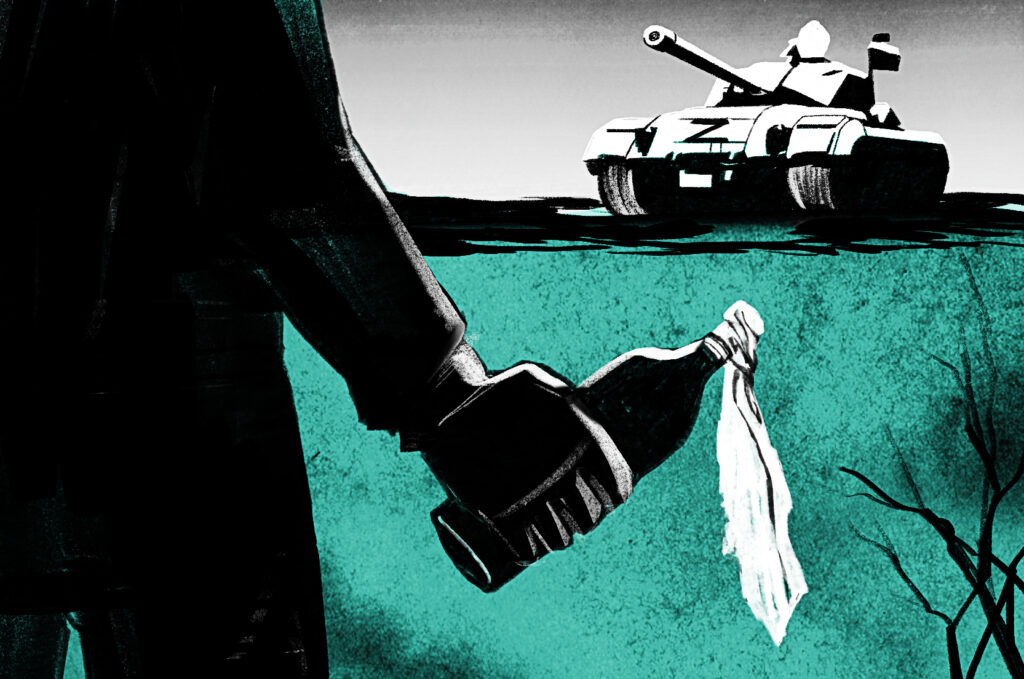 The distance between the TRO unit with small arms and Russian equipment with large-caliber guns was 300 meters. Later, a tank appeared.
"It started fire after the IFV, hitting the walls where the boys were hiding, the houses. Then it began firing up. A civilian car was parked there, so it hit the car and blew it up. That is, the fire was chaotic. And when the tank fires, it's really scary. How could we counter that? We had F-1 grenades, but it made no sense throwing them, because they would have killed our comrades," says Mykola Mysiuk.
Oleh Makarskyi, the commander of the second company, was in the park itself on the first line. As the participants of the battle describe, he drew enemy fire, leading other fighters behind him. Makarskyi was killed in that battle.
Serhii Lehenkyi was also among the first defenders in the park. He got wounded and survived by miracle: "Large caliber munitions and mines covered us heavily. I was wounded on the right, including my forearm, hand, leg, buttock. A machine gun was firing at other boys nearby, so two were killed. And I'm lying, wounded, with a bottle (of Molotov cocktail—MIHR) in front of me, thinking, 'How can I throw it now?'"
When the tank left, our men were ordered to retreat. Those nearby wanted to take Serhii with them, but he answered, "I am already crippled and wounded. That's why I'm staying, and you are getting out."
The man was bleeding, surrounded by many bodies. The Russians moved deep into the park to clean it up. "They probably just couldn't imagine that someone survived on the first line," says Serhii. He heard the Russians finishing off the wounded TRO soldiers. This was incredibly painful, he says.
"I hear them saying something to our men and getting this answer, 'Go f**k yourselves.'  This was followed by two or three shots and that's it… I don't even know who said that. He is still to be identified," says Serhii Lehenkyi.
After the cleanup, he dared to raise his head. He saw civilians starting to pass by the park, and Russians trying to remove their damaged equipment in the distance. Serhii needed urgent medical aid, so he decided to approach the people. On coming up to a fence, he sat down by the gate. A local woman took him home and called an ambulance.

Russians in Kherson
When the battle near the lyceum ended, Kostiantyn Kozak was ordered to retreat to the oil depot. They walked through people's yards. Kostiantyn Mykolaiovych led eight men. Three more people retreated by rail tracks. Later, a video of How the Russian army is entering Kherson would be posted online.
"Approaching the refinery, we see a man walking with an assault rifle. I looked through my binoculars to see him pointing at the TRO band," recalls Kostiantyn. He participated in the Lilac Park battle and evacuated a wounded man. He said that TRO had been crushed there, and they mustn't go to the oil refinery. Then Kozak contacted the chief of staff again, to get another command—move to the agricultural institute.
"So, we are getting near and are told that the Russians are already there. I call the chief of staff again, and he says, 'Hide your weapons and let the boys go.' I found School No. 46 nearby. We went in, bandaged the wounded man with a towel. And I decided to hide our weapons there. Then the three of us came out, one at a time," says Kostiantyn Kozak.
Later, these weapons were handed over to the Russians by the new "principal" that they had appointed.
Kostiantyn took the wounded man with him and showed him to the apartment of his son Oleksandr, who also got wounded during the Lilac Park fighting. His son was administered medical aid on the spot, but his father was told that he should be hospitalized. However, a wounded Russian was already there. This is why the second son took his father to Bilozerka. "My wife tended me for three weeks—she is a good veterinarian," Kostiantyn smiles.
Mykola Mysiuk and other fighters went from Lilac Park to the nearby oil refinery. There they met with Battalion Commander Kuzmenko and other TRO members, decided to hide their weapons and disband.
"We buried our assault rifles on site," says Mykola. "But I managed to get in there in April to pick them up and take them home. I distributed them to guerrillas. And after liberation, we returned these weapons."
They decided to leave the refinery one at a time. Most fighters were in civilian clothes. Those in camouflage looked for an opportunity to change clothes.
Meanwhile, the fighters who stayed on the boarding school grounds heard news of heavy losses and the TRO defeat. They were ordered to leave the base and disband. Mykola Raitarovskyi and two other fighters took a drive across the city.
"We see men standing, waiting to counter a Russian convoy with Molotov cocktails and a couple of assault rifles and spikes. People were ready to fight even with their bare hands. No matter if they would get killed or not," says Raitarovskyi.
By turning into a street, he comes across a huge Russian column, "its tail out of sight. Tanks, IFVs, trucks, and I show up 150 meters ahead of them. So I turn in front of the column into another street, to only see a column of dismounted [soldiers] 200 meters ahead. So I turn in another direction under their nose as well." Ont that occasion, the fighters managed to hide. But this was only the beginning of their struggle.

Funeral. Devastating consequences of tragedies
March 2, 2022, morning. Former Kherson mayor Volodymyr Mykolaienko, also a local TRO member, called local priest Serhii Chudynovych.
—Today we are burying our dead,—Mykolaienko told Chudynovych.
—How many? —asked the priest.
—Many. Very many,—the ex-mayor replied and asked Serhii to come and perform the funeral service. 
At that time, no one knew how many Russians were in the city and whether it was safe to move around. The priest decided to give it a try. His church was supported by about two dozen volunteers.
"We hugged each other, prayed, and left. I knew it could be a one-way ticket," says Serhii Chudynovych.
On a Sonata of limited off-road capacity, he took bypass roads to the cemetery near the Kherson airport. In local chat rooms, people were reporting where the Russians were, so they could be steered clear of. This helped the priest to avoid an unwanted meeting with the aggressors.
Meanwhile, people started bringing the bodies of the killed to the cemetery.
"A minivan arrives, bringing a few bodies. If we spot any identifying elements such as chevrons, mobile phones, passports, or keys, we take pictures and make a note of the row and slot that this body is buried in so it can be identified later. I personally took such photos," says Serhii Chudynovych.

That day, the priest took part in the burials of at least 50 people. But some of the dead, he says, were not TRO members. "At that time, we were not in the position to find out who it was and how they were killed," says Mr. Serhii.
The road to the airport is clearly visible from the cemetery. During the burial, Russian vehicles kept moving along it, including Tigrs, IFVs, and cars, potentially with Russian military inside.
"If they wanted to, they could fire one shot and we would be done," says Chudynovych. 
After he left the cemetery, the burials continued. Those present would film them and send the video to the priest so that he could administer a burial service online, in absentia.

Underground. Freedom or death
March 2022. Kherson TRO members were disbanded and driven into hiding from the occupying forces. Falling into their hands means death or cruel torture. But hiding does not mean giving up. A large part of Kherson defenders goes underground and puts up resistance. This article only includes a few stories out of dozens or even hundreds.
"Vitalii Lapchuk was burning with the idea of organizing an effective resistance," says his friend Mykola Raitarovskyi. "He brought all the weapons he could and hid them. He didn't even tell me where exactly. As it turned out later, he took them to his mother-in-law in Stepanivka. If he had told me, I would have talked him out of it. It was clear that they would come to his home in the first place, if anything happened." 
Vitalii wanted to gather officers—his friends from the police school where he had served—and create an underground brigade. But neither Raitarovskyi nor other officers from Lapchuk's entourage took to this idea.
"Even if we set up everything quickly, I assure you— we will simply be turned in," said Mykola Raitarovskyi. "There are so many collaborationists here… Three or four trustworthy people will be much more useful."
Then Vitalii Lapchuk and another officer, Denys Myronov, took a car and started delivering bread, in the meantime scouting for enemy locations and setting up resistance points. But no one was supposed to know about other people involved.
"The idea is, when someone is captured, no one knows anything and can turn others in," Raitarovskyi explains.
He admits that he took a slight offense at Vitalii, who had not revealed all the details to him. "Instead, he shared with the (194th—MIHR) Battalion Commander Dmytro Kuzmenko." The argument of Kuzmenko himself is discussed below. At the same time, they were preparing other surprises for the Russians in Kherson.
"We had ammo left and started roughhousing at night," says Oleksandr Starodubets, who had worked as a brake tester on the railway for many years. In about mid-March, Russians with the Russian Guard patches came and invited him to work. Oleksandr turned them down, saying he was going to leave the city. After this meeting, he had an idea of blowing up a railroad switch. 
"I didn't have the right amount of explosives, so I decided to improvise," says Starodubets. "I found a railroad car with saltpeter, which I put into a fire extinguisher and blew up the switch."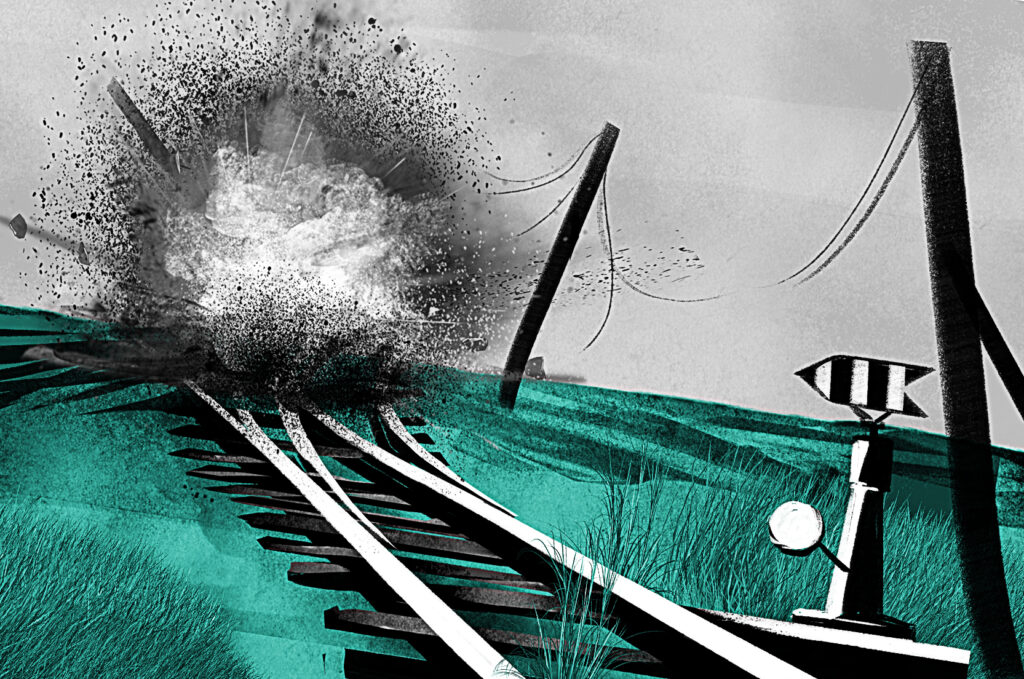 In late March, Oleksandr says, there were a few more interim successes: "Once we managed to throw a grenade into a truck body with Russians aboard and run away. And when I was captured, I was very afraid that they could find out about this episode."

Revenge. The Russians open the hunt
"That day, Vitalii was supposed to come by and tell me about our next steps. When he didn't show up, it was clear that our entire organization was on a hook," says Mykola Raitarovskyi about the day of March 27, when the Russians kidnapped his commanders Vitalii Lapchuk and Denys Myronov.
Both officers were brutally beaten. Weapons that Vitalii had hidden at his mother's-in-law were found. Then they brought him home and did a search. "Nine people came to our house. Those with little flags of the so-called 'DPR' were bonker balls, the other three were quiet and asked clear questions. I think they were FSB officers," says Vitalii's wife Aliona Lapchuk. By then, her husband's face was disfigured, with a broken jaw and numerous hematomas.
She, her son and Vitalii were taken to the regional police department for questioning. Aliona was asked by the Russians whether her husband had some acquaintances in the police and the prosecutor's office. The woman replied that everyone had left. "But they already knew everything," says Aliona. Vitalii was asked about the chain of people resisting the Russians in Kherson.
"They wanted TRO guys and demanded that he turn them in. But you should know Vitalii's character. He is an extremely stubborn person. I felt that he would say nothing even if they were going to kill him. And the Russians had a glassy stare and did not feel how strongly they hit," says Aliona.
Vitalii died after those beatings. But this came out as late as in May 2022, when his body with a weight on his leg and traces of torture was found in the river.
His comrade and deputy, Denys Myronov, also died from beatings. After the torture, Denys was thrown into a cell, where he could not even lie down due to broken ribs.
"Once Denys was beaten up before me," says Anton Hladkyi, who shared the cell with him. "There were several FSB officers in the interrogation room. So, they tell me, 'Get up.' They punch me in the face and then switch to Denys. Legs, shoulders, back, kidneys—they whacked up everything. This is how they prep you for the talk."
Denys Myronov died in the Crimea, where the prisoners were taken after torture. He was hospitalized, but did not survive the severe injuries. According to Denys' parents, the Russians returned his body through a military exchange. However, Denys is still not listed as a TRO member formally.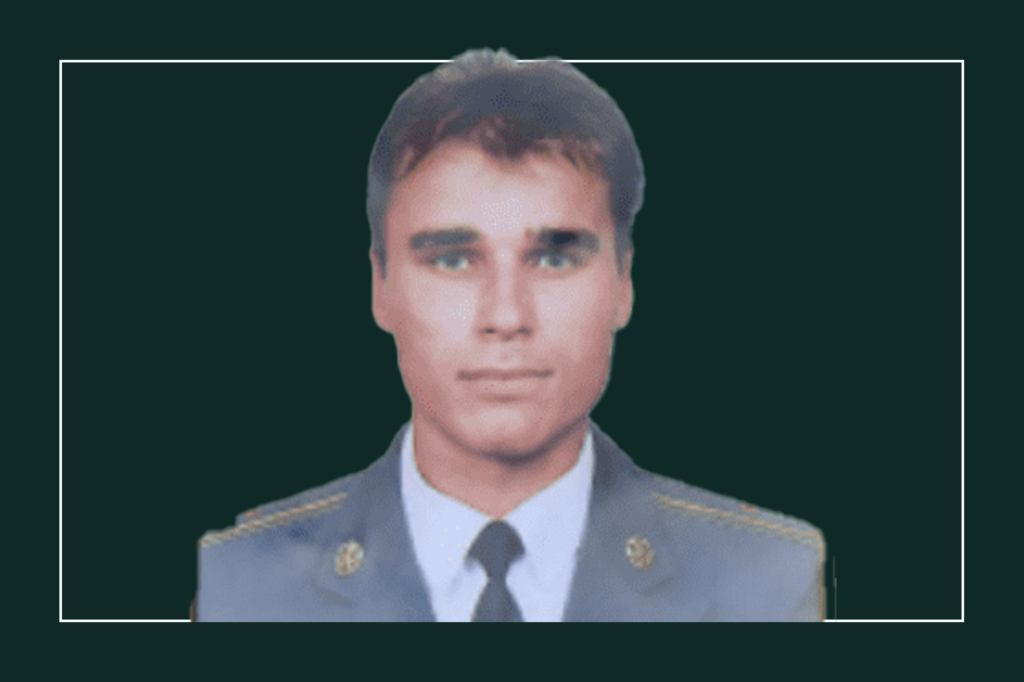 Oleksandr Starodubets is one of those TRO fighters who survived Russian capture.
"If you go up to the third floor of Suvorovskyi Police Station, you will find a wing on the right where all the operatives are gathered. Almost every office was packed, something happening in each, someone beaten. You hear screams echoing in the corridor. I was going through this for two and a half weeks," says Starodubets.
He was asked about his friends who served in the Armed Forces of Ukraine. They hit him with their hands, feet, a school chair, and electric shock. Sometimes he was beaten twice a day. However, the cruelest place for Oleksandr was the so-called "glass house"—a detention place in Kherson near a glass bottle buy-back center, where he was later transferred.
"It was mostly the military, the mayor of Kherson, Ihor Kolykhaev, and his bodyguards who were kept there," says Starodubets. "I saw a guy there with two fingers cut off by the Russians with an angle grinder. He was my cell-mate from Cell 13. There were three of us. On the door of the cell, you could see chalk-written names and and how many times they were to be beaten a day."
Some time later, Oleksandr Starodubets ended up in the Crimea. The conditions there, according to him, were the best of all the places he had been kept in.
Some Kherson TRO fighters are still held in prisons in Russia and in the occupied territory of Ukraine. They include the ex-mayor of Kherson, Volodymyr Mykolaienko, who was in the TRO ranks. But none of these Kherson defenders are officially listed as unit members.

The struggle for recognition
March 1, 2023. Lilac Park. At the entrance, there is a stone pedestal and a cross set up by TRO fighters who still serve. A little boy with a Ukrainian flag is singing Chervona Kalyna [a song about a red viburnum] in front of the pedestal. His grandfather was killed in the park a year ago.

Towels and yellow-blue ribbons are hung on the trees. Relatives of the victims put photos of their heroes under the trees. The Park has been crowded since 9 a.m. as combatants, their relatives, Kherson residents, and active military personnel flock in.
After honoring the dead, Kostiantyn Kozak takes the floor and publicly addresses the members of the 124th TRO brigade. He primarily urges them not to turn away from the victims' relatives, who have not yet received a confirmation of their heroic deed. An argument with the brigade members starts near the park.
The wounded TRO members have good cause for indignation. In an attempt to get certificates of participation in warfare from their military unit, TRO fighters bombarded the headquarters with letters, to only get the same answer: the military unit can issue the certificate only if it has documents such as operations instruction (or combat order), operations log, final combat reports. According to the unit, these documents are missing.
Other documents are also required, including an order on enrollment in the military unit, a personal file, pay and ration certificates, individual clothing and equipment records. According to the military unit, these documents were destroyed during its evacuation from Kherson and Kherson Oblast, so they cannot be issued.
The TRO brigade started operating two months before the full-scale invasion. A staff run by Serhii Bodnar was formed.
"He had assistants, an accountant. That is, it was a fully functional staff that was supposed to provide administrative support," says Mykola Tsilko.
MIHR journalists submitted a few information requests to the military unit and the TRO command to find out whether these documents existed at all or whether an official investigation was underway in the military unit, but no answer was received by the time of publication.
On the other hand, the commander of the 194th battalion, Dmytro Kuzmenko, comments to MIHR, "In March-April, Chief of Staff Serhii Bodnar told me that they had all the documents in place, hidden. But he stopped talking to me back in spring."
Kuzmenko got a personal order to conduct defensive operations in Kherson orally.
"There was no time to print and deliver things in writing," he says and directs the journalists to Bodnar. "These questions must be answered by the brigade command. The order for the formation and assembly of personnel was personally received by the brigade commander and his administration. And he knew about everything happening in the battalions, about all personnel movements. When trouble struck on March 1, I got oral orders. Similarly, I issued them to my subordinates orally and went to fulfill them to Lilac Park."
MIHR journalists could not get a comment from Serhii Bodnar by the time of publication. The military unit did not respond to the journalists' inquiry, either.
Oleksandr Tiutiunnyk, acting deputy commander of the brigade for moral and psychological support, says that he was a civilian before the full-scale invasion like most of the TRO members.
"On March 1, I was on Hannibal Square with Molotov cocktails with an order to hold the defense. That's all I got back then. I am lucky to be safe and sound," says Tiutiunnyk to the question about the unenrolled TRO fighters.
He notes that bodies are still being identified, and documents processed in the battalions.
"Just a few weeks ago, we found one more person step by step. He was listed in the brigade as of February 24, 25," says Tiutiunnyk. "The brigade is doing all it can, but we have legal hurdles that we have to overcome, sometimes even by obtaining a court decision. No one is going to take such responsibility." 
—So what, do these people, including the relatives of the dead, go to court? —we ask him.
—I have no legal degree. But the process is underway, we are working for people to have at least something, some facts, to go to court.
—But there is no result. People don't have the documents yet, and it takes a long time to get answers from the unit. 
—In each battalion that was here, we go through this step by step. They say we forgot, brushed them off, and that's it. But it's not the case. This isn't going to happen.

Why is it so important to establish that a combatant participated in warfare? 
Reason one
If relatives of the fallen TRO fighters have not received death notifications yet, they cannot have their loved ones buried with honors. Their families cannot get compensations. This means that the fallen soldiers are legally civilians. This applies both to those who participated in fighting described above and to combatants who resisted the enemy otherwise while enrolled in TRO.
"He served in the ATO [Anti-Terrorist Operation] for four years, got wounded, contused," says Ms. Oksana about her son Oleksii Ronskyi, who was killed in Lilac Park. "As soon as it all started here, he packed up and left… And got killed there, in Lilac Park. What should we do now to get him home for a decent burial? Russians bury their dead, while he fought for four years, and I can't even get a death notification. I talked to the investigators, but they don't even have a clue who died, who survived, and who was tortured to death."
Oleksii is buried in the same cemetery near Lilac Park. To reinter him, the family needs official documents about Oleksii's death.
The parents of Denys Myronov, who had died by torture, were told by the military unit that their son had not been listed in the military unit, even though Myronov had been appointed deputy company commander.
His father Yurii Vasyliovych served in the military for forty years. He describes this attitude of the command as cynicism: "If a person has been issued a weapon, appointed to a post, an appointment and enrollment order must be issued. Then, if a decision is made to disband, there should also be an order to remove them from the unit with a reason."
Vitalii Lapchuk, whose body was found in the river, is also not officially a military serviceman of the Kherson TRO brigade. "Both Vitalii and Denys affirmed their officer rank by not turning anyone in when captured," says Mykola Raitarovskyi. "If either of them broke down under torture, they [Russians] would have come for me immediately. Vitalii knew all the places where I could be staying as we had known each other for 20 years. Denys had also come round to my place. They were tortured to death, but never said a thing. These people deserve to be decorated, but they cannot even be given [the serviceman's] status."  
Reason two
TRO soldiers abducted by the Russians and held in prisons as criminals are not officially military personnel. This status is required for future exchanges.
"I've been waiting for my son's return for a year. I want to receive any documents, any acknowledgment that he was in TRO forces, but no one offers any answers—neither the military commissariat, nor the military unit," said Maria Horshkova about her son Andrii, who was abducted by the Russians on March 30, 2022. Eventually, she managed to obtain the status of Ukraine's defender for her son through a court.
By the time this material was ready for publication, Andrii Horshkov returned home as part of another exchange. Except for him, another 99 defenders came back to the territory controlled by Ukraine. 
Reason three
TRO soldiers who survived or were wounded are still unclear about their status.
"I was hospitalized for 113 days, with a bullet taken out of my head, my eye cut open. My doctors were hiding me from the Russians. And now I have to demonstrate that it was no ordinary stroll with an assault rifle. They turned us into 'ghosts'," says Ihor Lapin.
Mykola Mysiuk submitted a request for reinstatement, but it was turned down. "I don't even know what my status is. I don't have a resignation or suspension report," says Mysiuk.
He recently got a draft notice from the military commissariat. So, he went there and told his story. The military commissar said he did not know what to do in this situation and just let him go home.
"They simply disowned us. When we had to go and fall (take part in fighting—MIHR), we went and fell. And now nobody wants to have anything to do with us. If feel hurt for the dead rather than for myself. Women got widowed, mothers lost their children, and now they are played games with. As the military commissar told me, only eight death notifications have been issued for the entire battalion," says Mr. Mykola.
It should be noted that Kherson Oblast Military Commissariat and the military unit ignored the information request of MIHR journalists. 

Treason. Finding the guilty ones
Talk of treason within Kherson TRO started right after the massive Russian attack on its members in late March 2022. This was when the prosecutor's office commenced the first criminal proceedings. The key question is who handed over the lists of TRO fighters to the Russians. MIHR has a few facts to demonstrate that at least some TRO fighters were detained using these lists.
Military commissariats were the first place to keep records of mobilized and volunteering personnel both the region-wide commissariat in Kherson and district-wide commissariats in district centers. One fighter is showing the journalists a mobilization order he received at Kherson Oblast Recruitment Center.
Ihor Lapin confirms that he and other volunteers were signed up there.

On arriving at the boarding school, the combatants entered their data in a notebook themselves. Their relatives' contacts were also put down—in case of death. It is reliably known that there were several personnel lists, both hand-written and printed. There could also be several notebooks with TRO members' data. So, it is hard to identify exactly which of them was later obtained by the Russians.
"We were personally entered twice, first by platoon commanders, and then by the company commander," says Kostiantyn Kozak. "As an old-school Soviet officer, I had a notebook in my bag. I took it out and gave it to the company commander for taking notes."
Mykola Raitarovskyi says that one of the lists even records plate numbers of the cars in which the TRO men arrived: "One day, Vitalii Lapchuk, Dmytro Kuzmenko, and I were sitting in the officers' lounge. So, Kuzmenko says that we should draw up personnel lists so that everyone can get allowance. We made these lists, but, sure enough, no one was reported as eligible for allowance."
In June 2022, Russian media started massively reporting that Dmytro Kuzmenko, the battalion commander of the Kherson TRO, had defected to their side and was "requesting Russian citizenship."
Quite expectedly, many TRO fighters suspected him of treason. MIHR journalists got an explanation from Dmytro Kuzmenko: "I was captured, together with my wife and daughter, by FSB officers. I was taken to the basement. The only condition for my family to remain alive was getting Russian citizenship. But, if you re-watch the film they made, you will not see the passport itself, because it was not there. Contact with them (FSB officers—MIHR) was lost on September 15, no one called me again, no passport was there."
He insists that the Russians got Kherson TRO members' details even before his detention.
"The lists of contract personnel who had served in all battalions before February 24 were put on a desk before me during my second interrogation. And my battalion's list, which only included contract personnel, was printed out separately. It included neither volunteering nor mobilized service people," says Dmytro Kuzmenko.
He believes that military commissars were responsible for making up the lists of mobilized people. That is, they were supposed to keep personnel files with notes of the battalion commander or chief of staff saying that he admitted all those people.
"They mobilized these people and had to make a note 'put out of action' in their military registration cards, or there had to be a mobilization note. And there should have been a note that the military unit had admitted them. And I know that these mobilization cards weren't there in most cases," Kuzmenko lays down his case.
According to him, he managed to keep some of the military registration cards of his battalion's soldiers. He allegedly gave them to security staff before the de-occupation, because he had to leave with his family. "Who exactly I gave them to," says Kuzmenko, "I made them available to people from the brigade. They know where these documents are."
But the battalion commander denies that Lapchuk and Myronov were subordinated to him. He claims they had another commander, from the 192nd battalion. And Vitalii Lapchuk, he believes, was detained by the Russians other than because of TRO treason.
"I think Lapchuk was located other than through our lists. He used to hold a position within MIA [the Ministry of Internal Affairs]. In Kherson, they [Russians] focused on MIA. I was also taken prisoner after I talked to some of my former fellow officers. It appears that some district police officers served in Kherson under occupation. They walked around Kherson and shared residential addresses of other police officers," Dmytro Kuzmenko assures.
However, the targets that the Russians were hunting for during their raids also included people that the aggressors could only identify by the TRO lists. Mykola Mysiuk emphasizes, "We had our sources there. So, these targets included both ATO veterans or police officers and boys who had not served before, for example, my wife's brother. They could only learn his last name from the TRO lists."
Dmytro Kuzmenko denies that Vitalii Lapchuk was in contact with him during the occupation: "The last time I spoke with Lapchuk was on March 1, before moving out for Lilac Park. This was when I gave him the order to be at the brigade commander's disposal."
"This is not true," retorts Mykola Raitarovskyi. "On March 5 or 6, Vitalii called me to say that Battalion Commander Kuzmenko was assembling personnel. Then I got indignant and said that I would come myself, but I would not be taking my men. How could we all come together in a city full of Russians? We will simply be turned in. But on the day of the meeting, Vitalii came and said that everything was off."
Kuzmenko himself continues to serve, but no longer as a commander. "The brigade commander decided to assign me two ranks lower, to a captain's position," says Kuzmenko. He says that he is prepared to sue the military unit, because he considers the demotion unlawful. "I don't have any official confirmation that I participated in the Lilac Park fighting, either," he adds.
Who is guilty and how they will be held liable depends to a great extent on the ongoing investigations by the prosecutor's office. Meanwhile, Kherson defenders and the victims' relatives are going to court to defend their right to the official status.
P.S. This text is not about rocking the boat during the war or hunting the witches. It is about the compelling need for justice and about things that cannot be kept silent even now, during the hot phase of the war against the Russian Federation. People who gave their lives or health, relatives of Ukrainian soldiers who died heroically deserve recognition like no other. They should not use their own resources to prove their accomplishments, while oblivion and indifference to them is a crime.
This material was prepared by the Media Initiative for Human Rights as part of the Hela Sverige Skramlar for Ukraina project